I love plants. I love Boho. It was time to combine the two into a fabulous Boho Houseplant Decor space which I dubbed my Boho-Tanical Room. The vibes in this space are incredible and it allows me to find calm, create projects and connect with my higher self.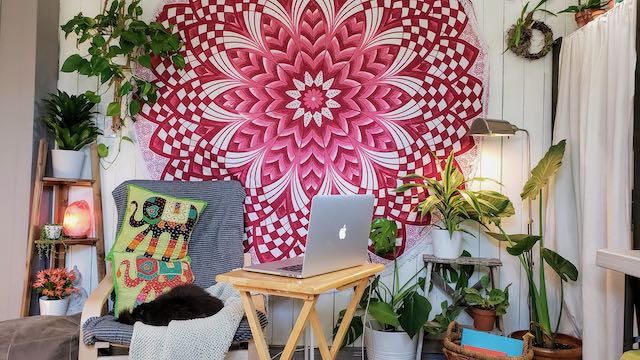 This room is used for my home office, yoga and creative projects. Let's just say it was cluttered and didn't have very good chi. Chakra themed decor, Macrame hangers, a wall tapestry and loads (I mean loads!) of houseplants completely transformed this room into a place I could literally spend all day in.
I will also note that this room was designed for me. If I was creating a space to impress my friends or look Instagram worthy, then it would LOOK good but not FEEL great. I wasn't intending a sterile picture perfect space. I was seeking a place I can escape to that feeds my soul. Here are some of the Boho Houseplant Decor items I used to create an energy enriching, positive vibes Boho-Tanical Room!
Watch my TIKTOK video setting up the room!
I post regularly on TikTok, scan below to follow for more cool ideas!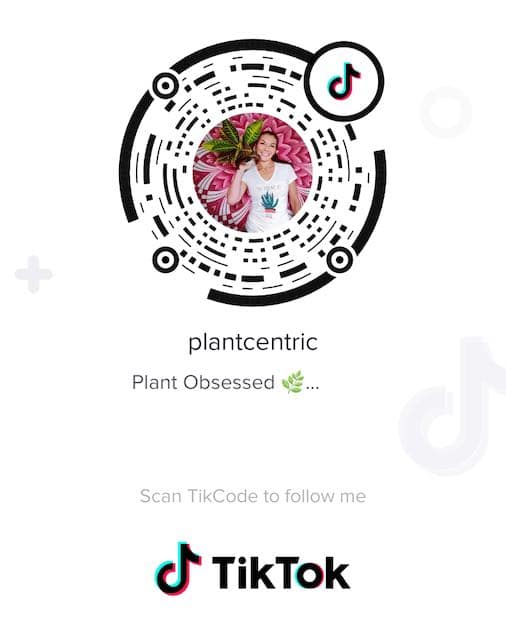 #1 You need to clear the clutter! Feng Shui that space big time! If storage is an issue in your home (like it is for me), then get some inexpensive shelves and cover with a drop curtain to hide the junk, er I mean, stuff behind it. Ikea has some very cheap shelving and you can use a shower curtain or flat sheet to keep your budget in check. Besides, this room is for plants…. more money = more plants!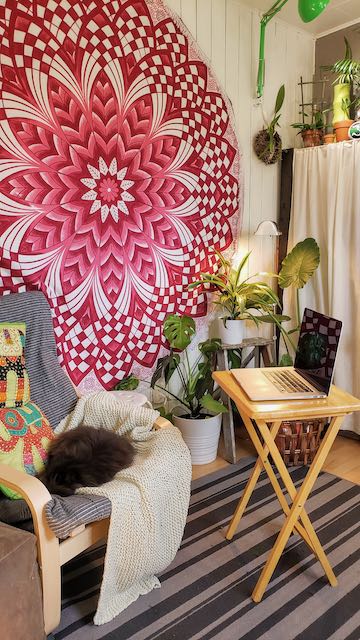 #2 Vertical space is going to be important here since you want to stuff that room with plants. In addition to ceiling hooks, you can add shelf brackets, coat hooks and even an outdoor hanging basket wall mount for more possible hanging plant spaces. Corner shelving units will maximize the space too. I got this cool plant pole off of Amazon to place by a window for maximum light.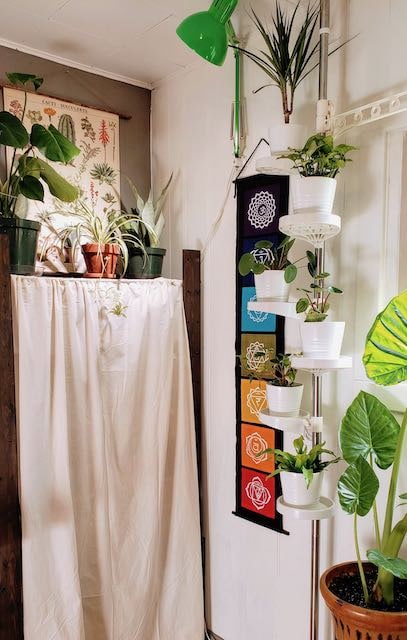 #3 I'm into Chakras and plant energy. The only issue with Chakra themed decor is that it's not one color scheme, it's literally a rainbow! I chose just a few elements to help reflect the Chakras. The huge wall tapestry set the mood of the room, while the vertical hanging flag added the symbolism I wanted for the space.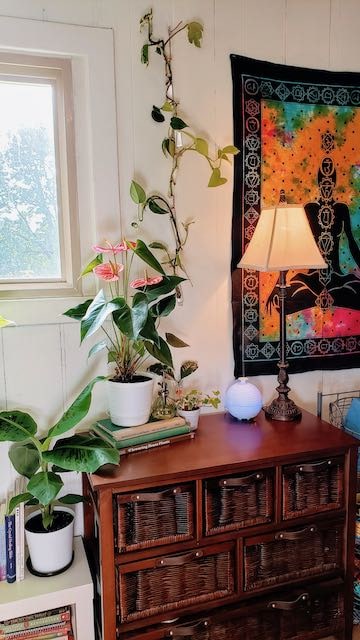 #4 I was gifted this great OM candle which I tucked between plants on a top shelf. A simple Buddha sits with another plant on the corner shelf along with a salt rock for mood lighting. For a fun DIY Boho Houseplant decor feature, I painted a series of small terra cotta pots for the window sill with the Chakra symbols and chose succulents that I felt energetically matched each one. Connect your plants with your Chakras too!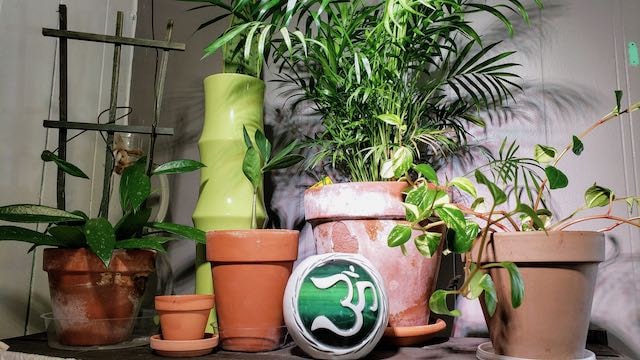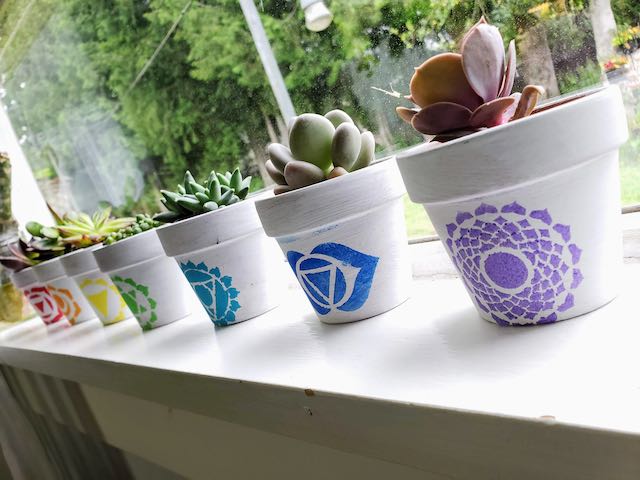 #5 For comfort, I added some fantastic cushions to my work lounger (that's right, not a desk chair… my work lounger). I like to create an instant relax or focus zone by diffusing an essential oil depending on my mood. Citrus notes help me focus while Floral notes help me to calm me down.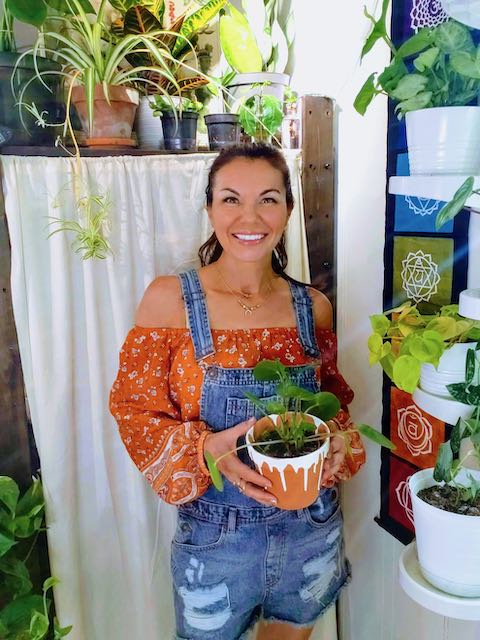 #6 Lighting is the final hurdle in creating a room for plants. If you are in a situation where you don't have much light coming from a window, there are plenty of options out there. You can add a grow light bulb to a macrame lantern or for a Boho Houseplant decor feature. You can also get desk top grow lights as well.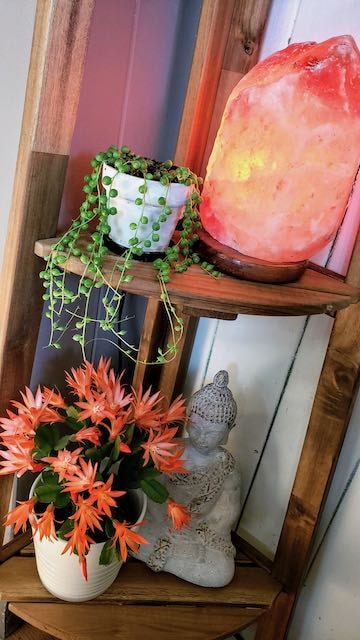 I recently wrote a beautiful step-by-step guide to create a meditation room called Chakra Garden. I'm proud of how this work came together with tips on how to design a space, choose the right plants and meditate with plant energy. This guide shows you how to create an outdoor meditation room in any size of space. If no outside area is available to you, I include indoor plants that you can use.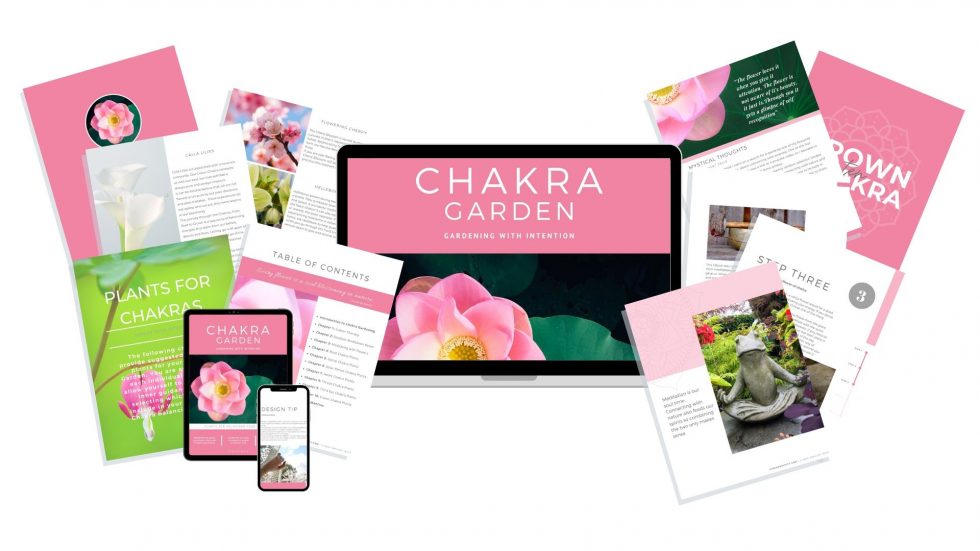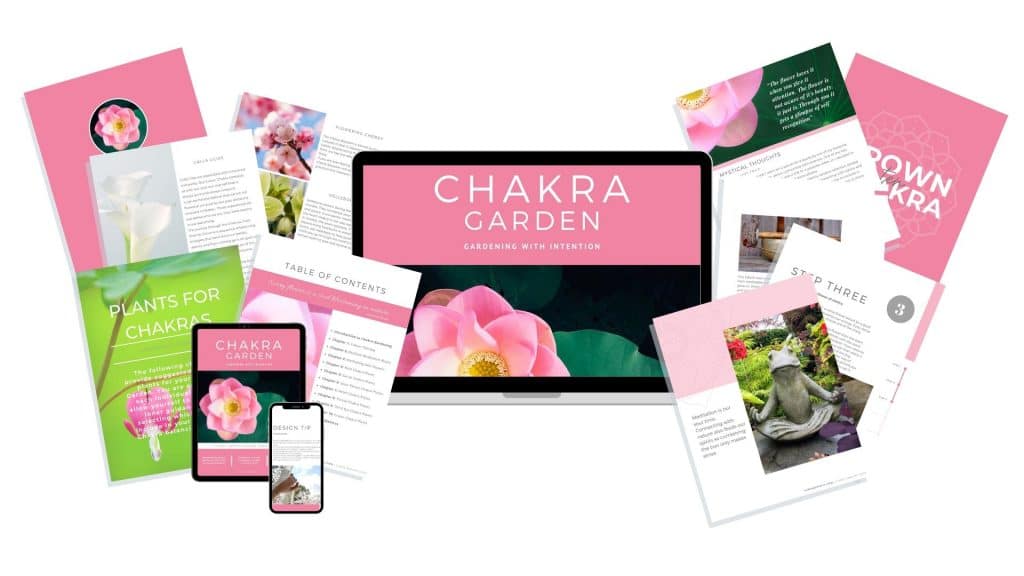 Namaste
If you love plants, positive vibes and projects that energetically lift your spirit… then subscribe or follow me on the socials.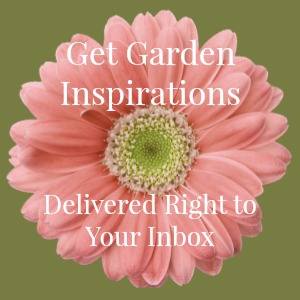 SUBSCRIBE TO OUR SEASONAL NEWSLETTERS.
Don't miss a post…. the quarterly newsletter is packed with fun DIY's, garden tips, recipes, and more!