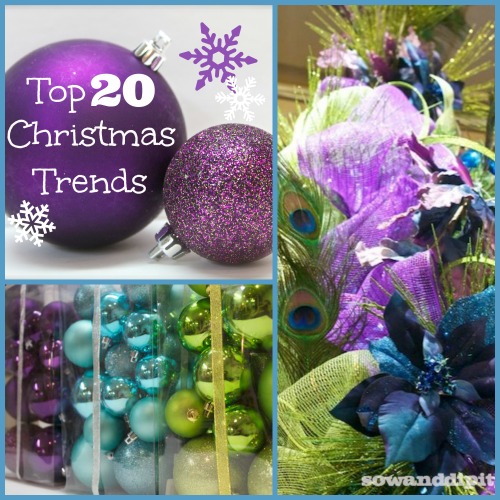 Top 20 Christmas Trends
Every season has trends in clothing, music, and especially decor. I'm a Christmas trend watcher (for obvious reasons) and I can see them coming long before the retailers catch on.
Pinterest is the clear choice for finding idea's and manufacturers pay close attention to what bloggers and crafters are doing so they can replicate it on a big scale. But by the time they get the products on to the shelves, trend setters have long moved on to the next big thing.
In this post I'm going to share what's hot this season and some emerging trends that are not so obvious… those I guarantee you will see appearing in a store near you by next Christmas.
1). White Christmas
HUGE this year is the simple and classy look of a White Christmas. Incorporate fresh greens, crystals, lot's of feathers and a dash of silver to glam up your decor and you will be right on trend.
2). Ball Wreaths
We see this one all over Pinterest. DIYers everywhere are warming up their glue guns (and burning their fingers) recycling old balls or using shiny new ones to create these beautiful trendy wreaths.
3). The Snowman Tree
To say snowmen are trending for Christmas is like saying lemonade is 'IN' this summer. It's a given that this holiday symbol will always rank every season. This year however, he is taking center stage as the most important guy in the room.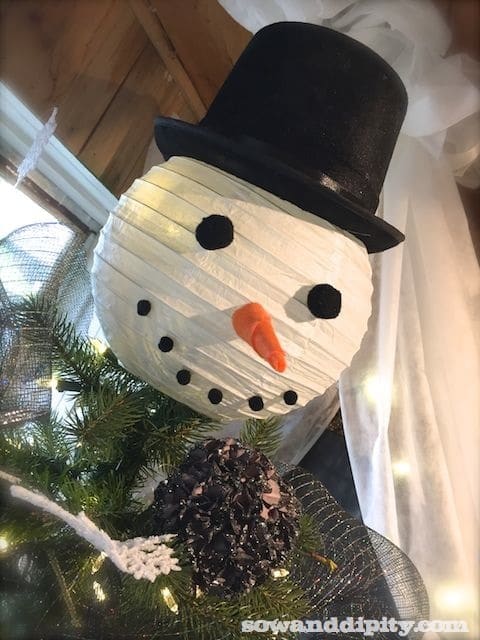 Most people are using white trees but if you don't have one you can do what I did and make a simple snowman head from a paper lantern.
4). Soft Vintage
PINK… yup. Some folks are feeling very girly this year and soft rose colors combined with lace, antique ornaments and champagne tones are trending right now.
5). Bottle Brush Trees
I love what Casey from Vitamini Handmade did with her bottle brush tree's! Your seeing this trend pop up on Pinterest right now as a great DIY Christmas craft, which means these will be on the shelves at a store near you…. next year.
6). Burlap… again?
It's been the 'thing' for several years for all seasons, but people cannot seem to get enough of this stuff. The good thing is we are not limited to the shedding rolls bought at nurseries (which may be treated with fungicides so be aware) but can be found in every size and color with adorable prints like the one I used on this rustic inspired wreath.
7). Cobalt and Plum
It's a spin off the Peacock colors but in richer deeper tones. Add some olive hues and you will be bucking tradition with an incredibly trendy look.
8). Nordic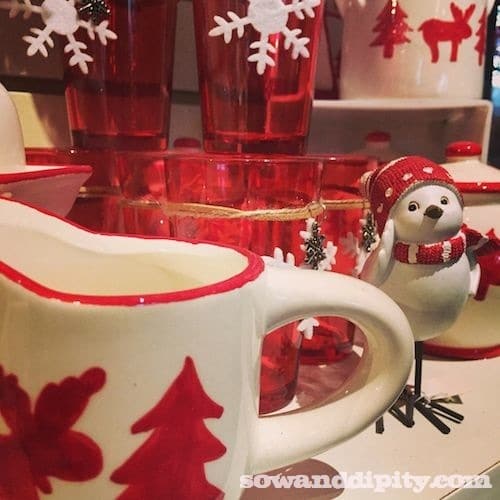 Cotton, wood, paper and the fir tree are the basis of this stylish theme. White is favored in all Scandinavian design, but for the holidays this calls for a bright cherry red, Scottish tartan prints, and symbols of reindeer and wood snowflakes to create this crisp, clean look.
9). Home For the Holidays
Ugly Sweater Parties are in and so is this theme that remind us of sleigh rides, ski hills, crackling fires and warm cups of cocoa. If you plan to host your own ugly sweater party this year, decorate your tree to fit the theme like I did here.
10). Maps?… Yes Geography is HOT
You may not think maps and globes are very Christmassy but neither was book pages or sheet music that was super hot the last couple of years. This trend is popping up as the printed paper replacement craft of previous seasons. Now we can rip up old maps and put those books back up on the shelf where they belong.
11). Old is New Again
This Christmas Trend is not just about using recycled objects or doing 'junk' inspired decor… that is as old as the hills. Decor items that were considered cheesy decor yesterday are being spray painted white and sprayed with glitter… making it better than before.
12). Chevron….everything!
It's on clothes, it's on furniture, it's on lunch bags!…. and now it's on our trees. For the fun of it I made a Chevron Tree to give a nod to THE hottest pattern of the year.
13). Visions of Sugar Plums
My Candyland tree went viral this past year and it was pinned hundreds of thousands of times. Last year I did it in soft pink and mint green… and now I see that color combination in the retail stores this year. Hmm? Been there, done that. But if you want to do it too, here's my video tutorial:

14). Signs with Sayings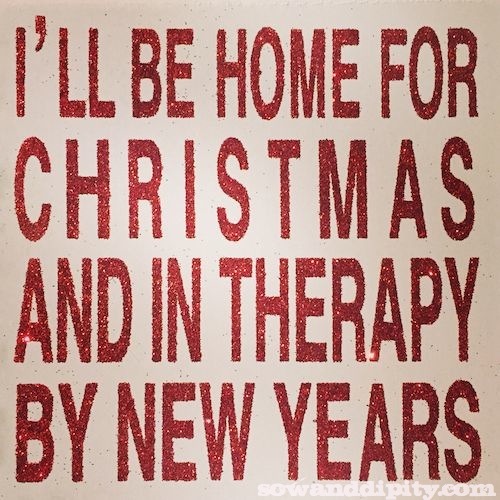 Signs either bought or hand made are huge every season, but it seems that even if your not one of those sign decor people… you'll bend at Christmas time and get at least one you love for when your holiday company arrives.
15). Epsom Salt Frosting
Stick it to candles, stick it to balls, stick it in a jar and deck the halls.
16). Silver Birch
Woodland, rustic, natural… whatever you call it, it's still big this year and all those poor birch trees are being murdered for it. (oops, the SOW part of this blogger girl just came out there, sorry). Yes, but I too love the birch look so I put it in a tree this year using this faux ribbon. Disclaimer: No innocent trees were harmed in the decorating of this tree.
17). Brown Paper Packages
European design interests me, it's always so fresh, clean and understated… then it comes over to America and we put glitter on it. Don't get me wrong, I have glitter in my veins. But I have to say that there is just something about this Christmas Trend from afar that intrigues me.
18). Decor Mesh
Okay, OF COURSE I have to mention decor mesh. It's like everywhere now and I've mastered this material into an art form. I've been using it for years as a theme decorator on my trees, wreaths and holiday decor. See more of my Christmas creations here: Christmas Decor Portfolio

And if you want to see me create one of these wreaths in less than 10 minutes check out this video shot live during a demo I did yesterday. The quality isn't that great because we were in a loud farmers market but the instructions are very clear.
19). Kissing Balls
Big smooches go to this trend this year. They are showing up in stores with crystals attached to glittery faux green balls and they are hot, everyone wants one. I'll be posting a tutorial in the next couple weeks on how to make one from fresh greens for your holiday decor.
20) Cute Food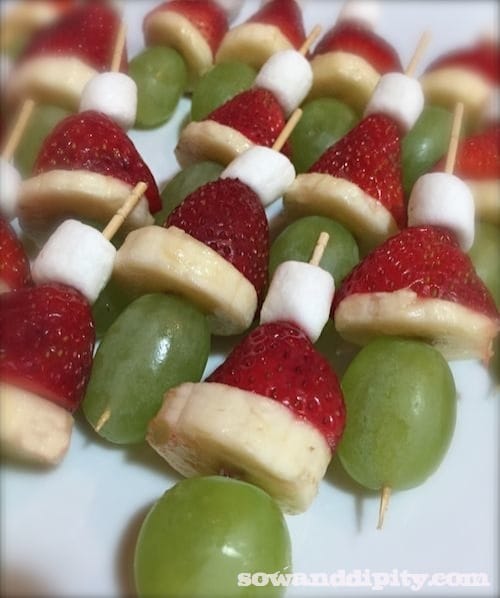 Cute food? Delicious baked goods, gooey savory dips, and sweet holiday punches are the favorites of the holidays every year… but bloggers everywhere are stepping up there game to get their share of Pinnable wins with creative food ideas that are as darling as they are delectable.
I have already made my first 'cute food' for a ladies night I hosted at the garden center with this Pinterest inspired lil' Grinch fruit skewers. Seriously… is that not adorable or what!
There you have it… from big blings to homemade things, these Top 20 Christmas Trends will be hot this holiday season.
Be Merry….And Stay That Way!