Recycled Planter Ideas
My motto… if I can put dirt in it… I'll PLANT IT! It's a bit of an addiction really… everything I see becomes a potential planter or garden art project.
So, I've been going through my photo's and found some favorites that I either spotted in my travels or have made myself. Here is a gallery of idea's to inspire you…
TO THINK OUTSIDE THE POT!
I am very happy to announce that Sow and Dipity has partnered with some amazing brands. As a personal rule, I will only promote products I believe in and that match my set of values. In exchange for the generous samples they send me and/or compensation, I am proud to demonstrate them to you.

I had these old aluminum frames for years so I planted them with succulents and hung a basket in the center. They are now on display at Art's Nursery along with several of my junk planter creations!
Saw this at the Northwest Flower and Garden Show, this is on my list for SURE next year.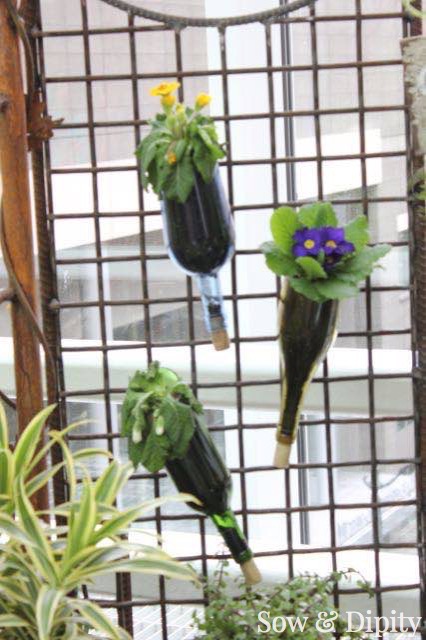 I did this Vertical Shoe Holder Planter up for a speaking event on outdoor DIY planters recently but if you want more ideas on vertical gardens, check out this post.
This is a simple idea… chicken wire and moss made into a cone. Seen at the NWFGS.
I did up some coffee can planters this year but I added a quick stencil to make it extra special. Those beautiful happy orange flowers are called Fireburst Bidens by Proven Winners.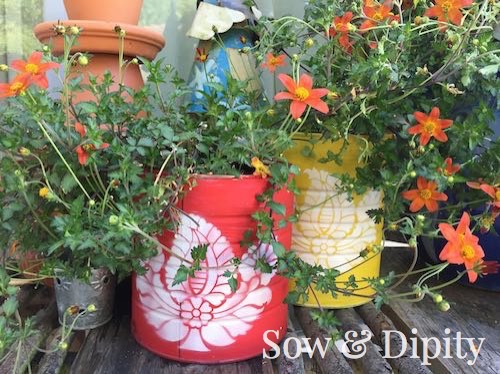 This storage rack makes a perfect planter yes? Seen at the NWFGS.
Check out my Tea Cup Tire Planter…. want to learn how to make it? Watch the video below!

My husbands old jeans turned out to make a great vertical planter. Check out these instructions for this Recycled Jean pocket planter.
Honestly… how adorable are these upcycled fabric planters I spotted at the Northwest Flower and Garden Show? Crafter Susan Albin creates these at her Etsy Shop. OH, and those succulents are pretty darn cute too!
My kind of shopping cart! Spotted at the Northwest Flower and Garden Show.
I got these baskets at the dollar store and thought… hey, I can put dirt in that. Now it's home to a Rapunzel tomato plant which I picked up from Art's Nursery.
While I know this basket is doing what I expect it to do… we will see if this Pinterest Trending tomato will do the same. Check back to see if I get the results they promise later this summer.
These boots were made for planting….. Those pretty little flowers are from Proven Winners, the blue ones are Browallia and the yellow and pink ones are Superbells Holy Moly.

I love planting up IKEA items, these kitchen sink caddies with the holes in the bottom are perfect for herbs.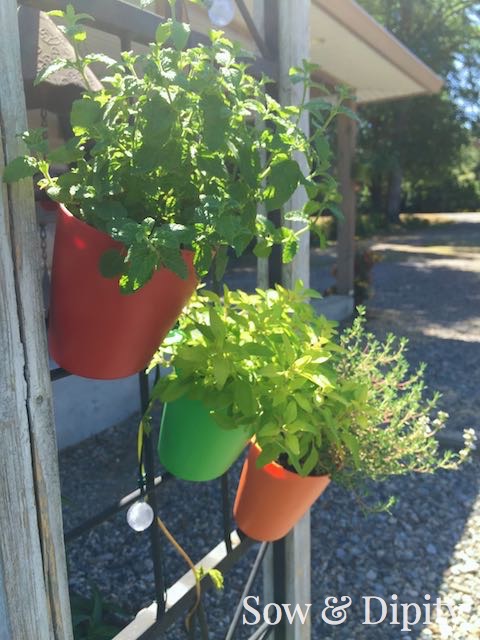 But I REALLY love the vertical strawberry and annual planters I made out of their recycled shopping bag storage basket.
Watch the step-by-step video here:  IKEA Strawberry Planter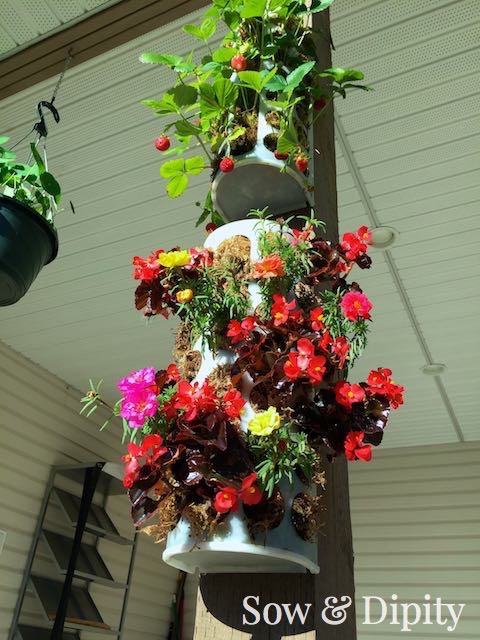 Turn an old colander into a fab junk planter… love!
The more rust the better! This tool box is growing some herbs and other goodies.
And of course an old bucket can be turned into an adorable planter like this one I collaborated with The Passionate Home to create. They chalk painted the bucket, I planted it up. This is full of edible flowers… visit this post for the details, Edible Flower Planter.
Want to see these recycled planter ideas in my garden? Check out my spring garden tour… hope it inspires you!
If you love these kinds of posts… don't miss them! I send out a monthly-ish newsletter (when I'm not in the garden!)
Subscribe today!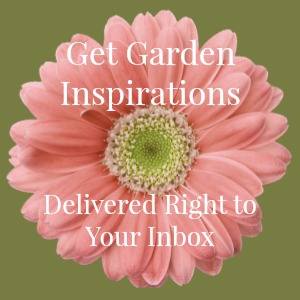 Think OUTSIDE the POT!
Save
Save
Save
Save
Save