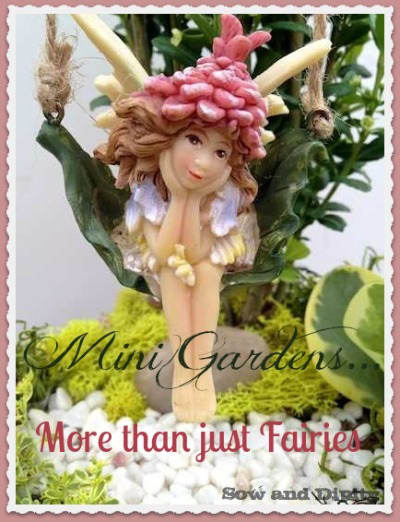 Mini Gardens are more than just Fairies, they are little worlds we can create on just about any subject and in anything that will hold dirt!
On Saturday May 24th I hosted a Hometalk Spring Garden Craft Party at Milner Village Garden Centre where I've invited 3 other local talented Hometalk bloggers to show off their crafty idea's at this meet and greet event. We were honored to have the editor of Stimuli Magazine join us for this fun, inspiring craft day!
Mini Gardens were demonstrated at my booth and for those of you who were not able to attend, I'll share them here.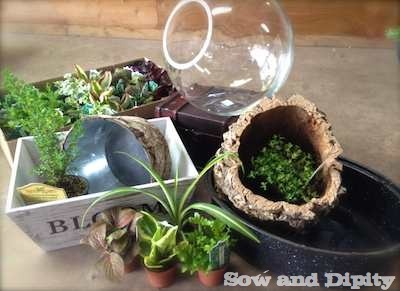 As I stated above, anything that can hold dirt is a candidate for a mini world. I went around the store and gathered a few vessels I felt would fit the bill. A glass bowl ( which will become a terrarium ), a hinged wooden box, and an old roasting pan are just a few of the containers I chose for my Mini Gardens.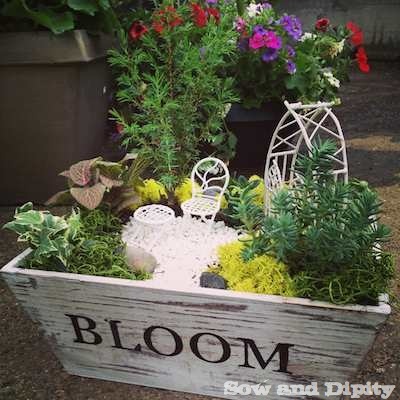 Your little world can be anything you imagine, it doesn't have to have anything to do with fairies at all. Perhaps you want to create a quiet sitting area where you envision a shady spot under a tree with a cool glass of ice tea and a great book. This is your oasis, every time you look down on your perfect garden you can imagine yourself right there.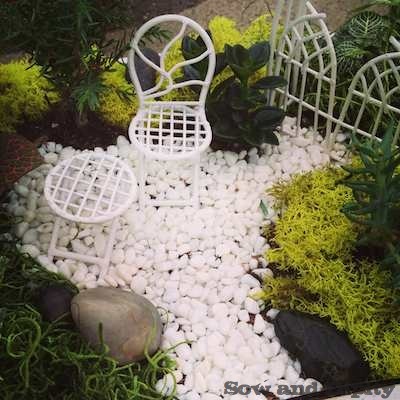 Maybe you want to create a Mini Garden for someone else! Is you! Your husband may wear a suit Monday through Friday, but come the weekend he can't wait to hit the lake. This low maintenance planter is perfect for the office… now he see himself with that big catch every day.
Oh… I know what your wondering. Where did I find that nifty boat? At the cake decorating store! Who said you can't use those figurines to create Mini Gardens?
I love these little mini mushrooms, I have to keep ordering them in because they sell out so fast!
 I also decided to do up another male inspired theme, GOLF. This one is my favorite and can be viewed in my post for Gardening Gifts for Dad.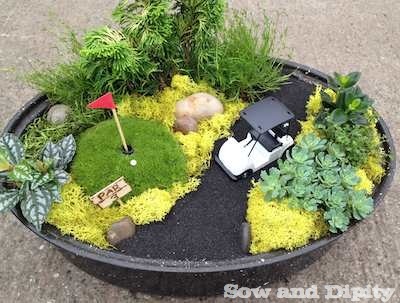 The golf ball is a straight pin I dipped in white paint and the little Par 3 sign was made with a wood burning tool and pops-cycle sticks! I just love this stuff, lol.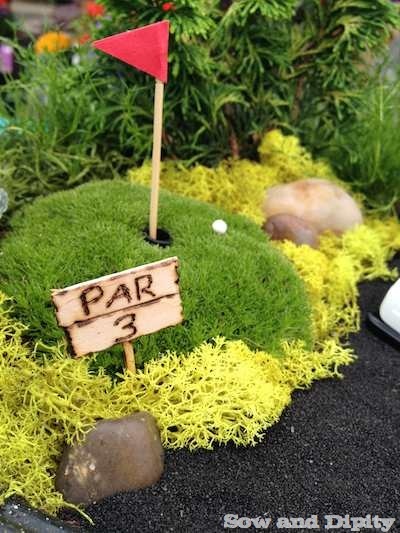 Okay, we HAVE to do at least one Fairy Garden. I just adore this little sweetie on a swing so I cropped her stand to fit perfectly in this cork log planter. This upright planter has a lot going on for such a mini garden, but without all the accessories… just her, some plants and yes, more adorable mushrooms.
The way I add interest to my mini gardens is with colored aquarium gravel and this dyed moss. A little goes a long way which is why I made packages with just enough for your little project.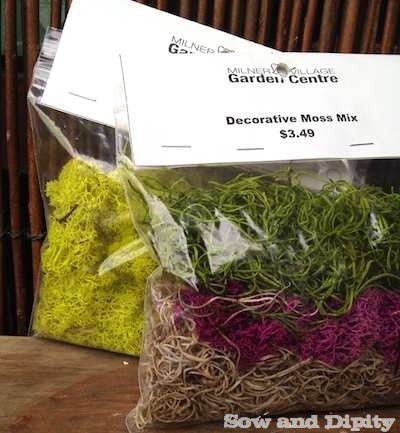 This little box was done up on Saturday at the booth and I had to come back to this post to add the update below…. so yes, I did include TWO fairy gardens in this post after all.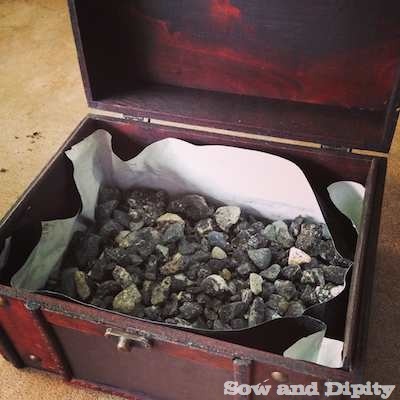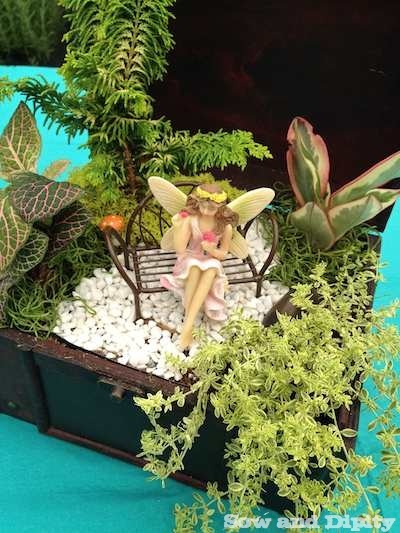 Be sure to check out these other fabulous idea's the other Hometalk bloggers created for this event… they are pretty awesome!
Crystal Allen of Sew Creative Blog did a Pallet Mason Jar Herb garden.
Jamie Lundstrom of So Much Better With Age created these amazing French Glazed Pots.
Tara Mihalech of Suburble did up these adorable Nautical Mason Jars Lanterns.

And you HAVE to visit Stimuli Magazine, a publication completely dedicated to the lower mainland!
Peace Love Garden