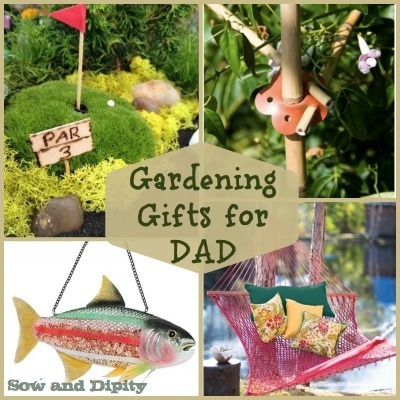 There are a lot men out there that LOVE their gardens! I know, because I see couples shopping in the garden center all the time and I've made the mistake of assuming it was the wife who chose the plants in the their shopping cart.
So, I thought it a great idea to put together a few suggestions that are perfect Gardening Gifts for Dad this month. A gift certificate is always a safe bet to his favorite garden center but if your looking for something a little unique, then read on…
Does your dad do daily inspections pacing through the yard checking in on his plants? Well then he may love doing double duty with these Aerator Sandals he can strap on to his shoes that will help improve the health of his lawn! Just walking around, he can help reduce thatch, break up compacted soil and allow air and nutrients to get to the roots of his beloved turf and plants.
Your dad LOVES the outdoors but not for garden therapy. During the week he's a suit and tie kinda guy, but come the weekend he's enjoying perfectly manicured lawns on the golf course! Why not create a mini garden that he can keep in his office to remind him of his favorite outdoor pastime.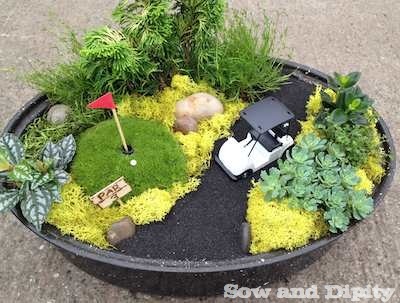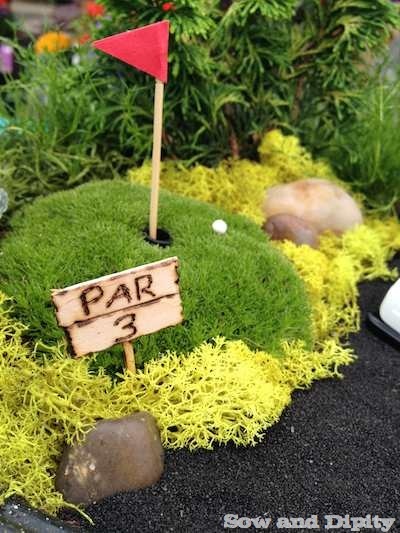 And if your 9 to 5 dad can't wait until for the weekend to head out to the lake, you could make this adorable mini garden instead. Learn more about how I made these here.
Does your dad keep talking how he's going to build some raised beds, but he's not too handy with a hammer? These solid steel raised bed corners make creating perfectly square garden beds easy and they look great! Handyman skills not required.

Growing the perfect tomato is your fathers mission every summer. He loves to brag about how much effort he put into that perfectly ripened beefsteak your about to enjoy on your burger. How about surprising him with this super simple mini greenhouse made for protecting his precious plants. Send him on an errand to the hardware store and you can have this up before he's back in an hour! Click the pic for the post link.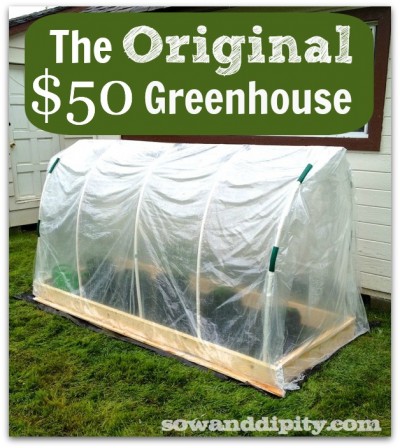 This next item is perfect for picking fruit or weeding beds! Now your dad can use this handy bag while he collects his bounty called the Hollow Leg tote. You simply wear it around your waist and drop your cuttings or fruit into the bag. I would like to extend a special thank you to Bob Bloomberg, the creator and owner of this clever idea for sending me some samples to try. I saw it at a home show and just knew that people had to find out about this cool garden accessory!
Okay, this is pretty cool for the dad who is now also a granddad! Now he can share his hobby with his grandchildren with something that they can call their own. This Garden Mat comes with seed balls ( non-gmo of course! ) that can be planted in this pre-planned lay out designed for perfect companion planting. It even has a built in drip line! I just had to include this in my gardening gifts for dad.
Your dad loves fishing, your dad loves birding…. heck your dad is just a nature lover at heart. Get him a bird feeder shaped like a fish and you will ( ahem ) kill two birds with one stone.
Here's another handy gadget I found at the Northwest Flower and Garden Show in 2013. These Silicon rubber flowers are an easy solution to quickly put together a trellis or tepee frame for your dads favorite plants. You simply push the bamboo stakes through the holes and you can create all sorts of adjustable supports on the go. I love them!
Every weekend your dad is out stoking the fire pit for a little family Kumbayah. You roast weenies, tell stories and he explains how to toast marshmallows to perfection. Well then, this steel campfire marshmallow tree will be the perfect fireside accessory for your outdoorsy dad.
Okay, last but not least… your dad loves the garden, for relaxing! He could just spend his day with his iPad swinging away and sipping his lemonade. Nothing wrong with that for a man who works hard all week to bring home the bacon. Get him this hammock to show him you care about his downtime.
I have to disclose that I have selected many items from Plow and Hearth for this post which is an affiliate link. But as I browsed through their products, I just kept finding more things I loved and just had to share!
I guarantee that any of these unique garden gifts for dad will be a hit and will show your Earth loving father that you really do care about his interests.
Happy Father's Day!