The weather has been quite cold the last couple of weeks. It's difficult to think about gardening when all you want to do is curl up on the couch with a blanket, your lap top and a cup of tea. So, since there isn't any sunshine outside, I decided to share a little project I did a couple months back that will at least get us talking about that elusive yellow globe in the sky.
This project was actually started last September. I'd do a coat of paint…then let it dry, for like three weeks ( talk about getting side tracked ), then do another coat, etc. When there was snow on the ground in January I pulled this forgotten project out of the cupboard and made an honest attempt to get 'er done.
I've done other mixed media art that I will share later, but for this one I stuck with canvas, paint, paper and my home made mod podge mix. I prepped the canvas with gesso ( a primer ) then randomly stroked the surface in my color scheme of blues and greens until I achieved the above effect.
I chose a font I liked and printed the line 'You are my Sunshine' over several pages to get the big letters. I traced on the back of the pages in a thick black pencil crayon so that it would leave a good transfer line on my scrapbook paper. In addition to the letters, I printed out the actual sheet music for the song as well as a separate page of lyrics onto stock paper in a grey scale. I decided to include the definition of 'sunshine' in the piece as well.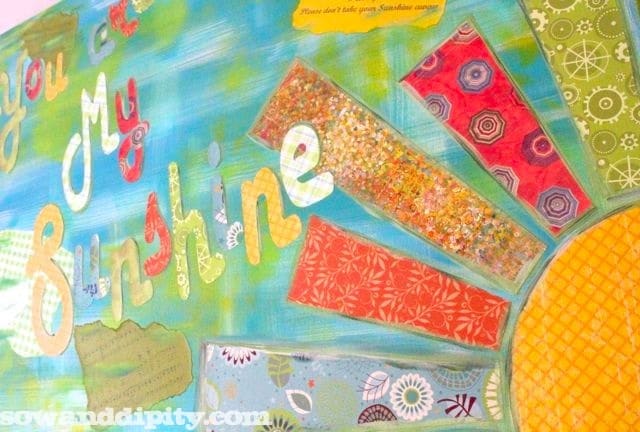 After cutting out the letters in different papers, I cut several shapes for my sun beams and tore the edges of my lyrics, music and other pages. I mod podged them to the canvas and allowed it to dry before painting in and around the edges.
I'm happy with how it turned out. So now it doesn't matter how gloomy it is outside….the sun is always shining in my kitchen. 
For more craft and garden idea's
Follow Sow and Dipity on:

and

Peace Love Garden