Slider BBQ Burger Bar Party
Are you planning to host a BBQ this summer?  A burger bar is not new, but in my research for some yummy toppings, I realized that in order to try several variations… regular burgers were too big.
So I created 14 different toppings for a themed Slider BBQ Burger Bar Party that was perfect for the Levy's Source for Sports staff BBQ this year. This was the Ultimate Burger Bar for a group of guys who love burgers, here's my line up of toppings to try!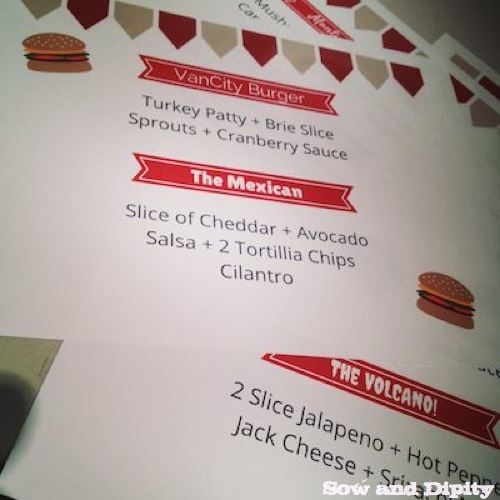 I'm not a foodie blogger, but I do love to cook and I am an event planner so I figured I would post this BBQ Burger Bar party since I couldn't find a slider themed version when I went hunting for it on the net.
Slider patty's are easy to make but I chose to buy the Presidents Choice beef slider burgers from Superstore to save time. I did however make turkey sliders. Here's the quick recipe that turned out awesome!
Turkey Burger Recipe
Approx. 3 lbs of Ground Turkey

2 eggs

3/4 cup Italian bread crumbs

1/2 cup diced red pepper

1/2 cup finely diced red onion

1/3 chopped parsley

10-12 dashes of Worcestershire Sauce

Seasoning Salt

Pepper
These are approximate measures as I really just add what I think a recipe needs, yes… I'm that kind of cook! This recipe made 20 sliders. Just roll into a golf ball size in your palm then give it a squish to flatten out.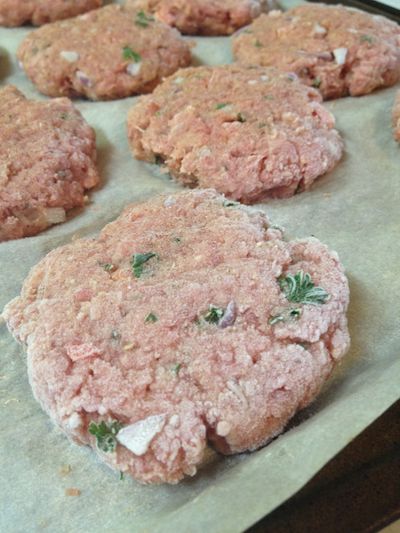 Here's a tip… freeze the burgers before you grill them, that helps ground turkey not fall apart when you cook them.
Now on to the toppings. This turned out to be a lot of work, but it was worth it! The guys loved trying the different sliders and every one was discussing what burger they were eating and what they couldn't wait to try next. I prepared pretty much everything the day before.
THEMED SLIDER BURGER MENU
The Island Burger

The Vietnamese Bahn Mi

SoCal Burger

The Baked Potato

The Mexican

Black and Blue

The Canadian

The Mighty Greek

The Volcano

The Spicy Elvis

Monty Mushroom

The Pizza Burger

The VanCity Burger

The American
Below are the graphics I made up for the party ( 8.5 x 11 sheets ), I did them up on PicMonkey. After each poster, I'll elaborate on the sauce's or ingredients used…. here we go:
Let's start with some easy ones! In the end I opted out of making an avocado sauce ( basically a mayo, lemon, avocado and cilantro mix ) and went with the Guacamole instead as it was used in another slider topping.
I made 3 packs of bacon the day before ( using cookie sheets in the oven, the ONLY way to cook bacon! ). The cheese slices were bought in a Costco pre-sliced variety pack, saved time and they were the perfect size for sliders.
I grow my own sprouts in a jar… SO easy! Started them on Wednesday to be ready for Sunday.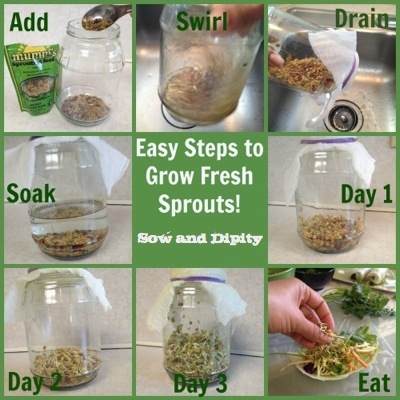 GROWING SPROUTS 101
Just add a tablespoon of seeds to a jar… cover with water, swirl and drain. Cover with water again, let soak 2-5 hours. Drain, I use a piece of cheese cloth and a rubber band. The next 3 days, cover with fresh water, swirl and drain at least twice a day… watch the sprouts grow before your eyes. They are ready to eat by day 3 and 4.
( Of course I was going to include SOME sort of garden/growing material in here… it's just what I do! )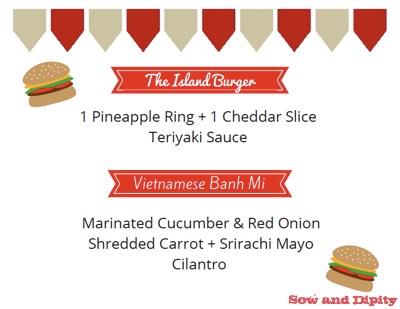 Ok, the Island Burger was easy… but the Banh Mi was a learning lesson. At first I shredded carrot and daikon radish and added a marinade of rice vinegar, sugar and some cilantro.
I read that this was going to produce an overwhelming smell and did it ever! I couldn't stand it in my fridge as the day went on and worried that it would make everything else smell… that night when it cooled off, I put it outside in TWO sealed bags only to throw it out the next morning as I could still smell it when I stepped outside… there was no STINKING way ( pun, lol ) that I was going to have that on MY burger bar! So it was fired and I tossed the cucumbers in some regular vinegar, sugar and cilantro a couple hours before the BBQ.
Sriracha Sauce
Recipe from White on Rice Couple
6 Tablespoons of Mayo

2 Tablespoons of Sriracha

2 Teaspoons Lime Juice

1/2 Teaspoon of soy sauce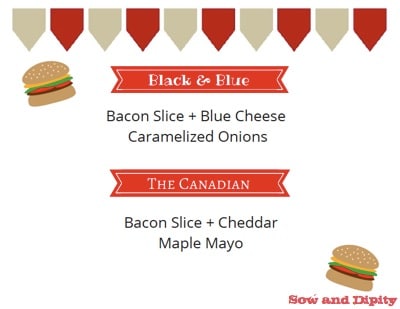 Ahh… the famous Black and Blue burger! The caramelized onions take a while to make but it's just a matter of adding some olive oil or small amount of butter to a large sauce pan and slowly cooking ( medium heat ) about 6 large yellow or sweet onions cut in rings, tossing from time to time until they are a nice deep caramel color. You can sprinkle a touch of sugar on it too to help with the process.
Maple Mayo
1/4 cup mayo

2 Tablespoons REAL maple syrup

1 Tablespoon Dijon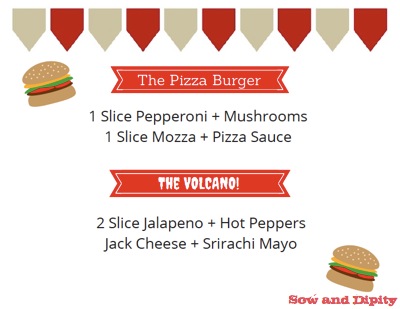 Pizza on a burger.. total man food! I sauteed the mushrooms the day before, allowed to cool before storing in the fridge over night. The Volcano was the favorite amongst the guys….of course.
I had a running challenge ( these are hockey and lacrosse boys after all ) to see who would eat 7 sliders first, the Volcano had to be included in their 7. My hubs thought that was way to many burgers for them to try and eat, um… hardly, 20 year old sports guys can crush this challenge and several of them did!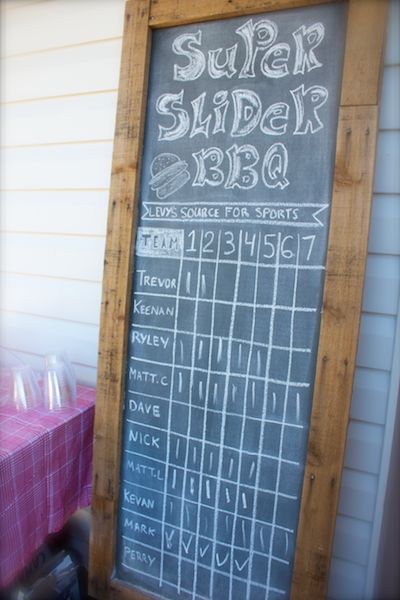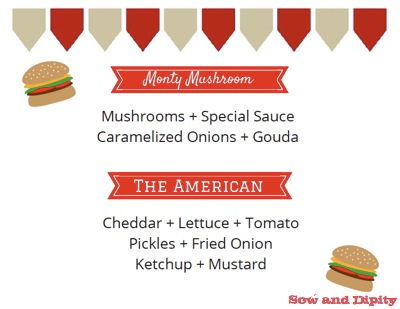 Gotta have a special sauce! Guy Fieri's Donkey Sauce rocks so much so that you should have a batch of this in your fridge for all your summer BBQ's. I realized when I went to make this sauce that I had no fresh garlic…. but it turns out that I missed a few cloves in the garden from last year's harvest because I had garlic growing in that space where I never planted this past fall.
When you pull garlic from the garden, use a trowel to get up underneath it, otherwise you'll pull up the stock and your bulb will remain in the ground. Not the worst thing, because that's precisely why I had garlic for this recipe 😉
Guy Fieri's Donkey Sauce
1 cup Mayo

1/4 cup roasted garlic

1 teaspoon regular mustard

1/2 teaspoon Worcestershire sauce

Salt and Pepper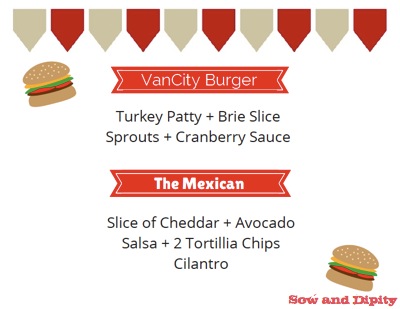 We are just on the outskirts of Vancouver, British Columbia… West Coast food is unlike anywhere else, I can't really describe it, just that it's west coast-y. This burger was the most homemade as the sprouts and patty's were made in house, recipes above.
The guacamole was served for the Mexican burger rather than avocado slices… with that many ingredients to prepare, I didn't want the avocado to discolor waiting to be served.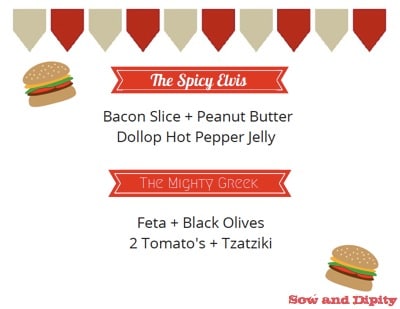 The Spicy Elvis was my husbands favorite, I got that recipe from Good Housekeeping, in fact they inspired several of the names of these burgers. I had to tweak many of the recipes though for them to work for this Slider BBQ Burger Bar Party.
The Tzatziki sauce was bought pre-made to save time, but this was a delish burger too.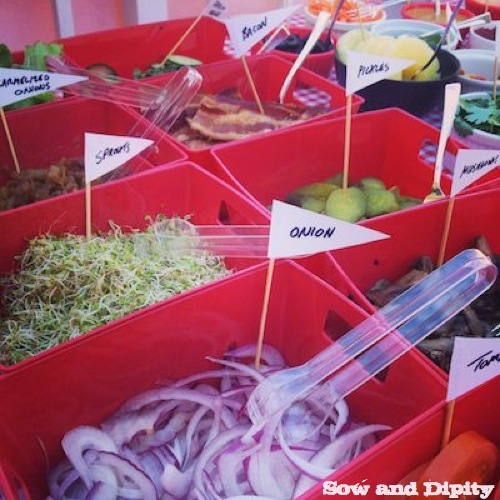 With all those toppings, sauces and cheeses I needed to head to the dollar store and stock up on some little containers. I would have been resorting to serving these in coffee cups if I didn't!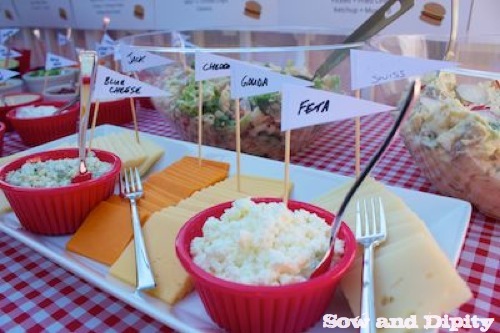 I also spent some time the night before making little ingredient flags so the guys would be able to find the toppings they were looking for easily. I just cut white paper triangles and glued them to the tops of long toothpicks.
The railing was perfect for hanging the posters on and I picked up a red and white checkered table cloth to keep the theme strong.
We served various soft drinks, beer and I made a white sangria with frozen juice rings for the girls.
I served a Mac Salad and a Potato Salad and stopped there… the Slider BBQ Burger Bar was going to be a lot of food. The guys lined up, filled their plates and stuffed their faces.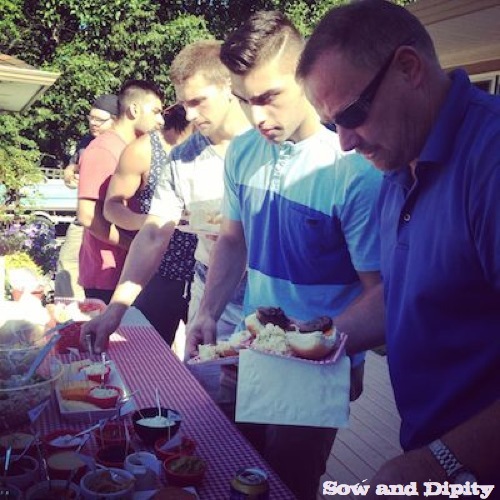 Bocci and pitch and putt games served as entertainment to win prizes, and after the dinner was finished, my buffet table turned into a ping pong surface for another round of competitive shenanigins…. sports anywhere, all the time.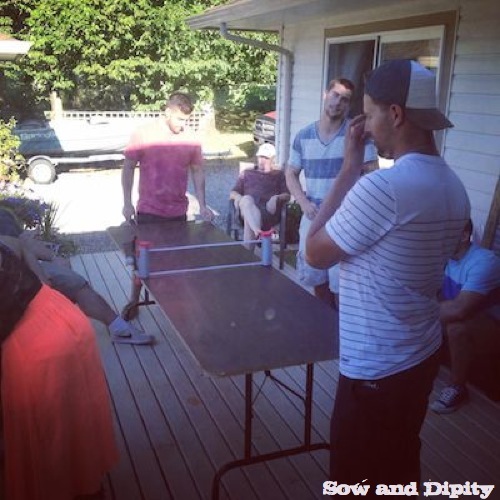 I love to throw themed parties, it's my favorite way to entertain! In fact I'm planning a ladies night fundraiser event right now for 200 women celebrating the Food, the Fashion and the Flavors of the Fraser Valley. I'll do a post of that party after August 22nd.
In the meantime, I hope my Slider BBQ Burger Bar Party inspires you to host one yourself.
Have a great Summer!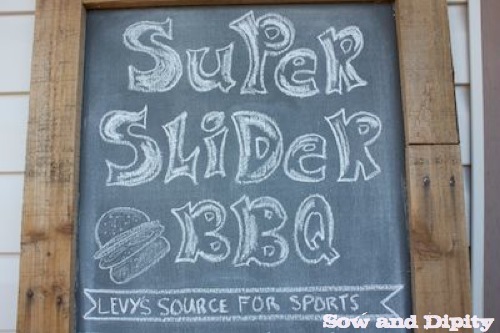 Peace Love Garden