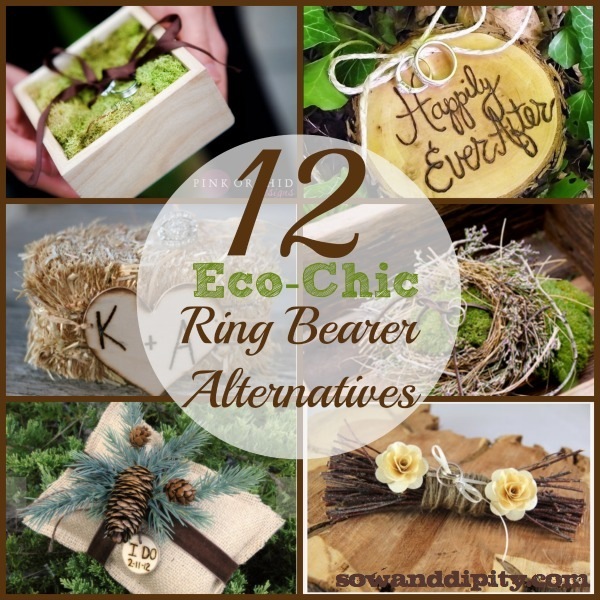 12 Ring Bearer Alternatives with a Dash of Eco-Chic
I'm already happily married but if I had a chance to do it again, you would see one of these fabulous eco-chic designs as a ring bearer alternative to a pillow.
From crocheted stones to bundles of twigs… if your planning a wedding with a rustic or woodland twist, check this collection of ideas.
#1. Burlap and Pine Boughs
This is so simple to make but so perfect for a woodland themed gathering.
 #2. Nest of Rings
I love the touch of mossy goodness in this ring bearer alternative.
 #3. Pining for You
Pine cones are hot right now, from bleaching them to dipping them in paint… why not use them in a wedding to help you with your I do's.
#4. Moss in a Box
These boxes are available at any craft store making this DIY ring bearer holder a cinch to put together.
#5. A little bit o' land, a little bit o' sea
Great combo of seashells and earthy moss in this alternative.
#6. Cowgirl Style
This is a must for a western themed wedding! You could carry this idea to your place card holders in the reception area or centerpieces. Love it!
#7. Say it with Stones
I've already discussed this trend of crocheted sticks and stones in my post on 10 Garden Trends for Spring so it doesn't surprise me to see this as a ring bearer alternative.
#8. Love under Glass
Such a pretty idea to combine a little moss with an elegant glass box, what a beautiful way to present the rings.
#9. Pillow made of Moss
AND succulents… this. is. perfect!
#10. Rustic Twigs and Twine
Just the whole shape alone is unique. I could easily see this one as a front runner if I were to do it again.
#11. Little White Pumpkin
 Although this has a harvest feel to it, I could see this as a perfect idea for a princess wedding too.
 #12. Rings on a Wooden Tree Ring
I left one of the best for last. You can personalize this by burning the names of the bride and groom, the date or any other little message of endearment.
If you came across this because you are planning a wedding, I wish you all the best and hope you have an amazing day!
For more craft and garden idea's
Follow Sow and Dipity on:


and


Peace Love Garden