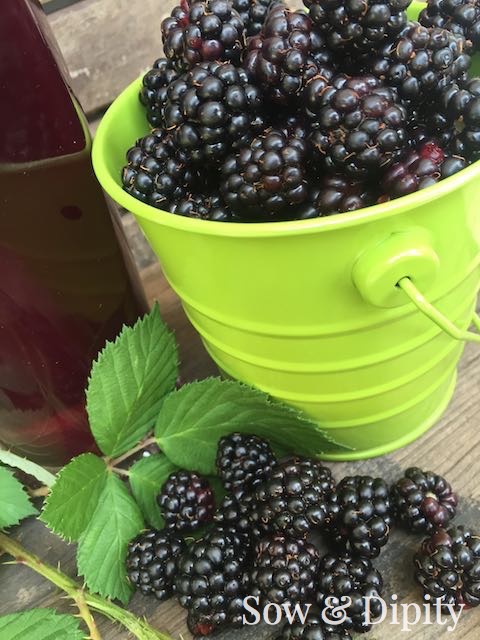 Red Wine Blackberry Vinegar
How does a blackberry vinaigrette served on fresh greens and with local goat cheese and toasted sugar glazed hazelnuts sound? Mmm… it was delicious and it certainly celebrates being a locavore.
Make this flavored vinegar and have it at the ready when your putting together a delicious summer salad.
I am very happy to announce that Sow and Dipity has partnered with some amazing brands this year. As a rule, I will only promote products I believe in and that match my set of values. In exchange for the generous samples they send me, I am proud to demonstrate them to you.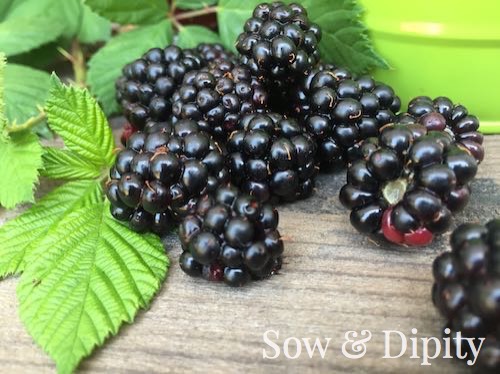 I have no shortage of these blackberries growing in the back yard so I needed to come up with some recipe idea's to use them up. This recipe was found in an old Gardens West Magazine.
2 Cups Blackberries

1 1/4 Cups Red Wine Vinegar

1/3 Cup Sugar

1/4 Cup Water
Combine ingredients and bring to a gentle boil covered for 5 minutes. Cool and then strain through a lined sieve pushing on the berries to extract juice. Store in a jar with a tight fitting lid in the fridge.
Add vinegar to a good olive oil in the amounts desired (usually 3 parts Oil to 1 part Vinegar) when making a fresh homemade salad dressing.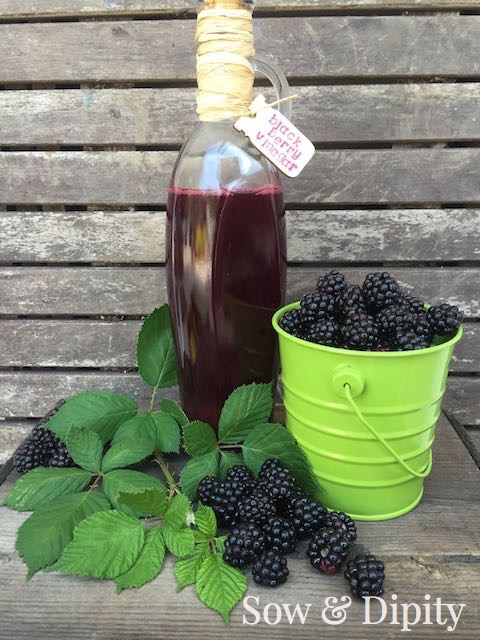 Here's the salad I did up…
You can use any greens you want, I did this up with romaine as I have a TON of it and we need to eat it up because it's starting to bolt. I love how handy my Fiskars Big Grip Knife is for harvesting my lettuce, I can just slice a head off at the root and leave the dirt behind.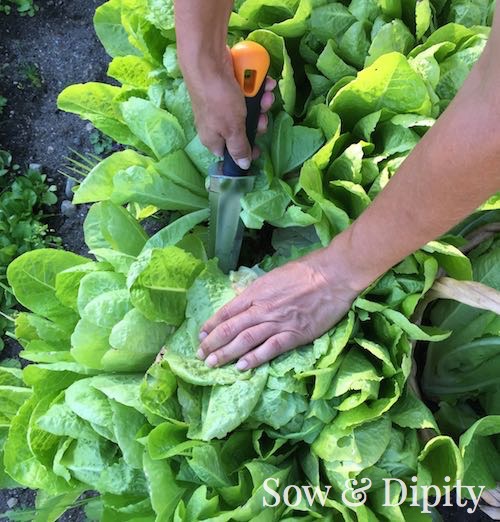 It's been a hot summer so far so the lettuce that is starting to bolt has been tossed into the compost and I'm already starting fresh seeds for a continuous supply.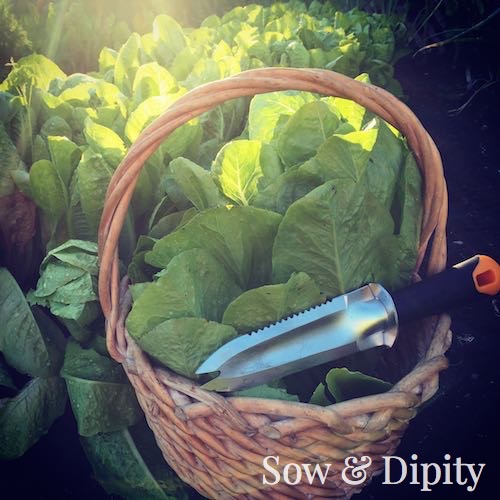 I also decided to have some fun with my vegetable bed this year… I've been planting double and triple rows for years to save space and water, but why not make it extra cool and do a design!
All my greens were started using Renee's Seeds… there are some fantastic varieties to check out in their seed catalog.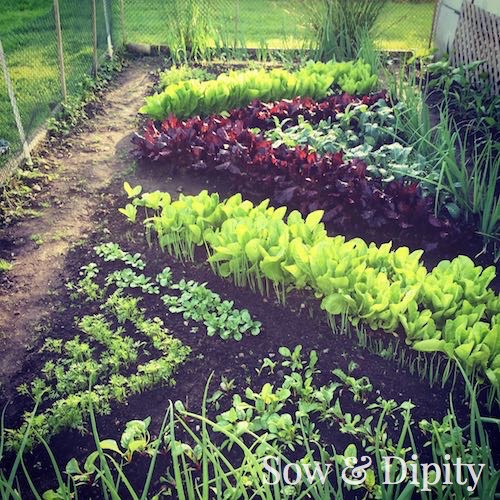 Okay, back to the BEST salad ever! A couple of weeks ago I traded some romaine for some local hazelnuts from Sandra at Arts Nursery. If you want some, she has a hazelnut orchard so be sure to inquire about that if you are so lucky to live here in Langley, BC.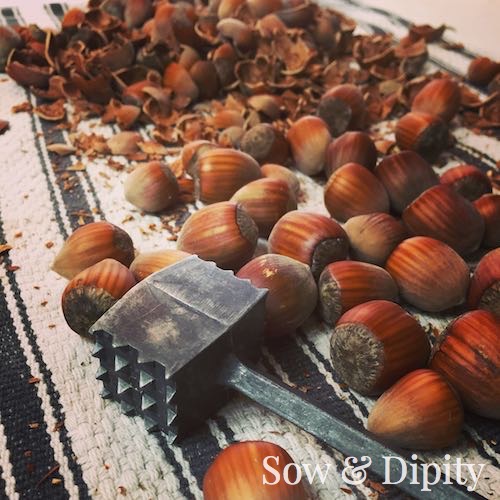 Roasting fresh hazelnuts is a bit of work… but SO worth the effort. First you got whack a lot of them, which is kinda fun. Then roast the nuts in the oven turning a few times at 375 degree's till they start to brown, then remove them.
Wrap the hot nuts into a towel and let them sit for a few minutes to 'steam' the papery skins. Grab handfuls into another towel and vigorously rub them to make the skins fall off. Some will stay stuck to the nut so don't worry about it… you won't get all of them off.
If you can't get local hazelnuts in the shell, just buy them raw at the bulk bins at the grocery store then do this:
For 2 cups of sweet roasted nuts, all you do is mix together 1/4 cup of brown sugar, a little bit of water to make it syrupy and a dash of cinnamon. Toss with the nuts and throw this back into the oven for about 10 min, turning often until golden brown. Cool and store in an airtight container to have them ready for tossing onto summer salads. (If they make it that far! These are so deliciously addictive you can't help sneaking into the kitchen to grab a handful, yum-a-roo!)
Now that you have your key ingredients, time to put this salad together, here's the recipe:
Blackberry Basil Chicken Salad with Red Wine Blackberry Vinaigrette

Blackberries

Salad Greens

Chives or Green Onion

Fresh Snipped Basil

Sweet Roasted Hazelnuts

Grilled Seasoned Chicken Breast

Goat Cheese

Red Wine Blackberry Vinaigrette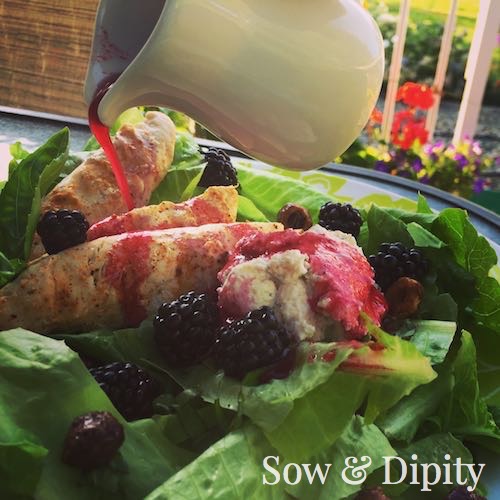 This salad may not look like much, but the flavors were incredible! One of the best I've made this summer… so far.
Want more garden to table recipes? Subscribe to my monthly Email…