Pallet Wood Serving Tray
1 Pallet, 5 Projects. This is the second project in my DIY recycled pallet wood series. The goal was to create as many garden related decor items I could from just one simple pallet. Why?
Cause I'm a decorating on a dime diva and I wanted to see how far I could stretch it. Here is one of my favorite from that pile of wood and it will be yours too!
This project is so simple! I chose to make this a small accent tray for creating a summer vignette on my patio table. I cut three 14″ pieces of pallet slats and a 9″ piece in half for the holders.
You'll need two drawer pulls for this project as well. I chose ones that were handles rather than knobs for better grip when carrying items on it. Cut and sand your pieces than assemble.
Place your handles on the 9″ pieces first. Then lay these across the three 14″ pieces and screw them on from the bottom.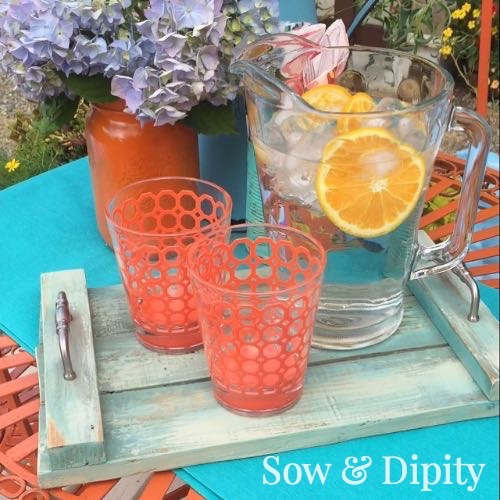 I just slapped some eggshell blue acrylic and cream chalk paint on very loosely then went over it with some sand paper to rough it up.
The tray is adorable and it makes a perfect accent for my summer entertaining. The last project I posted in this series was the DIY Bird Feeder…
To see more, search my 'garden crafts' page and subscribe so you won't miss the rest!