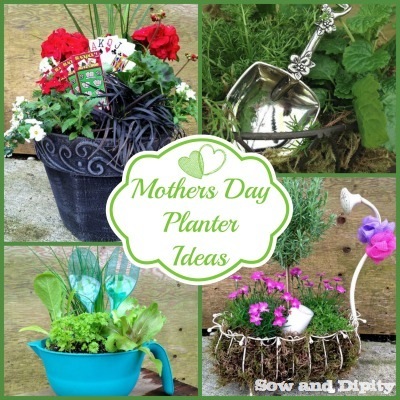 Mother's Day Planters

Beautiful planters and hanging baskets are the number one gifts for mom's on Mother's Day. There certainly is no shortage of pre-made options out there but if your looking to customize a planter designed for your special mom, than here's some great Mother's Day Planters to inspire you.
A Cup of Tea Planter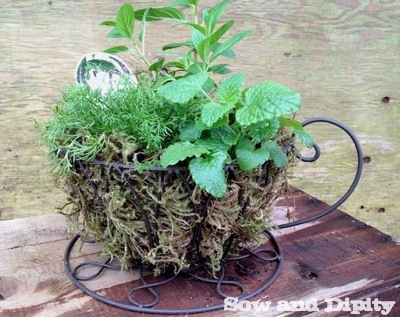 This Mother's Day Planter is for the mom who loves to peruse specialty tea shops and collect exotic blends in pretty foil packets. She has every type of diffuser to enjoy her favorite teas and a special to-go mug she totes with her everywhere she goes.

Try creating a planter that has herbs meant for brewing such as this one with Chamomile, Lemon Balm and Peppermint. If you can't find a wire frame in the shape of a tea cup you can create this is a vintage tea pot you scored at the flea market.
A special touch is to add a tea diffuser or use an 'Everything Spoon' like I did. This special spoon is from Ganz and it's a Tablespoon Measure, Teaspoon and Tea Bag holder all in one.
One Lucky Lady Planter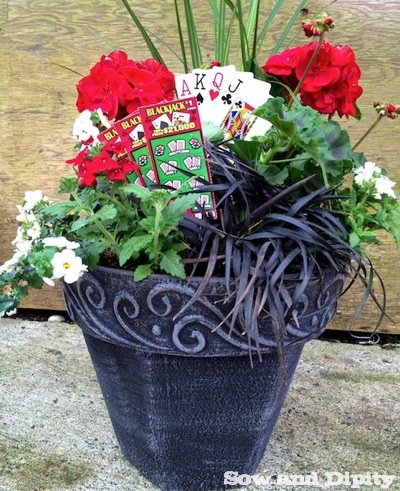 Red, white and black plants are combined together in this themed Mother's Day Planter that's perfect for that mom that loves to try her luck. I used a Black Mondo Grass, Red and White Verbena's, Red Geraniums, Bacopa and a Dracena spike for this design.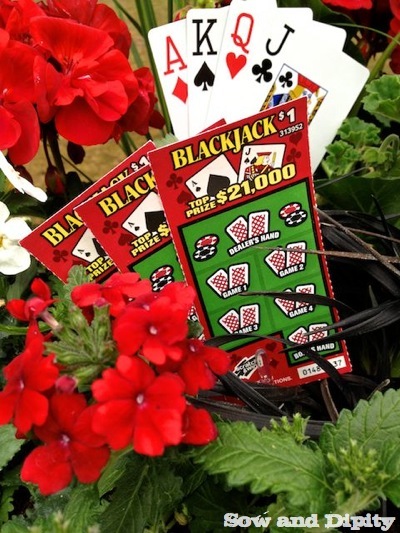 Add a few playing cards and some scratch and win tickets to make this planter extra special. Even if she doesn't win, she'll still feel lucky she has a son or daughter like you every time she looks at this pretty planter.
Bath Time Planter
Designed for the senses, this Mother's Day Planter is perfect for that busy mom that loves her downtime. A Lavender topiary is planted up with chamomile and Dianthus for a soothing fragrant combination.
This mom will love the added touch of a lightly scented candle and a bath puff she can enjoy while relaxing in a warm tub. You can take this even further by adding some bubble bath and perhaps a new book for her reading enjoyment. Ahhhh….
Smoothie Planter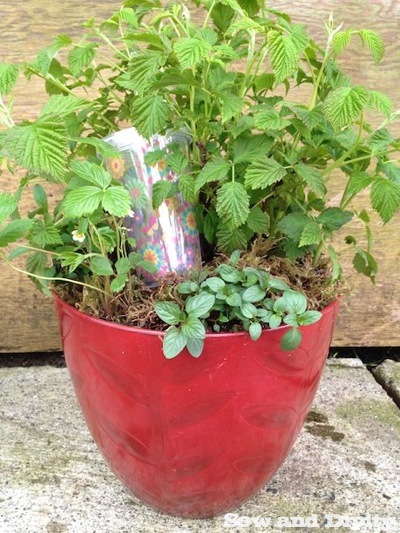 For the mom who takes her health and fitness seriously! In between running off to yoga or training for her next half marathon, she's always whirring up a smoothie concoction on her way out the door.
This Mother's Day Planter combines a Brazelberries 'Raspberry Shortcake' shrub with strawberries and two kinds of mint. This new variety of raspberries is perfect for patio pots so she won't have to go very far to blend up her morning shake.
Make it extra special and pop in a new sippy cup she can take with her on the go.
Salad Planter
What a pretty way to jazz up your mom's greens! This Mother's Day Planter is designed for the cook who loves fresh ingredients. I used a biodegradable bamboo colander and stuffed it full with radicchio, chives, parsley and romaine.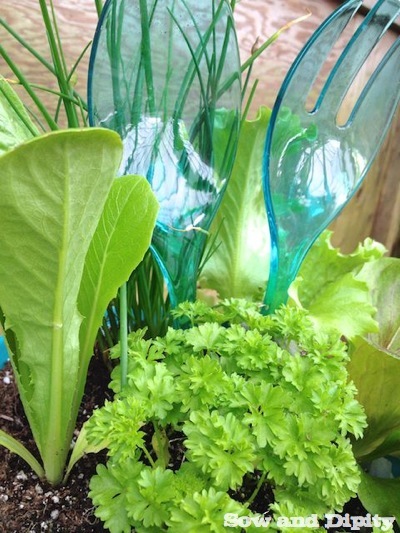 Add a couple of salad servers to this planter and it's almost to pretty to eat. She'll adore the thought you put into this years Mother's Day gift when you present her with this delicious edible planter combination.
Hope these idea's inspired you to
think outside the pot
and come up with a planter that's just perfect for your special mom.
I had the pleasure of sharing these on Global News on May 7th, check it out!
Happy Mother's Day!
Peace Love Garden