Valentine's Day Craft
February….the month of love….sigh.
Are you looking for a way to add a little romance to your home and bubblegum pink doesn't really fit with your decor? These flirty little pillows are a perfect for Valentine's Day craft, yet simple and pretty enough to leave out year round.
Printing on fabric is easy…even when using your very own written words! I used natural muslin, burlap, jute twine, recycled buttons, and left over bits of lace and eyelet trim.
For the words I used photo transfer paper and the Papyrus font which I felt was very fitting for these all natural fibers. 
Here's the low down on the how to:
I guarantee your going to get all warm and fuzzy with this part as you have to dig out that old memorabilia box and search through past love letters, birthday cards or whatever special notes you have tucked away. The letters I found were when my husband and I had to spend three whole months apart until I moved out east, oh… the torture of that long wait.
Yes, there was email back then (jeez, I'm not that old) but we were sending each other care packages and music cd's etc. It was fun and heartwarming to read through them all…there I go, getting all sentimental again just writing this, ahh Valentine's Day.
Printing backwards is simple depending on your editing software and printer. I used photo shop to crop and zoom in, then pasted it to a plain word document. When it was time to print, I had an option to 'flip horizontally' for my set up. Yours may say mirror image or reverse. Just be sure to test it on a plain piece of paper first as to not waste any of your the transfer paper which you can buy at any place that carries printer supplies.
For my love letters pillow, I cut 2 squares at 12″ x 12″ out of the muslin. I happen to have a commercial grade press at my disposal since my husband and I also do team apparel and embroidery so this was just a matter of placing and pressing. But you can do this just as easy with your iron. Just apply a lot of pressure and do one image at a time.
For the burlap pillow and the small toss cushion I printed as many words as I could fit onto each photo transfer page then I cut them out. I drew a big heart onto parcel paper and used that for my burlap heart pillow stencil. I also cut two hearts out of fusible backing to adhere to the inside of the burlap so that the stuffing didn't try to work it's way through the jute fibers. Iron your fusible pieces to your burlap and set aside.
For the little word toss cushion I just cut a rectangular shape in the size I thought would work.  A little tip about cotton batting filler, I never buy the bags of it as it is quite expensive. I go to Superstore or Walmart and buy cheap $5 pillows and use those to fill all my stuff-ables.
Time to add our embellishments. I outlined my love letter with a lace trim and for my husbands I used some jute twine. I simply set my zig zag stitch to the right width and zipped along to attach it. I also used a zig zag stitch on all the burlap edges as well.
Yo yo's are a cinch (giggle)… get it… a cinch… to make. I used a 3″ button as my template and cut circles from the scrap materials. Simply run a basting stitch around the circle, gather up and shape it. Try making a bunch of these in different sizes and materials while you watch your favorite show and you'll have loads of them in no time.
When it came time to attach the buttons I cheated and just hot glued them on since these pillows are for decoration purposes only. I'm really happy with how these turned out and the whole project from start to finish was a feel good time. There's plenty of similar idea's out there on the web that you can Google for more inspiration.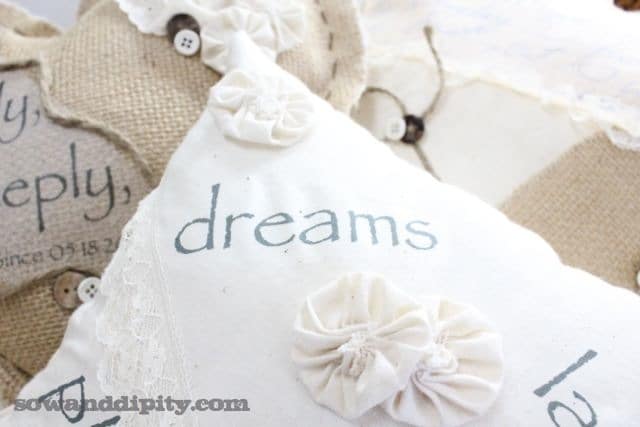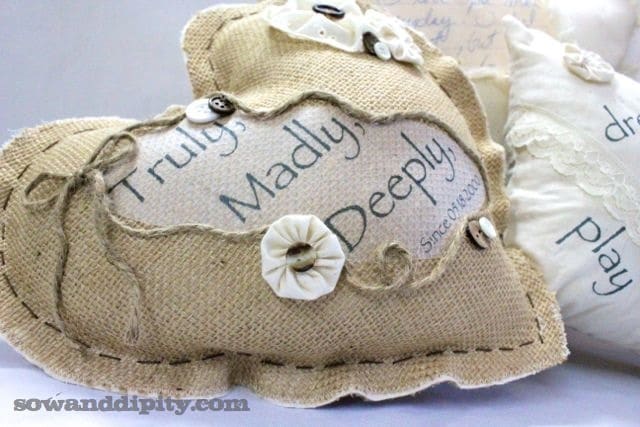 Hope this Valentine's Day craft has you digging through good memories as we get closer to this holiday of love….
…they literally do whisper sweet nothings in your ear.
May your bobbin thread always be full.