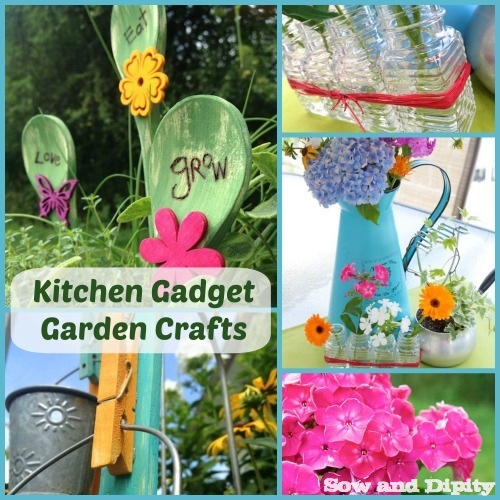 Kitchen Gadget Garden Crafts
Creative Mojo can come and go, but sometimes a challenge is just what you need to get it kick started again! A fellow member in a group of fabulous garden gals I belong to called the Garden Charmers asked us to come up with a garden art project using kitchen gadgets.
I came up with four….
I honestly had no idea what to do that hasn't already been done! Colander chandelier, kitchen utensil wind chimes, stacked glass bowl towers…and I've pretty much planted up anything that can hold dirt. I kept coming back to decorative picks and candle holders, so I ventured off to the dollar store and inspiration struck!
#1. Salt and Pepper Bud Vase
First up… salt and pepper bud vase. Seriously, this was a no brainer! Just stack em up and add a dab of E6000 glue ( waterproof and works on glass ).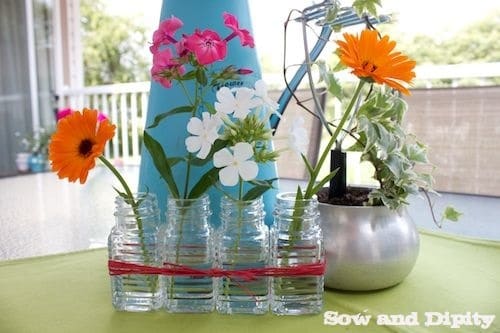 A little paper raffia…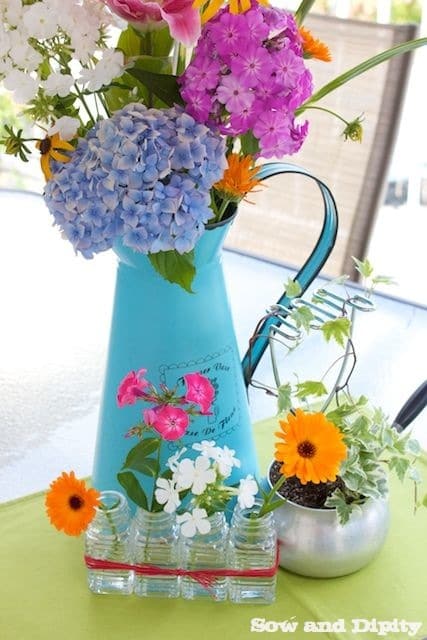 …and a few precious blooms from the garden.
#2. Wooden Serving Set Votive Holders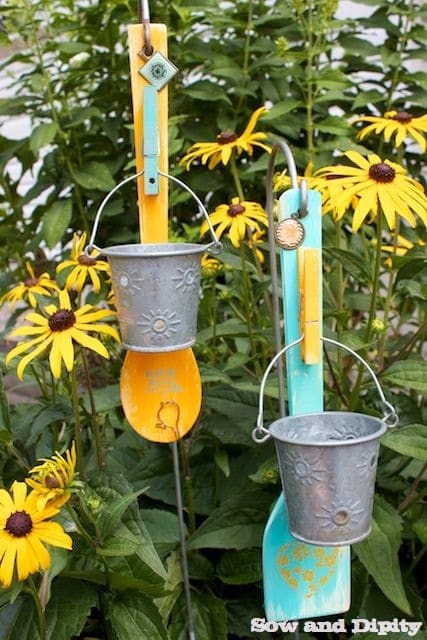 I held these in my hand at the store and kept thinking…what kitchen gadget garden crafts could I do with these? I figured I could give them a coat of paint and attach glass votives to them, but once I got home I recalled these adorable mini tin bucket candle holders I had and the idea was born.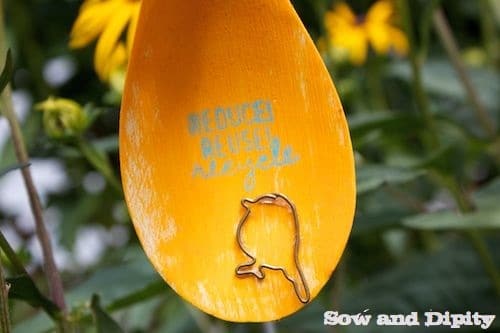 I needed a way to attach them to the handle so a clothes pin worked perfectly.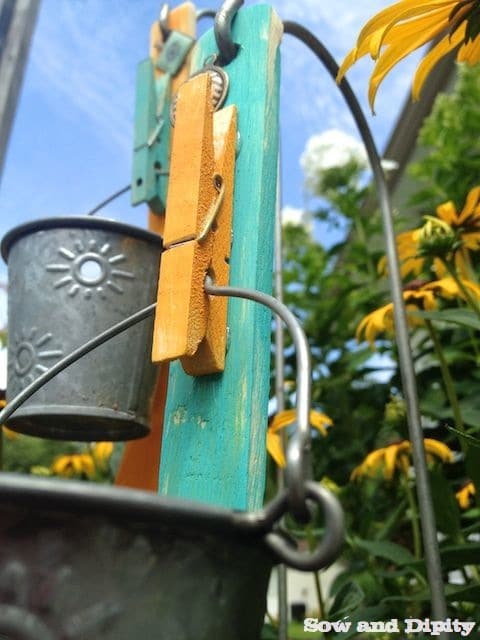 The colors basically reflected the bright sunny day we were having so I went with it.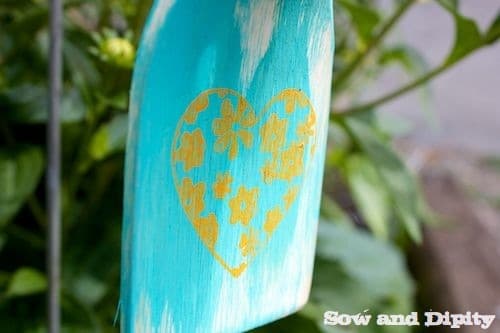 And the prints were added with stamps.
#3. Potato Masher Trellis and Saucepan Planter
This little pot has been hanging around my garden shed forever waiting for a project. I grabbed it in my travels back and forth from the house that day and decided to give it a purpose.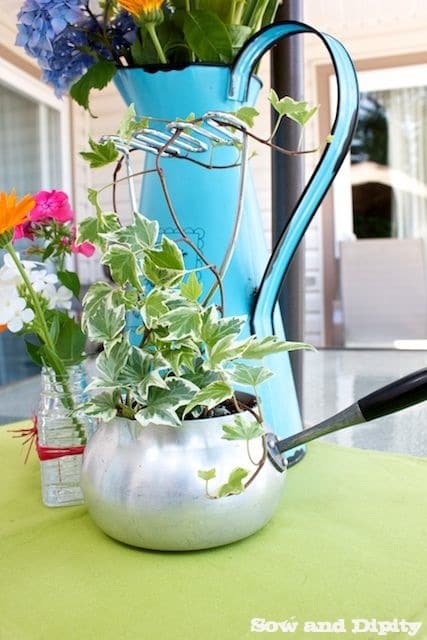 I found this old potato masher in the cupboard and now I had a match… turned out to be pretty darned adorable!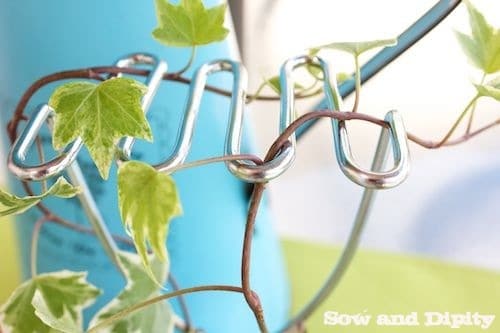 #4. Wooden Spoon Plant Picks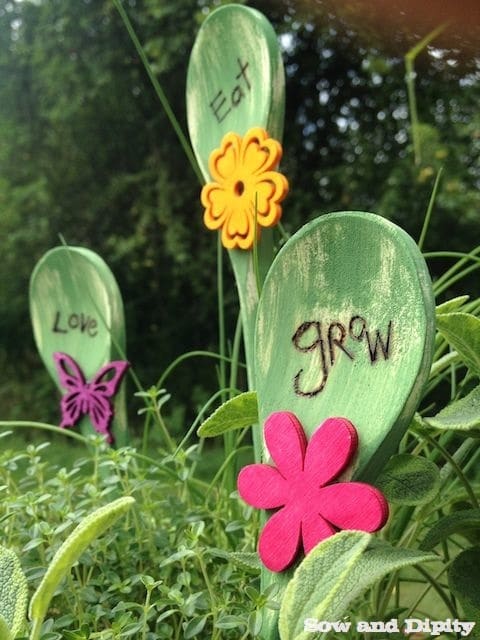 Wooden spoons are an easy go-to. I could do herb or veggie markers but I wanted more!
How about an herb planter with an inspirational message instead… hmm. I just so happened to be at a West Coast Creative blogger event this past Friday at 4Cats Art Studio in Kerrisdale and came home with a bag load of creative swag…including some paints from Plaid Crafts. Future post about that fun event coming soon…
I just gave it a quick brush with green and used my Plaid wood burning tool to create the words.
The flowers were cheap at the dollar store craft section and I thought they were a cute addition.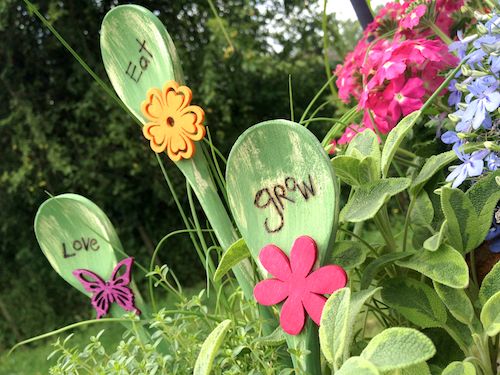 Kitchen Gadget Garden Crafts challenge accepted….. and completed! So, I think I did okay for a girl who had no idea before she went to the dollar store what kind of project I was going to come up with.
I'm hosting a BBQ party this weekend so this challenge definitely was good timing. What kitchen gadget can you turn into a green work of art?
Peace Love Garden