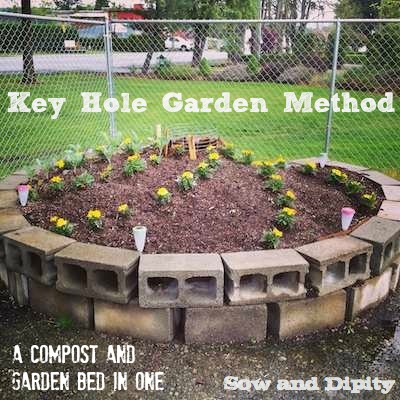 Keyhole Garden Tutorial
Here's another small space garden method to try. Dr. Deb Tolman is the original creator of this concept of rolling a garden bed and compost into one. It's based on the lasagna garden method where layers of recyclable materials are used as well as being water conservative.
Follow these simple steps to create your own and you'll have a veggie bed that is a pretty as it is Eco sensitive.
What is a Keyhole Garden?
A Keyhole garden is a raised bed that uses minimal space, recycled materials and combines a compost system and garden bed into one.
It's a circular shape with a slice taken out to allow for easy access to the compost basket in the center creating the keyhole shape. Build the sides out of wood, cinder blocks or bricks. Any type of material could be used that would allow you to build up the sides.
Use two sticks with a 3′ string tied between them to measure out your shape. Place one in the center and draw a line turning around the center point. Build your sides with your chosen material up 2 feet. We used 48 cinder blocks in our example.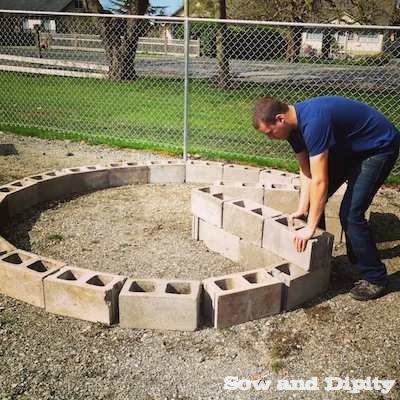 Similar to the lasagna style, a layer of rocks, twigs, branches and even old broken pots can be placed in the bottom to allow for drainage. Add layers of cardboard and the newsprint between compost and then fill the top half with straight soil/compost mix.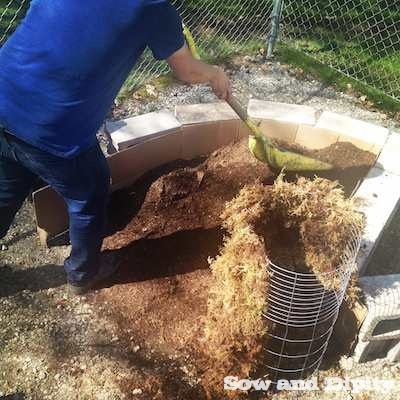 A 'compost basket' made of wire ( chicken wire or a more heavy duty gauge ) is at the center as you build your layers. We decided to use some old moss as a screen in our demonstration garden to create a permeable layer between soil and compost.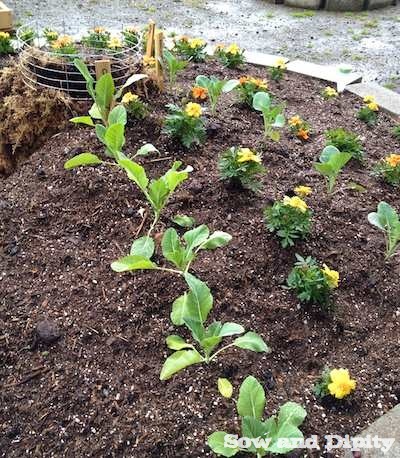 Slope your soil away from the basket towards the edge of your bed. The compost baskets gets watered, and this slope direct the moisture out from the basket and through the bed. The water carries nutrients from the decomposing compost material, thereby feeding the soil and irrigating it at the same time.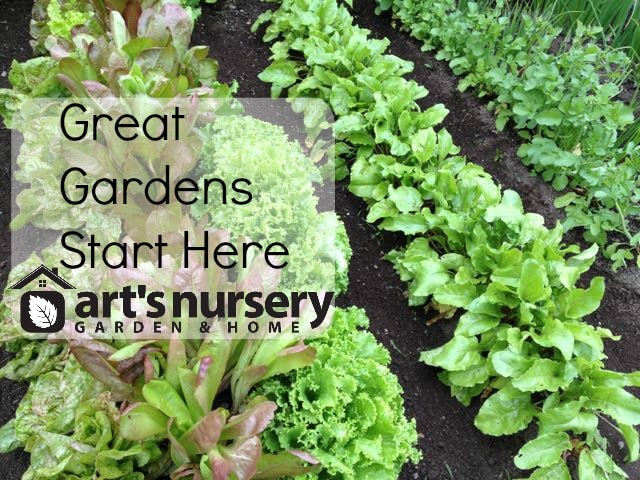 Plant your bed with any vegetables you desire. Have fun mixing edible flowers or even puttint a few poles curved over the bed for some climbers. Try planing in a twisting pattern to add more interest.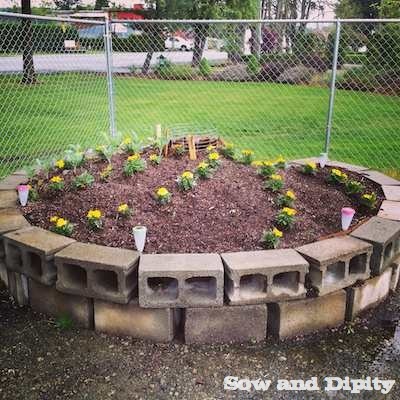 A Keyhole garden is a simple method with many benefits including:
Save Space

Raised bed for ease of reach

Perfect for wheelchair accessibility

Recycled materials

Composting made easy

Cost effective

Water conservative

Feeds itself naturally

Easy to create yourself

Interesting and attractive bed
Have fun putting your twist on this method and happy planting!
Peace Love Garden