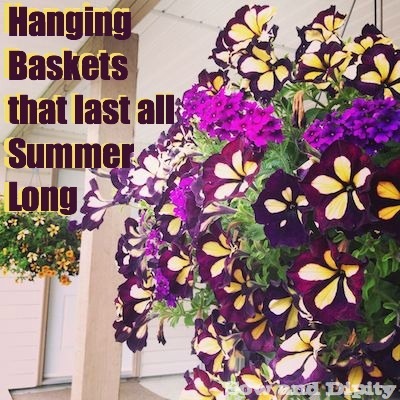 One of the number one questions I get asked at the garden centre regarding plants and hanging baskets is…
"Will this bloom all summer?"
This is the part where I make them raise their right hand and ask them to repeat after me….
I solemnly do swear that I will place this plant in its proper light requirements,

to never allow it to dry to wilt point and to water it as is needed on a daily basis.

I will feed it regularly for optimum blooms and will pinch it back when needed to keep it healthy and blooming all summer long.
If you follow all the above, then you have a better chance then most that you'll have hanging baskets that last all summer long but it's time to explain a little fact about those bloomers you bought in April/May… they are going to get tired about the middle of summer, right when your about to enjoy your garden, host that party or have that wedding, so you better have a back up plan… here's my secret to keeping you in flowers all summer long.
I advise my customers to plan their gardens in 3 month increments:
January, February, March

April, May, June

July, August, September

October, November, December
Count on your bulbs and late winter bloomers for the first quarter of the year. Then buy hanging baskets and cool weather tolerant annuals at the beginning of spring that are cheap and cheerful for that instant color your craving.
These will take you until at least July, but then don't count on them to bloom right through into fall and think they will give you three seasons worth of color, that simply isn't realistic.
The truth is, the baskets you buy in early spring have been growing since January. They are already 3-4 months old once you buy them and by the time the hot days of summer roll around they are starting to run out of steam.
This isn't true of all baskets, some folks have great success with them lasting well into fall ( they must have followed the above pledge ). But most folks are not that diligent and this is where they run into trouble.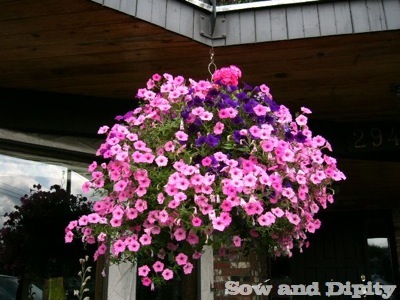 SO… the key to having hanging baskets that last all summer long is to plan in advance and plant up some baskets and containers by the end of May using basket stuffer's and young annuals.
This is what I do, then I place those baskets around my house and in area's where I nurture them until they are ready to replace my haggard looking baskets that just finished bringing me three months of joy.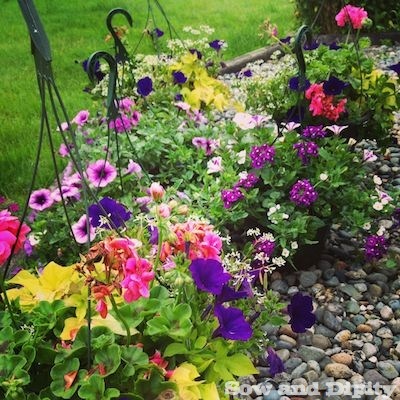 Here's what I did a couple years ago. I planted up my baskets, then when my inexpensive spring baskets were tired, I hung these up instead. They were pretty full by July.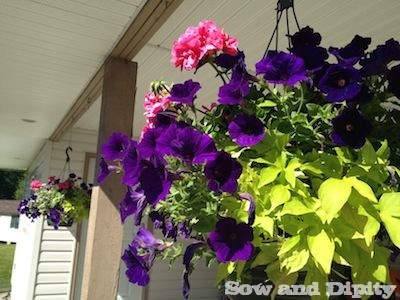 Even more wonderful in September and they took me right until October.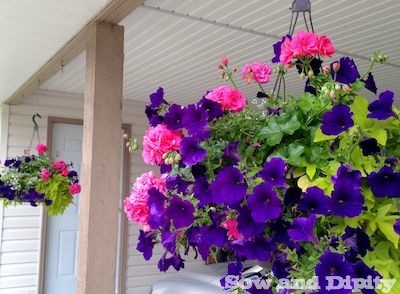 Last year I decided to do up some two-tone Ipomea baskets and placed them in between my spring ones until it was time for them to take center stage.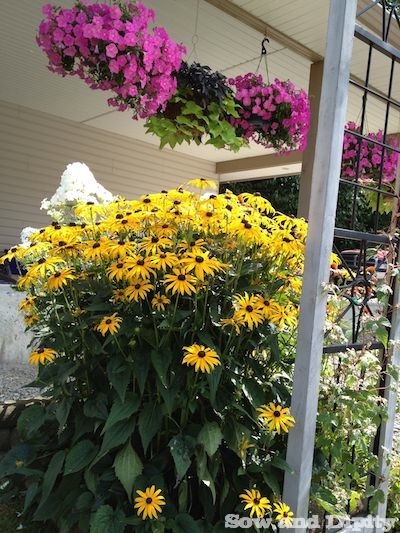 These looked amazing and huge come summer and were a perfect fit to my fall containers in September and October.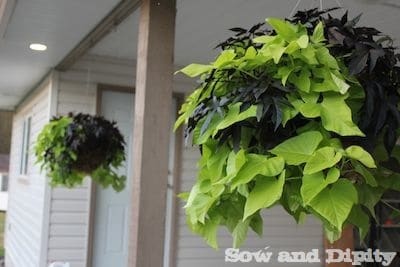 This year I decided to create containers that turn into hanging baskets and planted these up May 22nd. They look great placed around my fire pit and once my spring baskets bite the dust, I will pop on the hangers and throw these up in their place.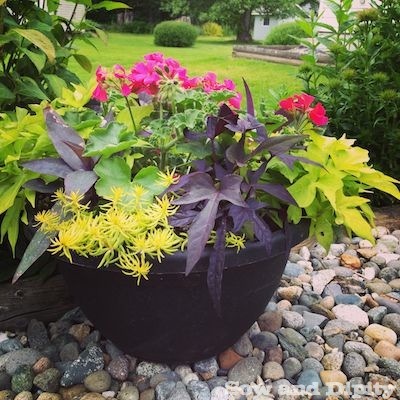 Now I'll have gorgeous flowers from May until October. When people ask me how I get my garden to look so amazing all year, this is what I tell them… it's all about planning ahead. I should add that it took no time to create my summer baskets, just some soil and some favorite go to plants. Here's my combo for my container/baskets for this year.
For my 16″ basket I added 2 Green Ipomea and 2 Black
2 Sedums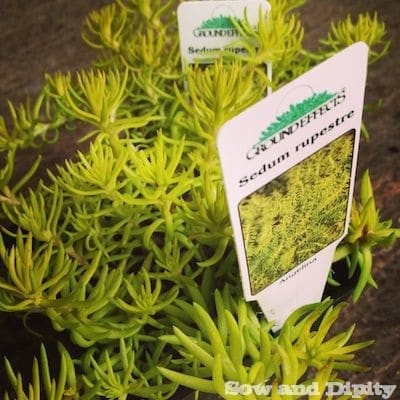 2 Setcreasea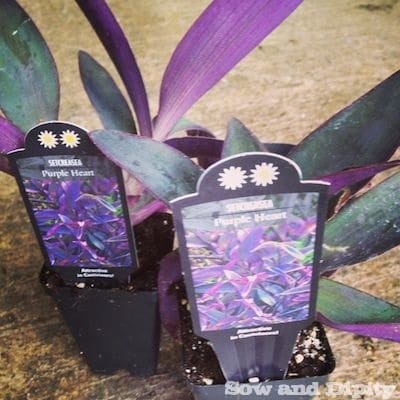 and 1 Ivy geranium for the center.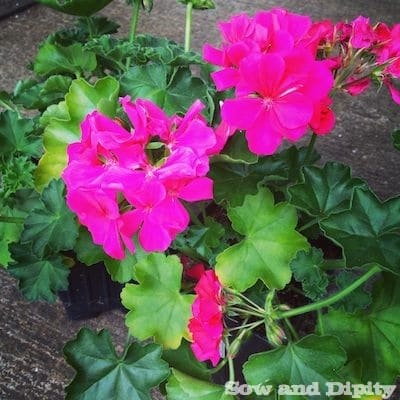 I'll post an update picture at the end of August, Early September to show you how great these will be looking.
To learn how you can have a gorgeous garden all YEAR long, download my eBook that's stuffed with tips, tricks and plant suggestions:
Plan ahead, take proper care and enjoy your planters while they last!
Peace Love Garden