Garden Design Ideas from the Northwest Flower and Garden Show
It usually hits me around January 15th… The Northwest Flower and Garden show is only weeks away!
As a garden designer and a plant geek, this annual event is a welcome break from a normally drab winter here in the Pacific Northwest.
It has been a week since the show now, but I am still enjoying my photo's, books and garden goodies I collected during my two days down in Seattle. If you were not able to attend the show or just want to re-live it, then read on.
Warning! These photo's are sure to start an incurable garden itch!
I arrived on Wednesday afternoon and after checking into my hotel, I decided to take a walk down to the Pike Place Market to check out the vendors and stores.
This is all part of the NWFGS experience for me. The event is held at the Washington State Convention Center in the heart of the Seattle downtown core. It's just blocks away from the waterfront, tons of historical buildings and amazing restaurants.
The Pike Place Market is famous for its iconic throwing fish vendors and the home of the first original Starbucks. No trip to this city is complete without grabbing a favorite coffee beverage and checking out the many fresh veggie, flower and artisan vendors along the strip.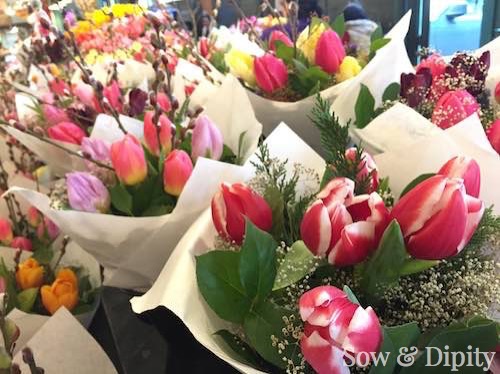 I was up bright and early on Thursday morning to get ready for the NWFGS Tweetup that started promptly at 7:30am. The Tweetup is an RSVP event that occurs an hour and half before the show opens to the awaiting crowds. Speakers, writers and other garden guru's get a chance to network, sip coffee and get an exclusive look at all the beautiful show gardens.

Of course this is a Tweetup after all, so if you want to see what everyone was sharing on Instagram, Facebook and Twitter… just use the hashtag
#SpringinFeb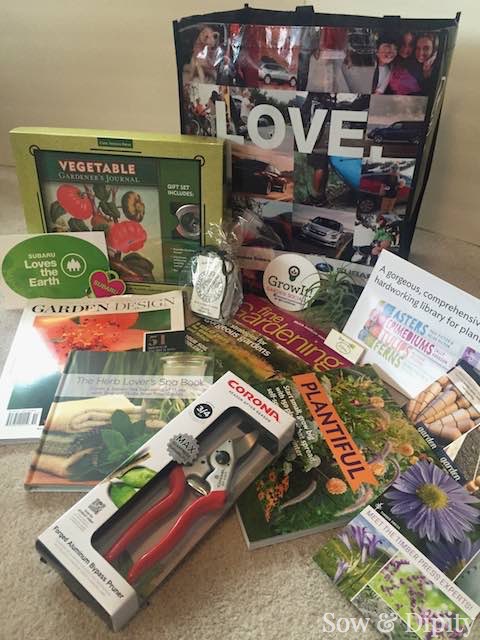 In addition, attendee's to the Tweetup received a swag bag full of garden goodies generously supplied by the show sponsors and vendors! A very big thank you to:
Northwest Flower and Garden Show
My goal for this years Northwest Flower and Garden Show was to meet as many of my favorite gardenista's and guru's that I could while I was there. After reaching out via email and Twitter, I managed to line up several coffee dates with some amazing ladies in my genre.
 My IPhone didn't stop chiming the whole week leading up to the show with notifications from fellow garden geeks all excited about the NWFGS. This is basically the adult garden version of going to Disneyland.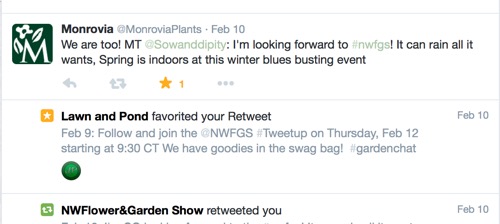 I learned a ton and I am excited to share the words of wisdom I gleaned from my time spent with these seasoned professionals. But with SO many things to talk about, I will be highlighting these gardenista's in a future post, so be sure to check back if you're as interested in the business of gardening as I am!
All right, NOW let's get on with the show! The Northwest Flower and Garden Show isn't just about plants… it's about people coming together to share, promote and educate each other about a passion they all share.
The gorgeous gardens, the vendor booths and all the show services are put in place to make our experience as pleasing and seamless as possible.
Please note that it's the generous donation of time from volunteers that greet us at the door, check our heavy parcels and hand out show notes for the speakers. Their contribution aids to the success of this show and we owe them our gratitude.
The garden inspiration is built from perspiration. As a garden designer and a garden center manager… I look at these amazing display gardens and can appreciate the work that must go into them. It's staggering actually!
The next time you visit the show… stop and really take in all the details of the displays. Have you ever thought about the work it takes to level massive stone slabs, haul in tons of water for ponds and waterfalls or the time it takes to adjust all the garden lighting just right?

Then there is the decorative details… the theme setting elements that tell the story. The designers meticulously choose each and every color, item and prop that would portray their message. They stood back and viewed their masterpieces from every possible angle to make sure that no matter where you may be viewing their garden, you saw something beautiful.
Those carefully placed watering cans, staged tablescapes, and cozy lifestyle vignettes were carefully crafted to pull you in to the gardens. This is more than just to give you a few cool ideas… it's intended to give you an experience.

Lastly, but most importantly… the plants themselves. Remember this the next time you stand there and make a judgement about a garden based on your own personal preference…
these are all TEMPORARY!
Even if it's not your style, just look at how those plants appear to LIVE in all those displays like they have been there forever. This is an art form folks! The gardens are believable because of the talented, hard work of hundreds of people who make them so.
I am always in awe of the staggering amount of effort and attention to detail in each of the gorgeous show gardens. Whether it is one with stunning falls and a huge arbor or an example of small space city living garden…. they are all meticulously set to deliver perfection.

There are so many more gardens and view points of each that I haven't included here. If I felt my photo didn't do it justice, I didn't include it. But certainly, there are thousands of photo's of the gardens on the web by now, so make sure you Google it!
Also, use the hash tag #SpringinFeb in your search and visit the Northwest Flower and Garden Show to see more.
I haven't even talked about the vendors and the cool garden finds I discovered! I'll leave that one for a future post too… there is a reason the NWFGS is a five day show, there is entirely way to much to see and do while your there!
I hope these garden design ideas inspired you or at least let you dream of warmer days if you are one of those folks buried in snow right now. If you're hungry for more, check back or follow me at…


or on

Peace Love Garden