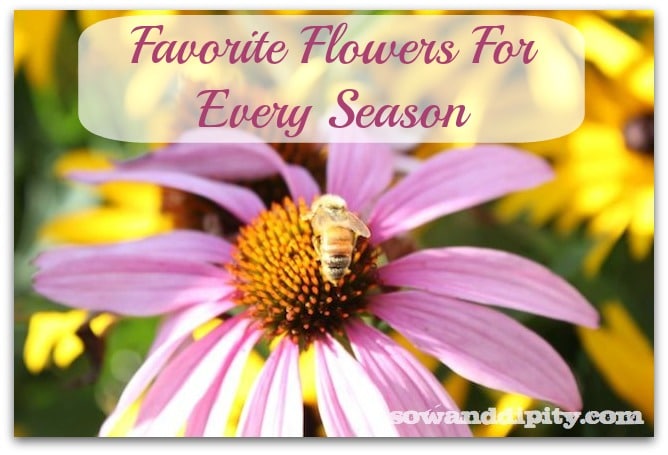 Favorite Flowers For Every Season

I was asked to pick a favorite flower… hmm, just one? That simply isn't possible for this gardener because each season has so many notable contenders that deserve a star for stellar performance.
My experience goes beyond that of just being a backyard gardener, I had my own garden design business for 8 years…. showy, easy to maintain flowers was an absolute must to ensure that my clients had beautiful gardens long after I was gone.
So rather than just choose one I decided to make a short list of my favorite flowers throughout the year that are guaranteed winners based on what I have learned over the years.

Spring
Spring actually begins in fall when you plant your bulbs. Those first bursts of bright color are such a welcome sight that even folks that don't garden take notice.
The obvious choices are tulips and daffodils, but one of my favorite naturalizers is the little Muscari bulb. 
This beautiful blue urn shaped spike otherwise known as a grape hyacinth, creates a lovely contrast when paired with taller pink or yellow tulips. I recall seeing these in my Auntie Lynn's yard growing throughout the grass when I was a little girl. Every spring I went looking for them whenever we visited her house… I should probably tell her that.
Summer
Oh boy… remember just one. Okay, it would have to be the Star Gazer Lily. These gorgeous bloomers take center stage in one of my garden beds and just keep spreading every year. These low maintenance bloomers are a plant it and forget it favorite.
Fall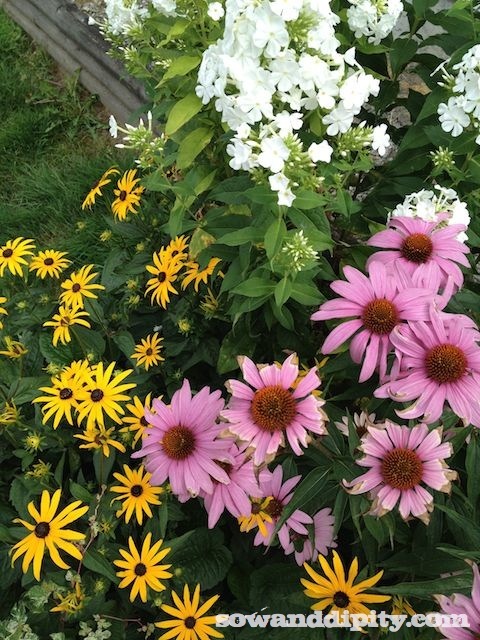 Alright, I'm going to cheat here because these two fall fascinators always look fab together and I've done plenty of garden designs that had them paired up in a bed. Rudbeckia 'Goldsturm' and Echinacea 'Purpurea' are absolute winners even if they are considered common to some.
These no fuss favorite flowers fill a bed with color and last and last…..and last. I leave the flower heads on these for winter interest as they look amazing when bitten by frost.
Winter
I'm going have to color outside the lines again for this one and choose Poinsettia's. Yes, I know they technically are not flowers and I'm cheating by choosing an indoor plant, but since I work at a nursery where we grow these in the thousands, my heart goes to Poinsettia's for my favorite flowers for this time of year.
I'd love to know what your favorite flowers are, please leave a comment and share!
Follow Sow and Dipity on:

and