Garden Trends for Fall 2013
What's hot in Hort Couture for fall 2013?
Well… it's a little bit of vintage, a whole lot of whimsey, a dash of re-pop and a smattering of ultra modern. Here's what I found trending at the Independent Garden Center Show in Chicago on Aug. 19th – Aug. 22nd.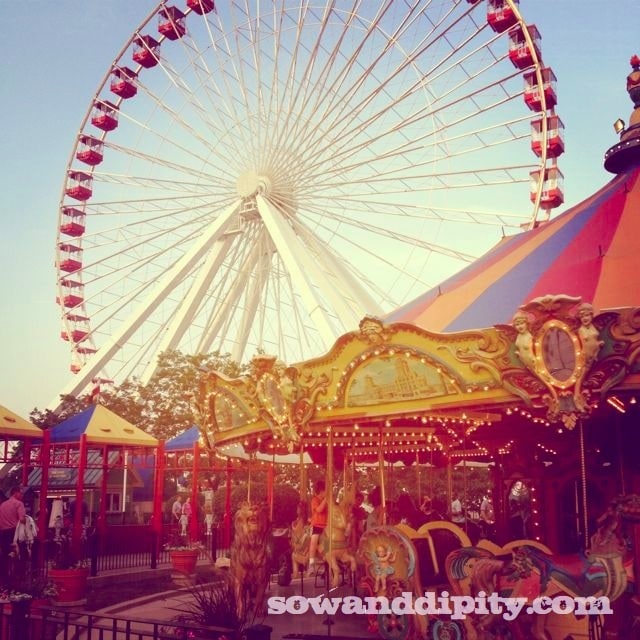 The location for this massive convention was held at the famous Navy Pier located on the shores of Lake Michigan. The smell of fresh waffle cones, the sound of carnival rides and the site of hundreds of sail boats is what this amazing historic site is known for.
When you walk the 3000 ft pier and look back you can see Chicago's skyline, so incredible even the seagulls love to admire it!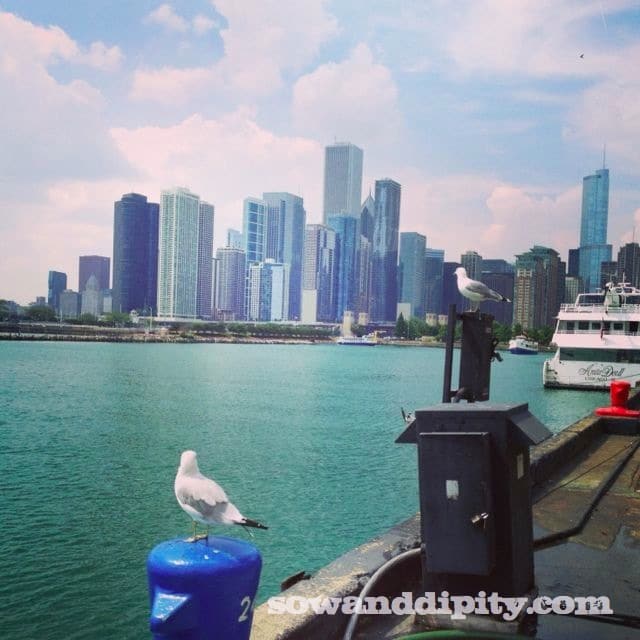 Now the show itself is something else with over 600 exhibitors! Thousands of garden geek attendee's swarm the show room, retail nursery experts hold valuable conference sessions, keynote speakers ignite inspiration, HGTV celebrities signing autographs and 38 Special performing classic hits at this years evening of entertainment!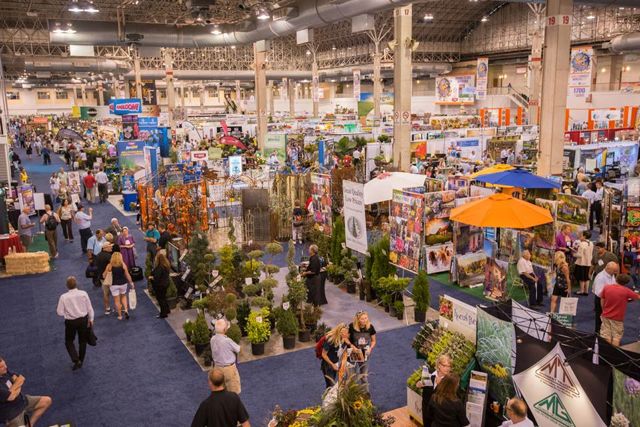 There was also a Garden tour on the 19th which I was very fortunate to be able to go on and all the cool stuff I found is in my post:
Chicagoland Garden Centre tour
In fact this whole experience was courtesy of my boss and the incredible company I have the pleasure of working for: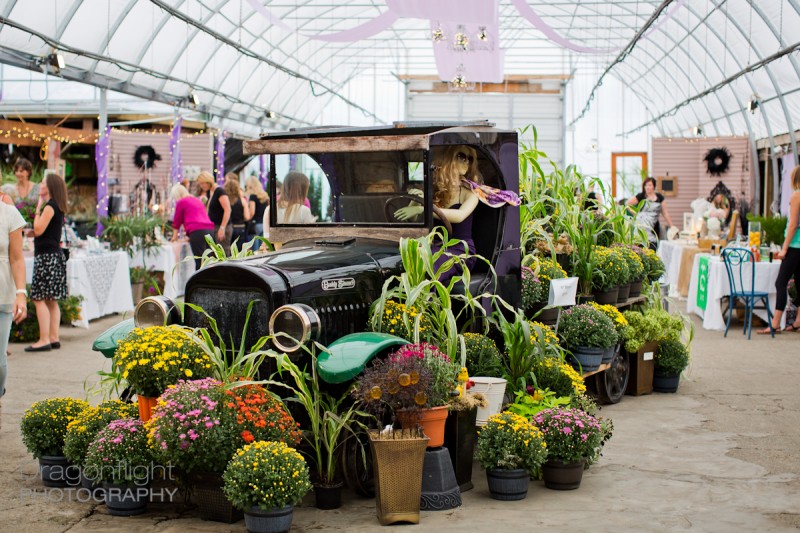 My duty while on this adventure was to absorb, learn, discover and consume everything I could and bring it back to the rest of my team. I was leaving my hotel every morning at 6:00 am and checking back in every evening by 9:00 pm, I didn't want to miss anything.
There was plenty of cool garden celebrities there like:
P. Allen Smith from Garden Home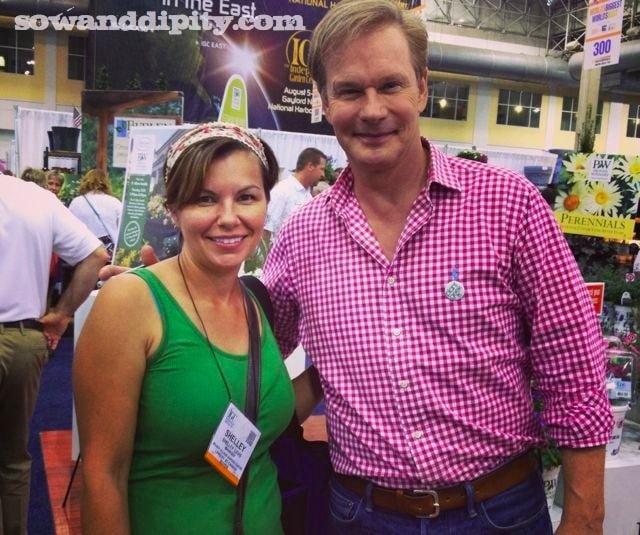 and keynote speaker HGTV Designer Taniya Nayak 
….who inspired me with the term Farmhouse Glam during her talk in the Grand Ballroom ( which she re-tweeted by the way, squee! )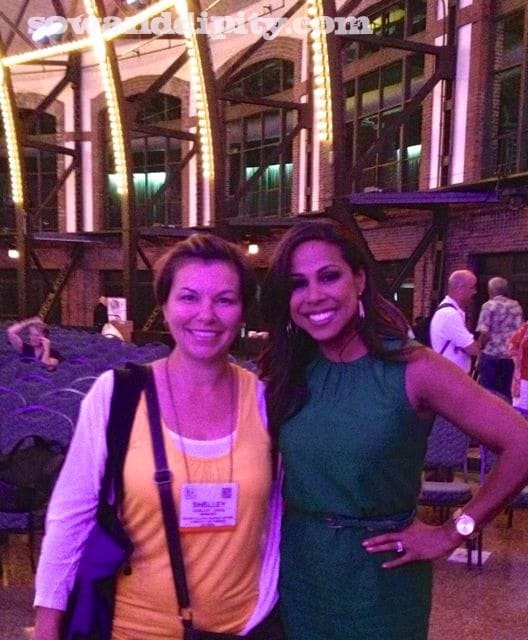 and last but not least, the very charismatic Jamie Durie from
HGTV's Outdoor Room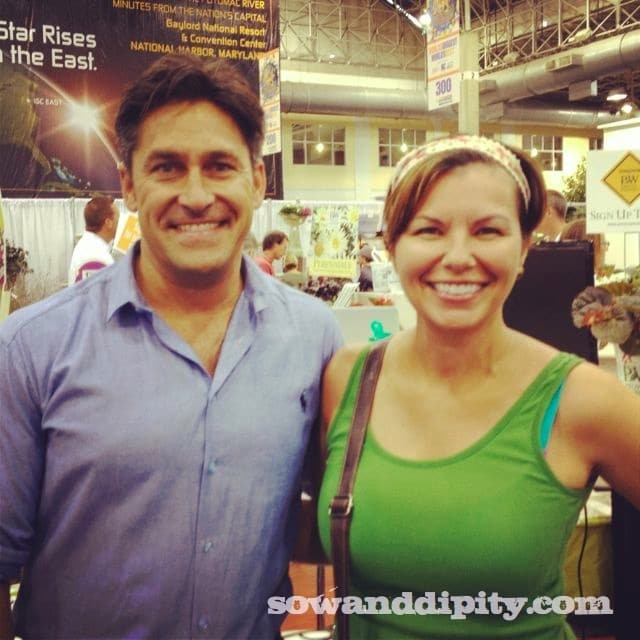 Between note taking through seminars and schmoozing with the stars… I picked up a ton of inspiration perusing through the many vendors and their booths of garden goodies.
SO… lets discuss what garden trends we can look for this fall.
Pot Heads
As we move into colder temps, these heavily blooming pot heads will be easily swapped out with winter friendly greens, but stuff growing out of heads… is well… ultra cool!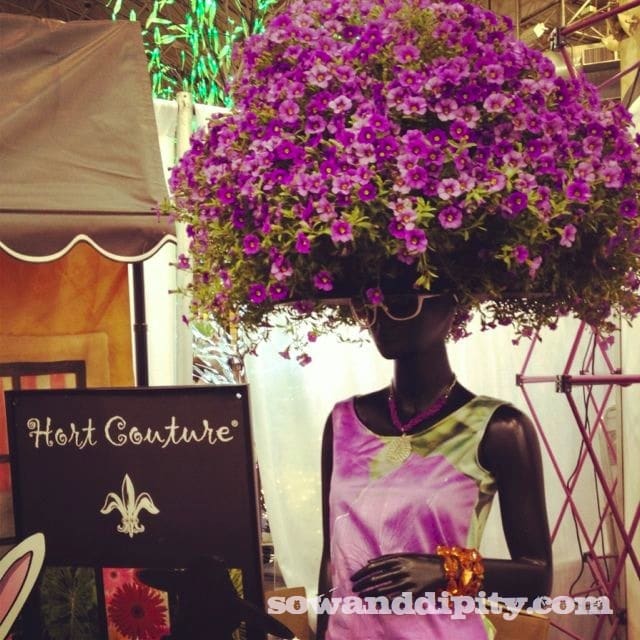 Gargoyles seem to be making a come back as well but as pot heads….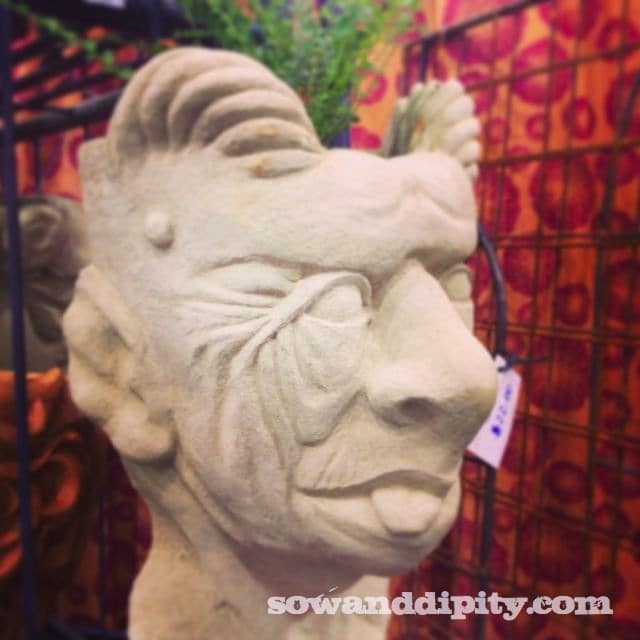 But the best Pot Head by far is the one in the park right across from Navy Pier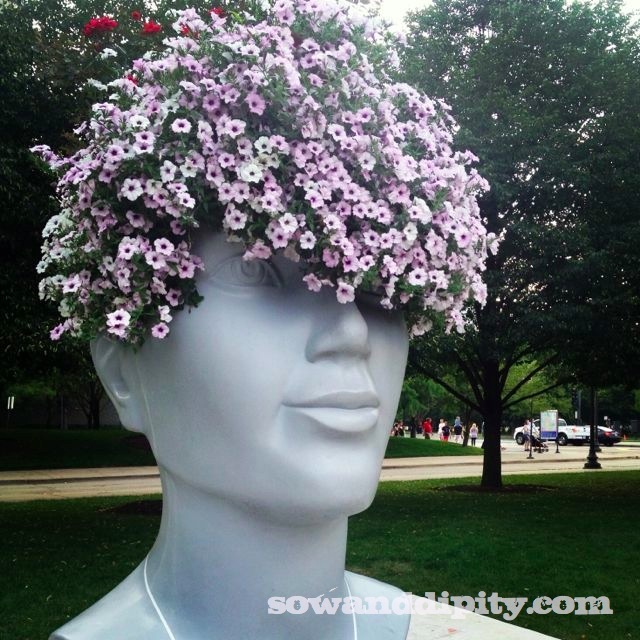 Water gurgles and Water bubbles
Water features seem to be on the rise again. We're not talking about big ponds and waterfalls, but the kind that fit well onto a small patio or townhouse courtyard. Even the smallest gurgler makes enough sound to create ambiance….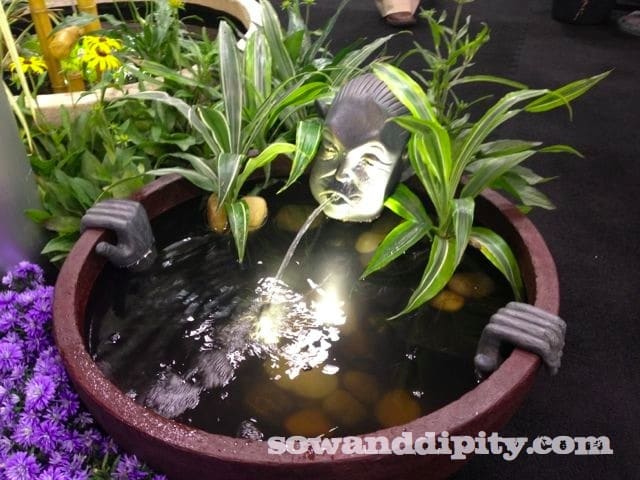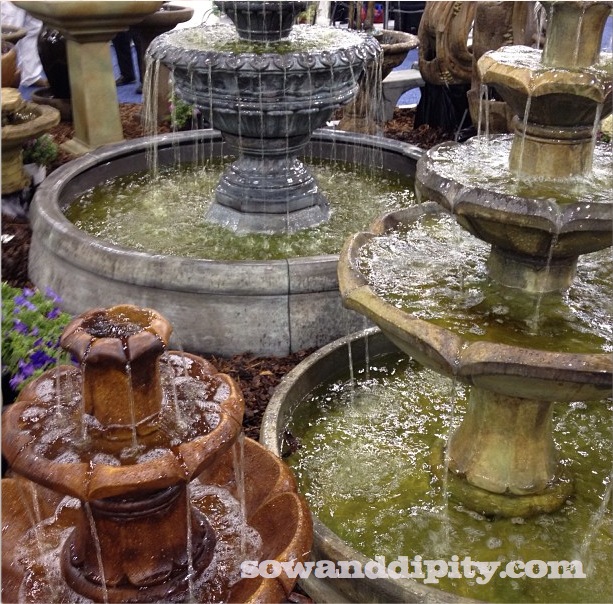 Barn wood is HOT!
This recycled material is not new to home decor but more and more it's appearing as planters or simply making a statement in the garden.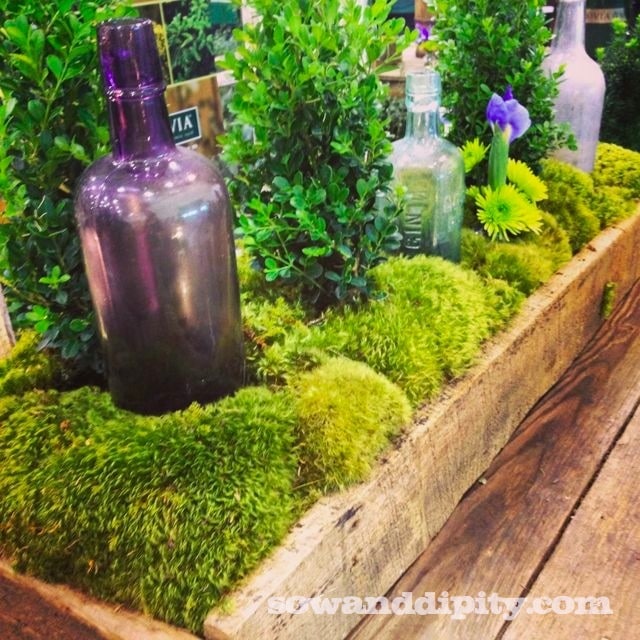 Bravo to the designer of the Monrovia booth at the show!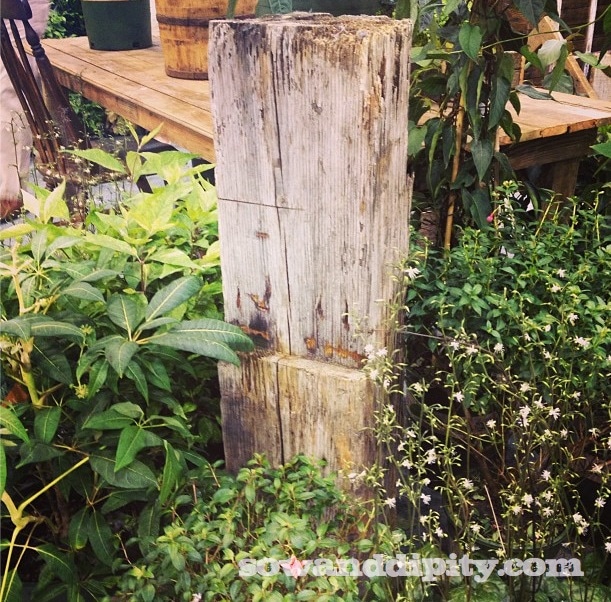 Blue is the new Orange
Heirloom vegetables continue to be in vogue as we move into the colorful months of fall. The old standby orange pumpkin is being joined by blue, pink and green warted varieties adding so much more dimension to fall decor inside and out!
There were several booths at the show that offered heirloom seeds and showcasing some of their incredible edibles for all the plant geeks to admire.
A stand out for me was definitely Baker Creek Heirloom Seeds. The gentlemen there were dressed in overalls and big smiles. Clyde demonstrated his garden planner while Jere Gettle showed off their beautiful bounty.
I absolutely LOVE this company, check them out at www.rareseeds.com and you will too!
Go big or go SMALL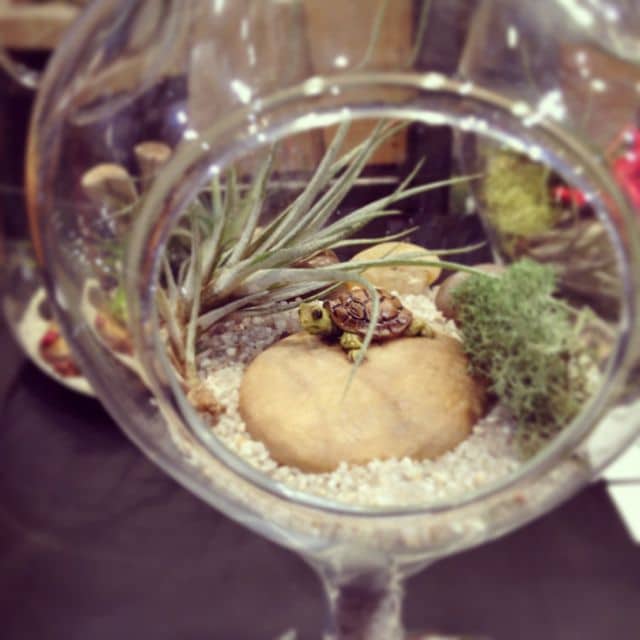 Mini is BIG!
Home gardens are getting smaller and smaller but these mini gardens are by far are one of the hottest garden trends going right now.
I could see these coming our way about 2 years ago…. and voila, booth after booth had some sort of mini, fairy, terrarium something going on in their displays.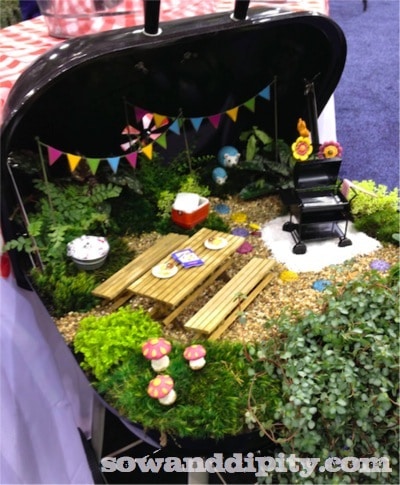 Au Naturale
I've always watched car colors to pick out the upcoming decor color trends… and the same goes in apparel. Handmade jewelry is where its at, especially weaves.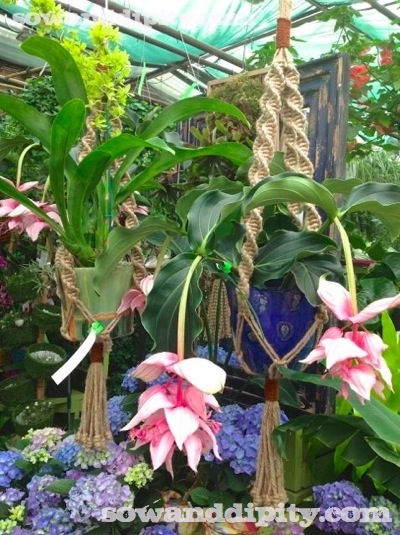 So it's no surprise that macrame is making a come back… and not the cheap wimpy poly ones you find in big box stores, but the artsy hemp ones with serious muscle like these ones. Spotted at the trendy Gethsemane Garden Centre in Chicago.
Funky Clunky
I love the exaggerated shapes of these funky pots. Plants get dressed up in style with the latest designs on the market today.
Sassy Succulents
No doubt about it, people are still loving succulents and air plants. Expect these to be accompanied with indoor mini gardens where they can be enjoyed year round.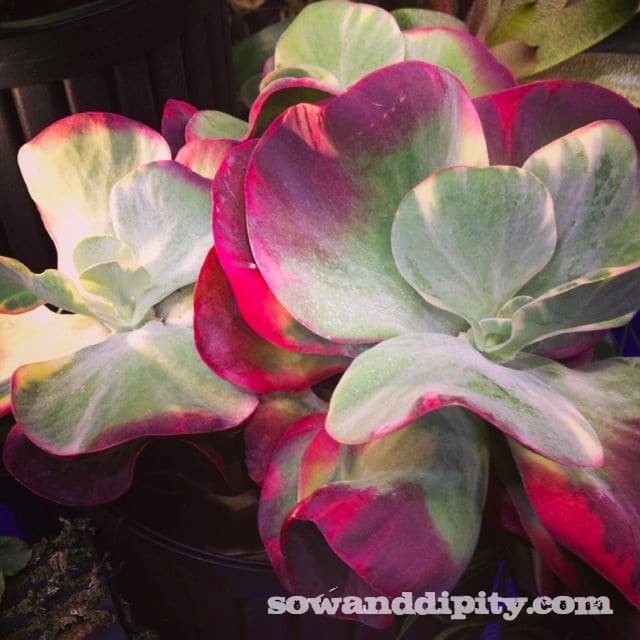 Tropically Kissed
The BIGGEST fall garden trend next to fairy gardens… is how tropical plants typically used as houseplants ( especially in colder climes like mine ) are being treated like annuals year round for outdoor planters.
We plant up our containers in May and expect them to last at least until Aug. where we swap out the spent spring annuals for fall ones to carry us through the next two to three months.
This is just they way us northerners have been doing this forever!
So, why not add tropical's for crazy texture, amazing bounce and colorful foliage? They are no more expensive than annuals and they add so much dimension to a planters design.
Ha, I feel like I've had paradigm shift!
Don't miss my next post… Fall Planter Designs to see more of how to use tropical's in this seasons planters.
Follow Sow and Dipity on:

or

Peace Love Garden