DIY Outdoor Chandelier
Ok… so I do a ton of projects in spring. But then everything happens in spring for a garden writer. We're planting, watering, growing, creating and well… just celebrating… like the BEST season of the year. (until fall… oh…and then winter….oooh!). Yes, I guess I love them all, can you blame me??  If seasons were like people, Spring is the Princess of them all.
Included in my daily garden chores and on line shenanigans… I make stuff. Recently, I was excited to participate as a keynote speaker at the Downtown Langley Summer Series Event. It was the first weekend opener featuring Outdoor DIY projects… no pressure.
Rare Affairs was the organizer behind the event and I can't say enough about this dynamic team of party professionals. It was a great success and many more collaborated events are already cooking up for the future.
Now, my point of all this event chatter is that it was a
D.I.Y EVENT!
Everything I was presenting and my entire displays needed to be DIY… so to be sure I had enough eye candy, I made 27 projects. Yes, I have some issues with the 'good enough' attitude… it's NEVER good enough. You can always do more.
My, what a big hammer I have… it's true… that IS a giant balloon hammer I'm posing with and it rocked!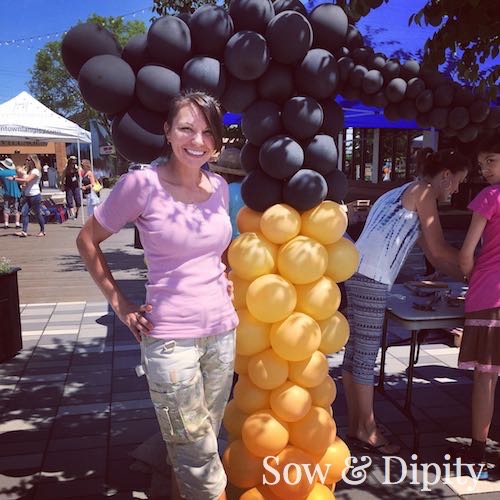 I also had a great garden center to lend me some props for my fabulous (if I do say so myself) displays. Art's Nursery is the official garden center for Sow and Dipity and they generously let me shop the store for the finishing touches including this water bowl and adorable orange bistro set.


I worked hard for four weeks building, painting, creating and of course planting. Things have definitely not slowed down… but you folks need to see what the heck I've been up to cause I CANNOT wait to share them any longer!

Alright… on to this DIY Outdoor Chandelier I made back in April. It's not too late for you to build one for your summer entertaining!
This old wire hanging basket was full of plants the last couple of years… thyme for an upgrade. (tee hee hee). Isn't the Victorian style gorgeous! You can use a regular wire basket too… it's all about the paint and the bling baby!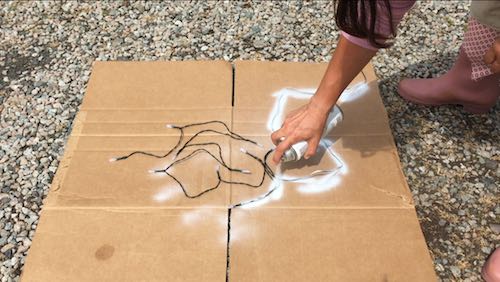 I spray painted it white and did the same to the solar ball string lights I got from Walmart. It had a green cord, so I pulled off the balls, covered the lights with some tape and gave it a quick coat to match the wire basket.
I used one decorative pick from Michaels which I took apart and attached to the frame with fishing line. A cheap string of faux pearls from the dollar store would work too… use your imagination.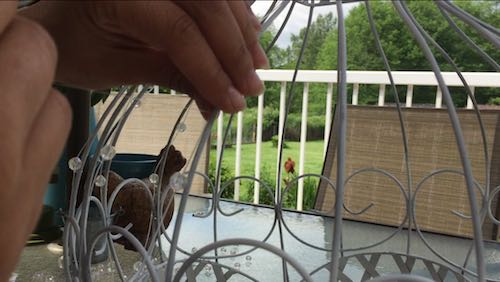 Right after it was made, I put it into my herb bed. Nothing is too special for my plants! But now this beauty hangs inside my patio umbrella just off to one side for when we are entertaining. I like that it's not EXACTLY in the middle… it gives the whole setting a nice relaxed feel.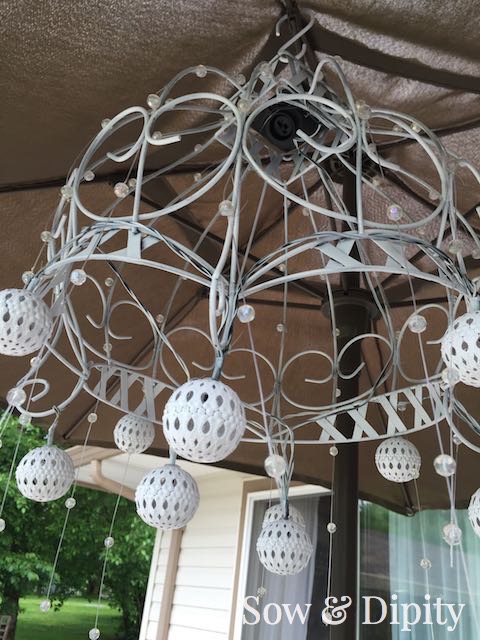 I'm happy with my pretty recycled wire basket outdoor chandelier… it's a touch of fancy and cool all at the same time.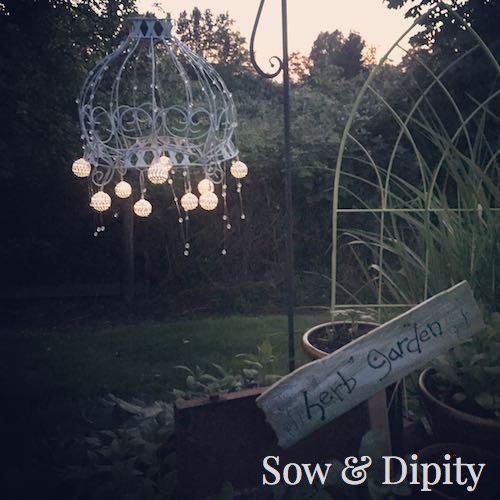 Click around on my website under Garden Crafts to see some more awesome ideas! And if you don't want to miss my crazy creations… then subscribe!