14 Designer Planters for Spring
I was going through photo's from past seasons and I came across about 70 gorgeous pictures I took from trips to Chicago and Seattle in the last 2 years that I know I haven't shared yet.
This HAD to be rectified… How could I keep these beauties to myself! Now this post is not for the color blind, in fact, you may even need to put some sunglasses on because it's like a flower bomb went off all up in here.
Here are 14 Designer Planters to check out. Enjoy!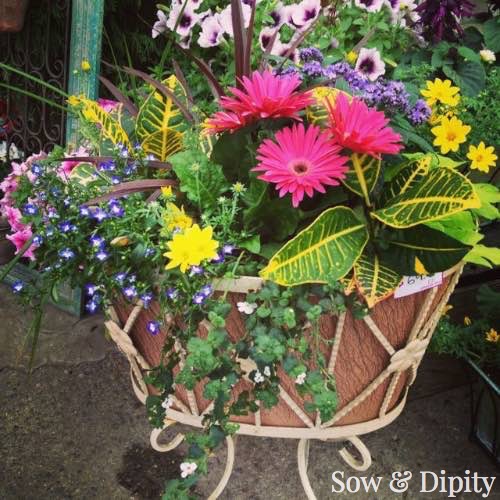 Let's start with one of mine. I loved doing up designer planters and throwing them out on the floor at the garden center I worked at. This baby didn't even make it out of the potting shed and it was bought… but I managed to snap a picture of it before the happy customer hauled it away.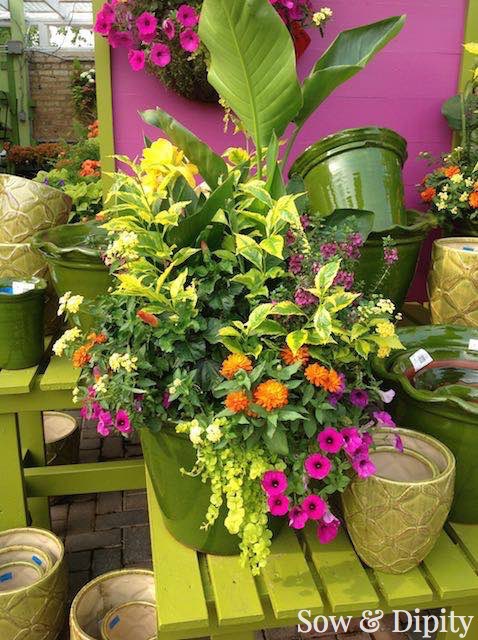 Most of the pictures in this post are from a lovely little nursery down in Seattle called Gethsemane Gardens. They are amazing floral artists there!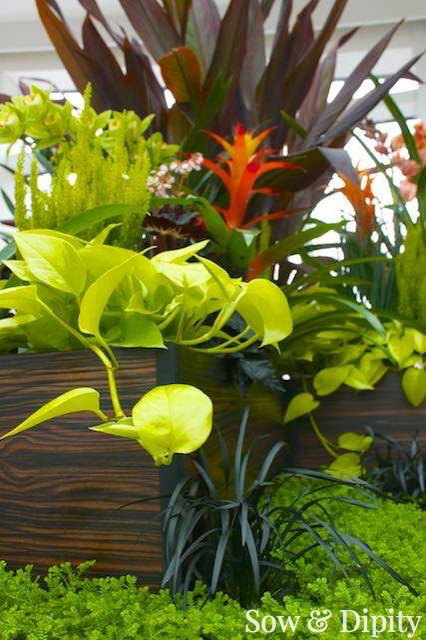 This one was shot in the Northwest Flower and Garden Show 2 years ago. I love the wood in combination with this color scheme. Beautiful!
Another shot of designer planters at Gethsemane, pretty green colored corn in these.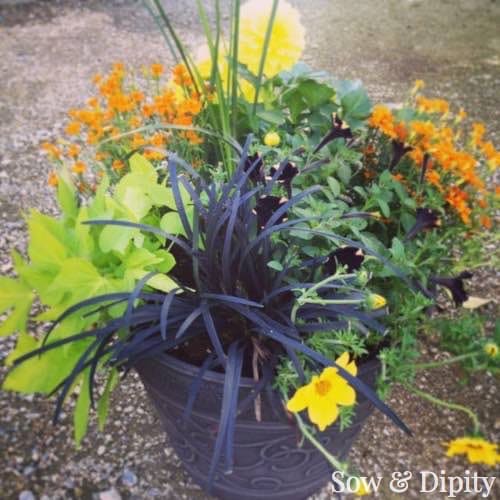 This one is freshly planted and hadn't filled out yet, but it's a combo with black and orange I did up last season.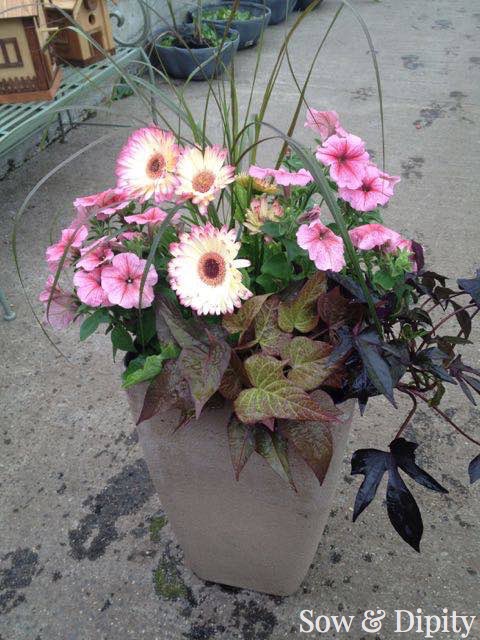 Another one of mine, pretty pink with muted browns.

Gethsemane planter with lot's of tropical's in it… use them in summer for outrageous color through the leaves alone.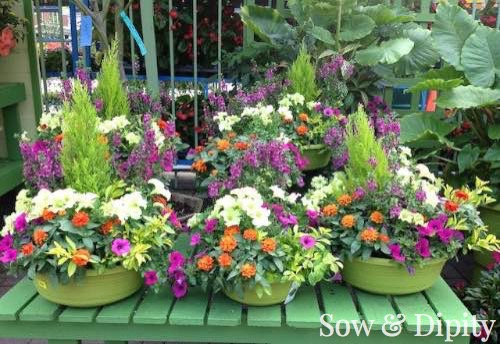 Little tubs make great designer planters like these ones here!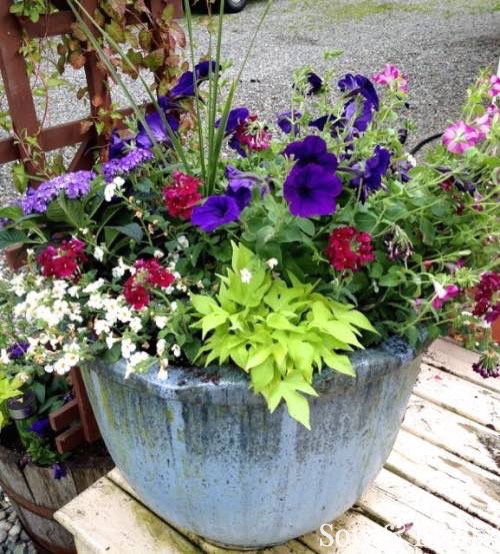 This is a mid summer planter I did up to show a quick cheat if your planters peter out… that post here: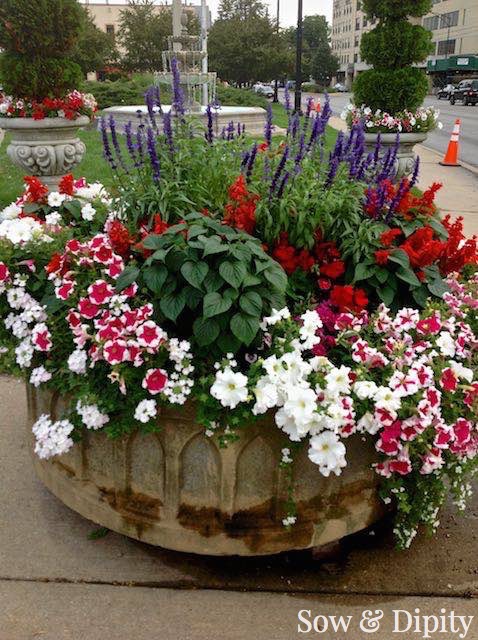 For my American neighbors, here's red, white and blue.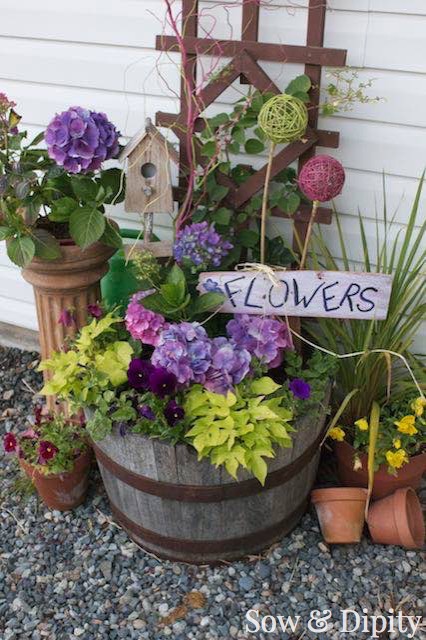 This is a picture of one of my planters here at home from 2 seasons ago. It's featured in my eBook:

A Season by Season Guide to Creating a Gorgeous Planter For Year Round Interest.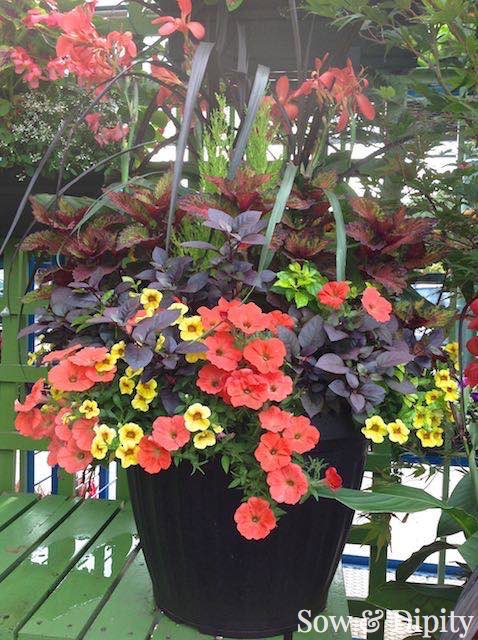 Love the warm tones in this one. That black pot shows the color off well.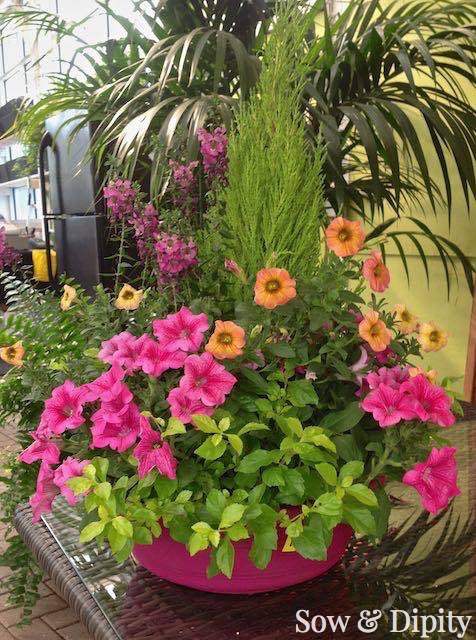 Another adorable tub planter, chartreuse and pink look amazing together.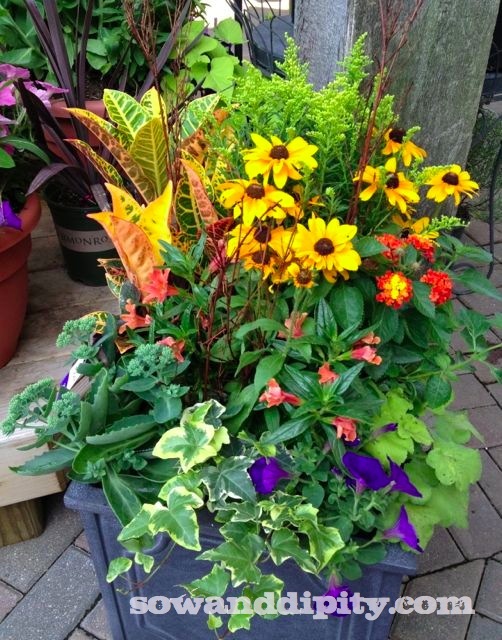 This planter is a combo of perennials and annuals, don't be afraid to mix it up!
Did you see a combo you love but want to know what the plants are?
There is so much flora and fauna in this post, it would have taken me forever to write out all the plants in each. BUT, I'm happy to tell you what they are if you need to know. Just leave me a comment and I'll respond or email you with the info 🙂
Remember how I said I have over 70 photos! This post shared some planter ideas, but I have some future posts coming out very shortly on:
Curb Appeal Garden Designs (for beds and borders)

Window Box Container Designs

Extra Large Planters with Tree's

Recycled Junk Planter Ideas

Stunning all Green Designer Planters

and see the last post on:
And that's just from previous season photos! I have a ton of great posts to share with you this spring season from cooking with flowers (yes, the pretty part) to vertical garden methods that will have you shaking your head thinking… now why didn't I think of that!
Don't miss a post…. subscribe to get them all!