Decorative Bark Mulch
Who said that you can't have flowers in the garden in winter? This application takes Decorative Bark Mulch to a whole new level….how amazing is this? Don't let these pretty looks fool you, this mulch is also serving a function.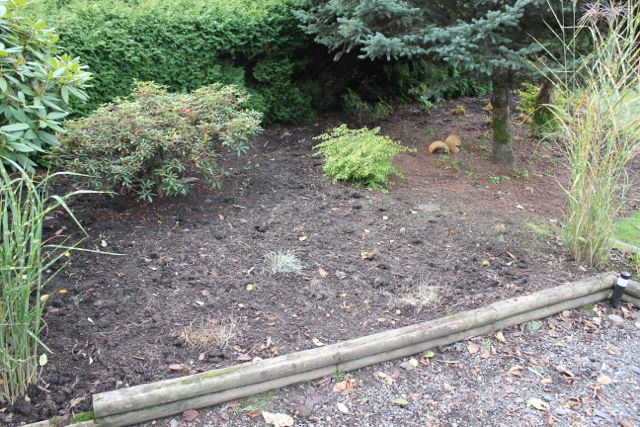 This is my front bed that I hauled nearly 15 loads of debris from down to the compost heap that's nearly 2/3 of an acre away….who needs a gym when your an avid ( read crazy ) gardener. For every load of fresh I took to the heap, I wheeled back a load of ready compost from my spring and summer debris. Needless to say, 30 loads and my back was hating me, but I got 'er done!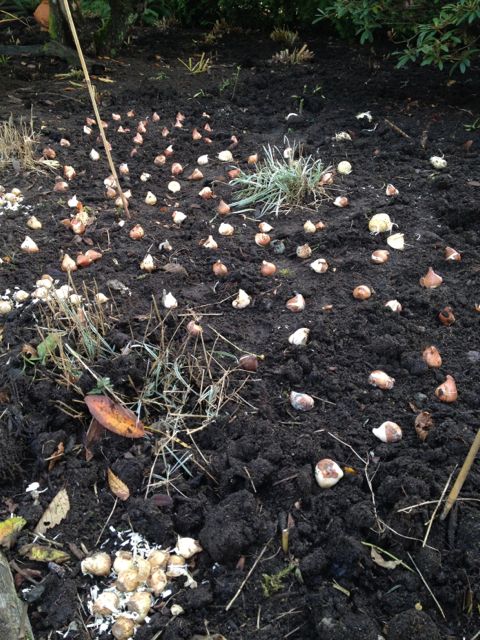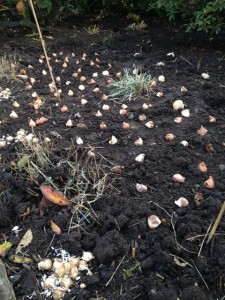 After spreading out the compost, I laid out my bulb design….which is approx. 500 bulbs in this bed alone. It sounds like a lot….but it really isn't. I've done some pretty extensive designs over the years with the Vancouver Art Gallery Cafe' being the biggest. Me and my one little helper planted close to 3000 bulbs one fall and the results were nothing less than spectacular!
This spring show might not be as amazing as that one but it is still going to be beautiful….make sure to check back in 2013 to see what comes up. I have all sorts of lovelies in here so the depth of each bulb varied….which is why doing a 3 inch layer of mulch on top is a good insurance policy for those bulbs I know I probably should of went a tad bit deeper with.
The above picture is the driveway bed after it's been cleared of debris, topped with compost, then dressed with Shredded Red Fir Bark Mulch. Once the mulch was graded and smoothed out it was time to put the design on.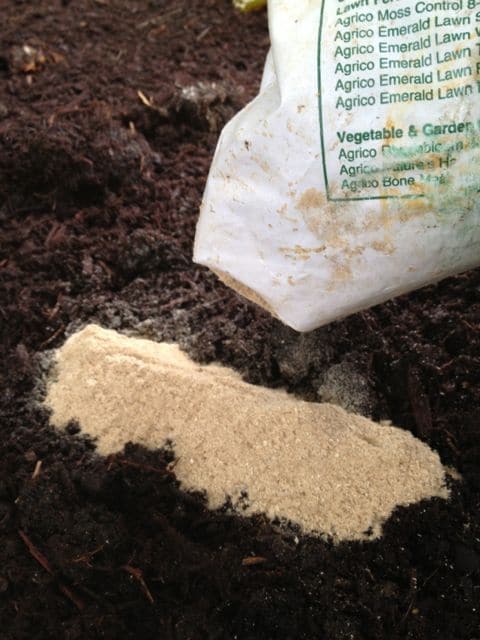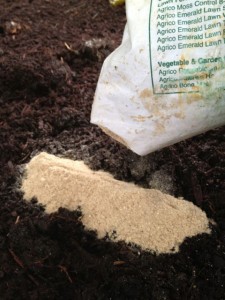 The contrast color is from sawdust that I got from our local Home Depot…leftovers from their cutting saw. Their employee Bob was kind enough to hold off disposing of it until I went in early Sunday morning to get a garbage can full. All I did was cut the corner of the heavy duty plastic bag the bone meal from my bulb planting was in….it worked perfectly to lay a clean line of the sawdust down.
I didn't really plan out this design other than just knowing I wanted some twisty branches and flowers….I just started and went with the flow. I loaded up the bone meal bag with sawdust using a little 4 inch plastic plant pot and then gently puffed it out of the opening as I laid the line.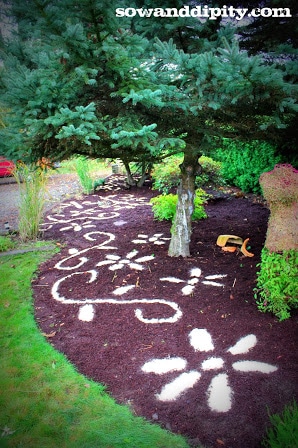 Using the back of my fingers, I went along right after I did a small section and pressed the sawdust into the mulch and to make sure it didn't get carted off by the wind, I used a water bottle to mist it as I worked.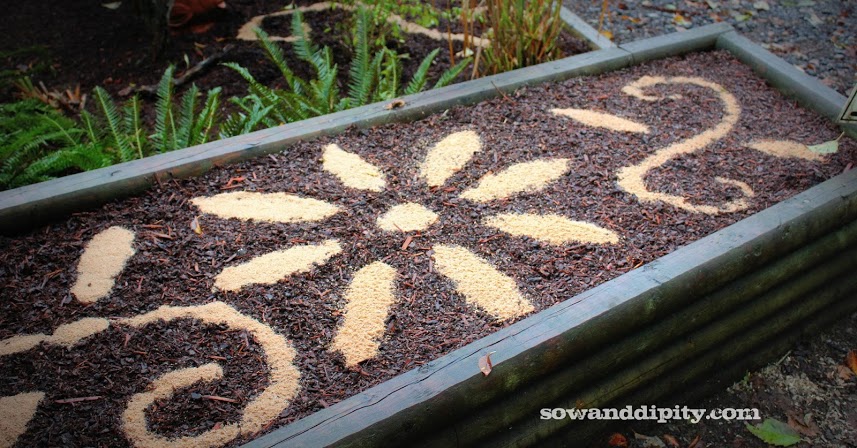 I finished up just in time as the weather started to turn and a light rain started to come down…..perfect, it's just what I needed to set the design. If it hadn't rained, I would have dragged the hose over and used the mist setting to wet it all down. A couple of frosty mornings and this will turn into a nice shell that only a very bad storm might erase. I've done these before and they have lasted mostly intact throughout winter….even under the snow!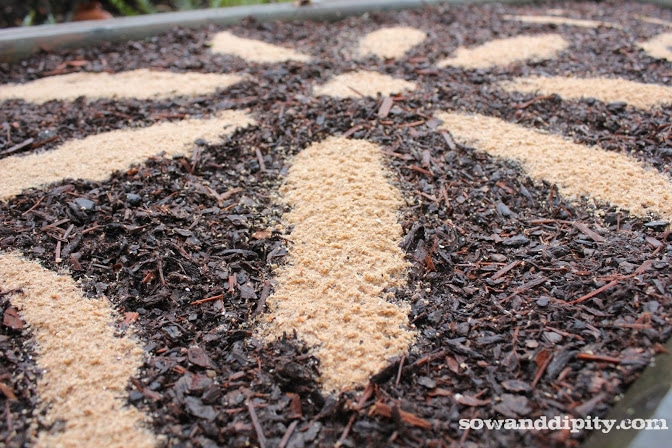 This technique of creating patterns with two different colors of bark mulch was first introduced to me when I was in college through the Capilano Horticultural Program. Our practicum was held at Park and Tilford Gardens and the director at the time was Todd Major.
No doubt about it, Todd is a guru in the garden community in my part of the world. He is also my mentor as he is with the many that have been fortunate enough to train under him….he is known affectionately by us garden geeks as Obi one and he deserves the title. A compost warrior and mulch advocate, he would do a better job explaining the benefits of this application than I would, so I'll direct you to Todd's article in the North Shore News where he is a contributing garden columnist: 'Don't bag autumn Leaves'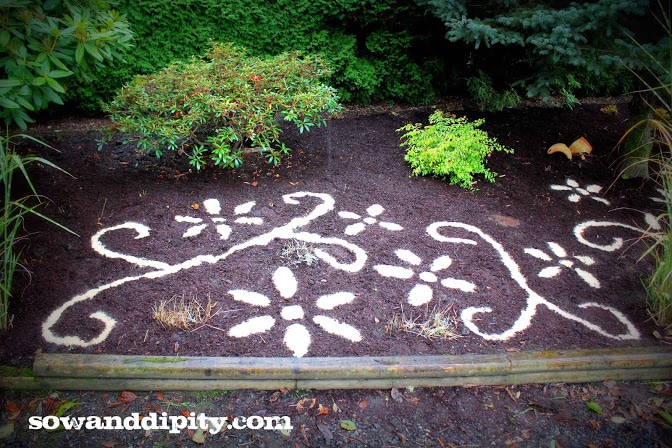 So there you have it….the ultimate decorative bark mulch that looks amazing and benefits your garden all at the same time. Now there's just one thing missing, my favorite garden sign, oh…. here it is: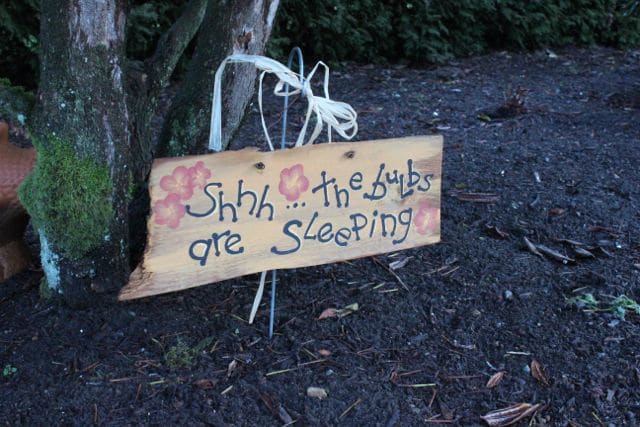 For more crafts and garden idea's
Follow Sow and Dipity on:

and

Peace Love Garden