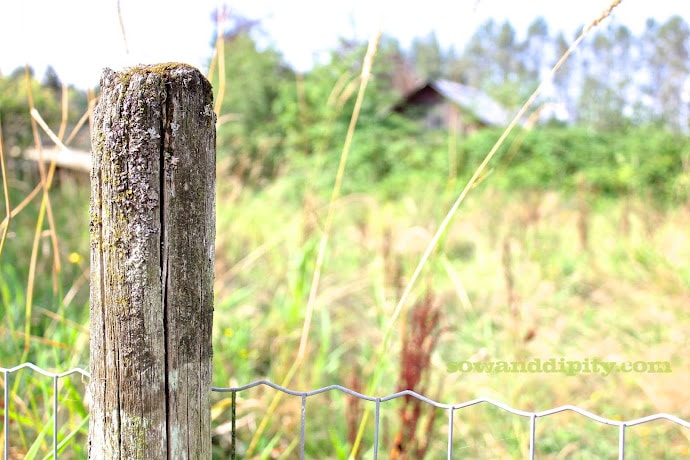 I was going to write a post with a fall garden checklist, but as I wondered around the garden snapping pictures, I realized that this post needed to be dedicated to the
Birds, Bugs, Bee's and Bounties.
There is a tremendous amount of life and beauty still happening as the leaves begin to change and cooler temperatures start to creep in. If all you see is the clean up that needs to get done before the snow flies…..then here's a message from Mother Nature:
Your missing the point!
Here's a collection of what I see when I wander around my garden.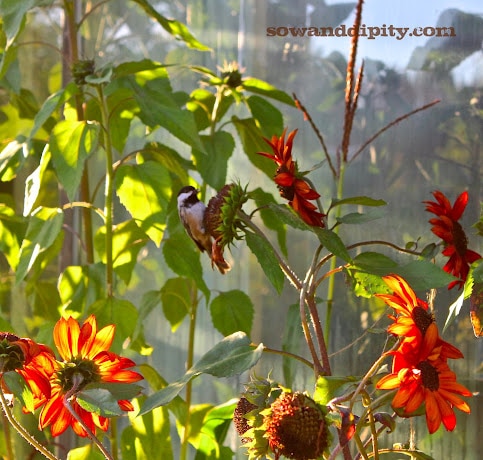 I grow food for me and flowers for my neighbors like this little sparrow. When the seed heads are ready, there's a lot of activity going on around these flowers….or at least until you try to creep up with a camera. Luckily, this little guy got used to my hovering and decided to push on and pluck away at those seeds.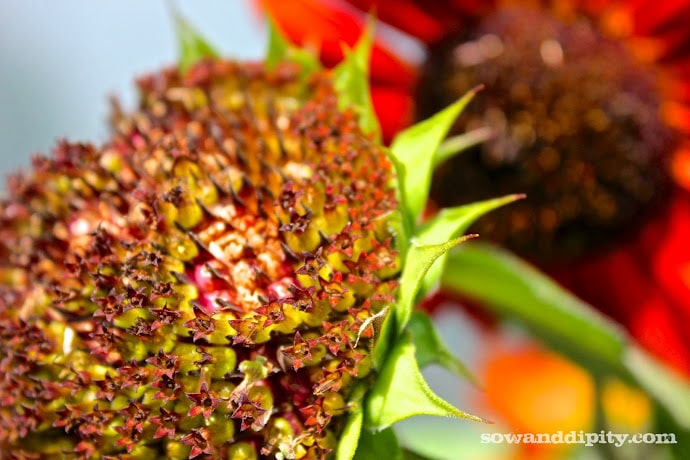 I try not to let the 'mess' in the garden bother me so much and allow the flowers to go to seed like these Calendula's in the picture below. I was blessed with some returning visitors from last years garden from the seeds they left behind. So, I decided to let them do it again.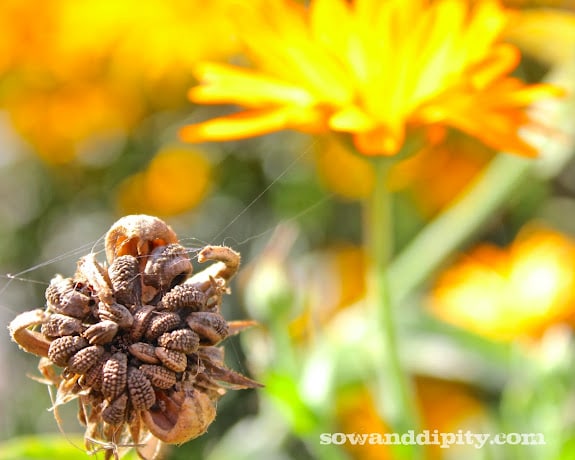 The spiders are everywhere at this time of year which any gardener with a trained eye can usually spot ( within millimeters of their face ) just in time. But occasionally you miss one and you walk face first into a web, which results in a weeks worth of cardio and strange looks from the neighbors.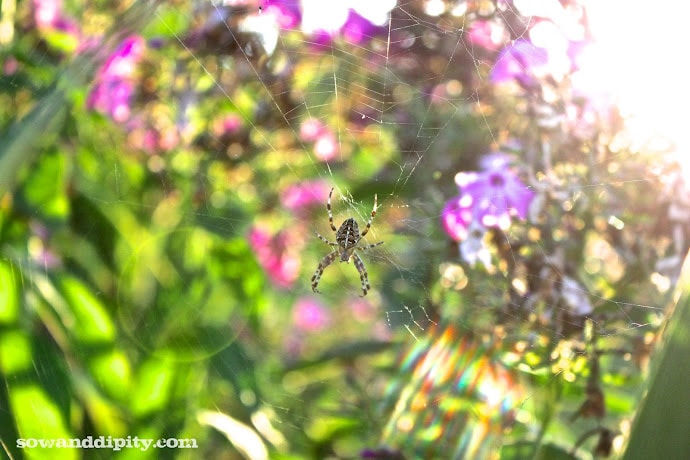 Seeds represent to me the beauty of the final stage of the life cycle. They are not the end of the plant…once a living thing that was strong and beautiful. They are the accumulation of all that gathered energy transformed into a brand new beginning.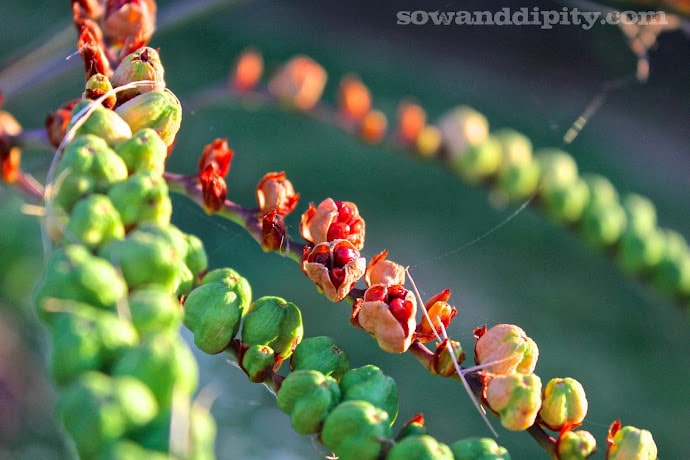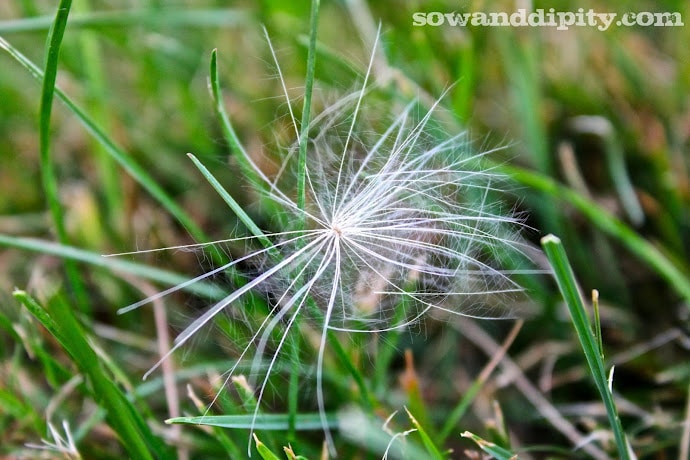 Even though some plants have reached the end of their journey ( for now ), there is still a ton of color in my garden. The Michaelmas Daisies are all just starting to explode with bright pink flowers while the ornamental grasses are releasing their plumes.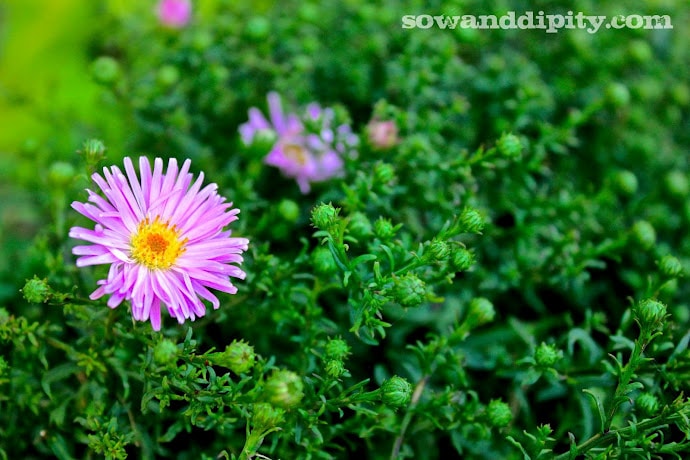 There's no slowing down if your a bee like this cute little fella who appreciates that this gardener let all her oregano set flowers for him to enjoy.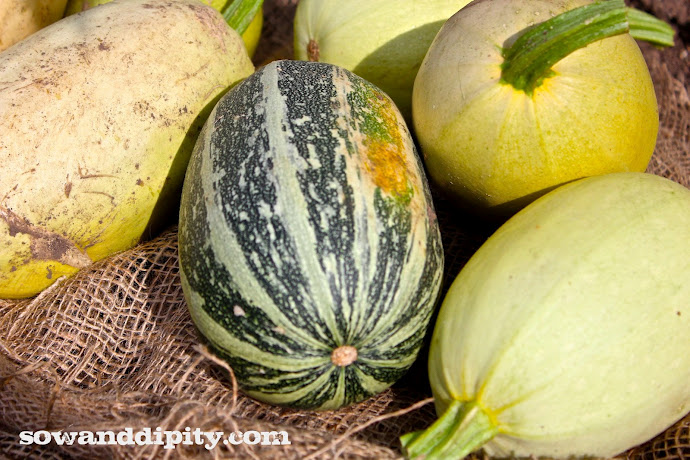 I've enjoyed a pretty good bounty myself, although I've had better years. Between the wet cold spring and the army of slugs, I did manage to get a few goodies from my 2012 growing season. The above is my spaghetti squashes….and one oddity in the group.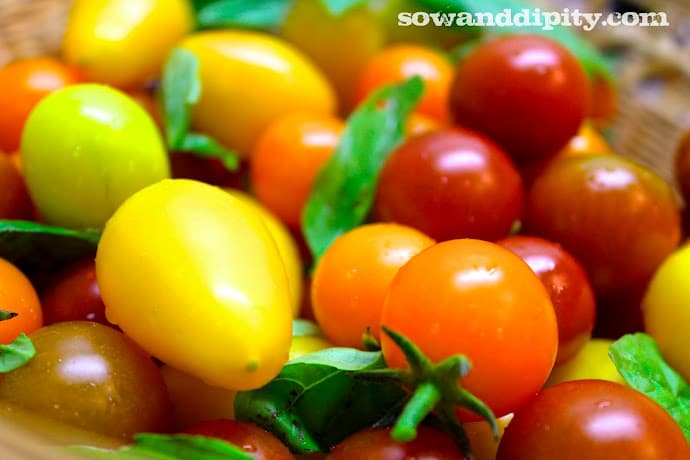 I'm finally enjoying all the heirloom tomatoes I grew this year and deciding which ones I just have to grow again.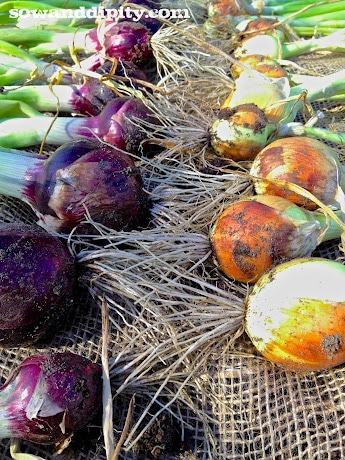 I lay out my onions on sacking to cure for storage….got a pretty good yield this year since they were the only things the slugs left alone.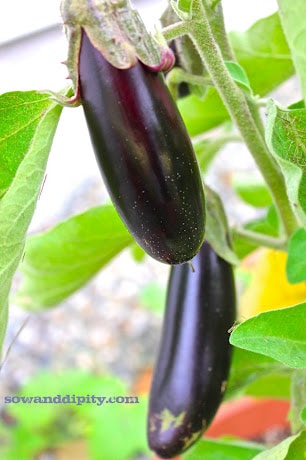 This eggplant was an impulse buy from Super Store and it's doing great. We've had several meals from this plant already.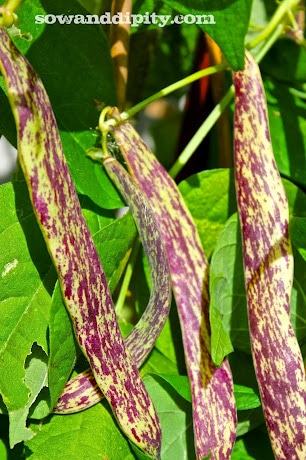 This is another heirloom vegetable I tried this year, Dragons Tongue bush bean. They are nice and tender when young but they really are for drying and using in soups and stews.
And finally, this years favorite new heirloom vegetable…..the Chioggia Beet. Isn't it's coloring just fabulous? Not only is this the 'cleanest' beet I've ever handled as it doesn't bleed and stain everything in site, but it's sweetness is perfect for roasting. These will definitely be grown again.
So, there's fall in my garden. It's all about the birds, bugs, bee's and bounties. And of course….the beauty. Happy Fall everyone.
For more crafts and garden idea's:
Follow Sow and Dipity on:

and

Peace Love Garden