5 Recycled Blue Jean Projects
Today some blogging friends from The Garden Charmers ; are sharing their favorite winter comforts. From delicious food to creative handmade projects, we've got what you need to make winter a little warmer. See the bottom of this post for all of the project links.
As I'm not a recipe girl, ( I like to cook, just not write about it )…  I decided to share the type of projects I enjoy during the winter.
I'm always sowing… or sewing something!
I get a lot of wear out of my jeans, several years in fact but sometimes it doesn't matter if they still fit, the style is old.
Last summer I started with 3 pairs of jeans and managed to get 3 new skirts out them with left over material to spare. I just finally got a chance to use up the rest of that denim fabric now that it's January.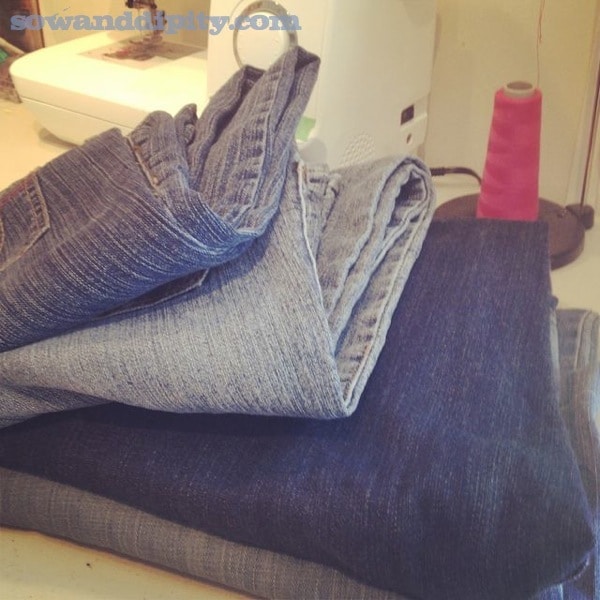 The first two pairs got pieced together into 2 full length skirts. I used the legs off the dark pair to add to the other for a classic Boho style.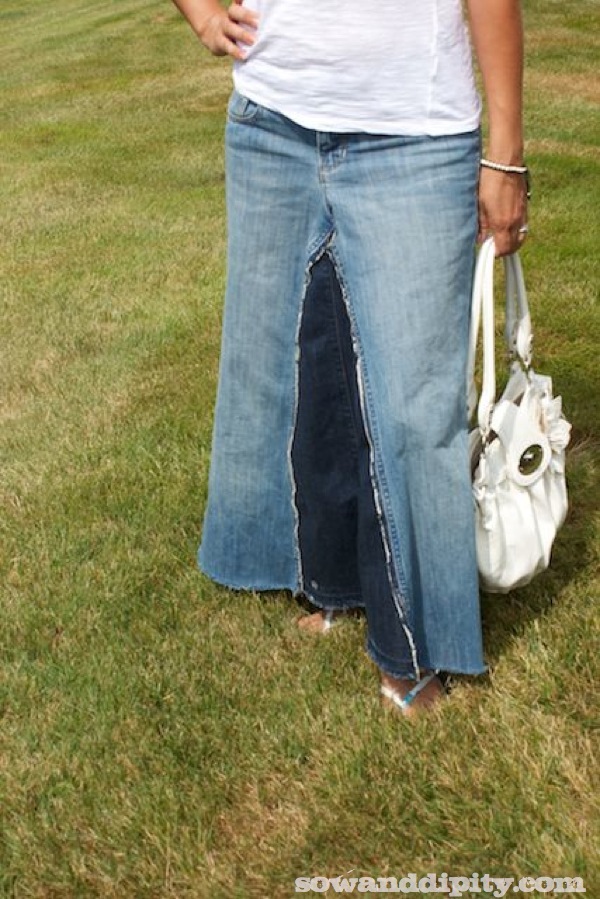 The recycled blue jean top of the other pair turned into a western style skirt with a big silk floral pin. I had some white material with little red roses that I sewed to the waist of the denim. Now I just need a good pair of cowboy boots.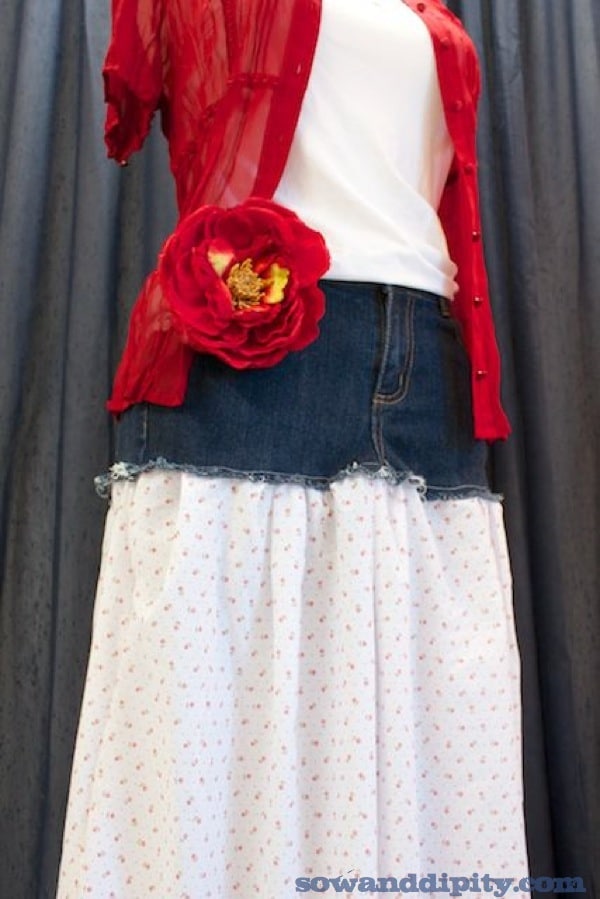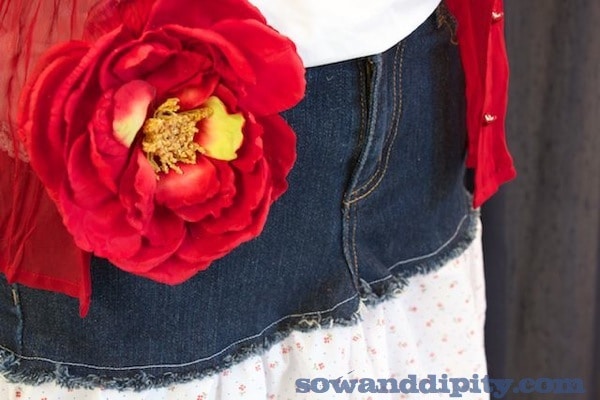 For the third recycled blue jean project, I just made a quick mini skirt by hacking the legs off. Perfect for running around during the summer.
Now the above skirts are all just classic recycled jean projects and the patchwork rag rug below isn't anything new either, but it was a great way to use up the scraps.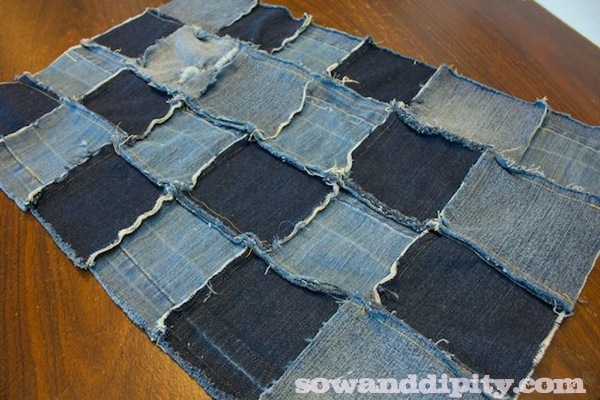 This bag however is my own creation and I'm pleased with how it turned out.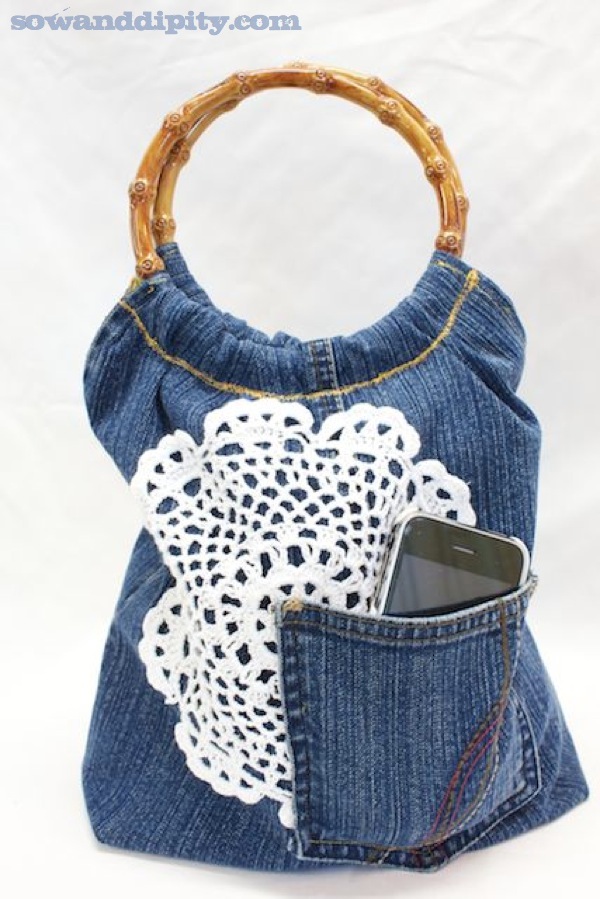 Here's a few quick instructions on how I did it. I'm not a professional  by any means but I did do some work as a seamstress in the wedding industry mostly fixing hems or adding darts etc.
So I don't have a detailed layout of how this was done… I just throw things like this together and wing it. It's for my own use anyway and I can put up with the imperfections.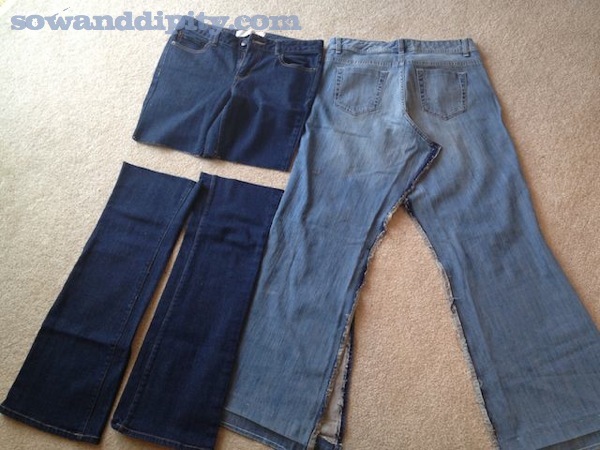 I had extra material from the dark pair of jeans in the Boho skirt
that dark pair was used in 3 of the five recycled blue jean projects!
I just cut the shape I wanted from the jeans and the bright cotton fabric lining.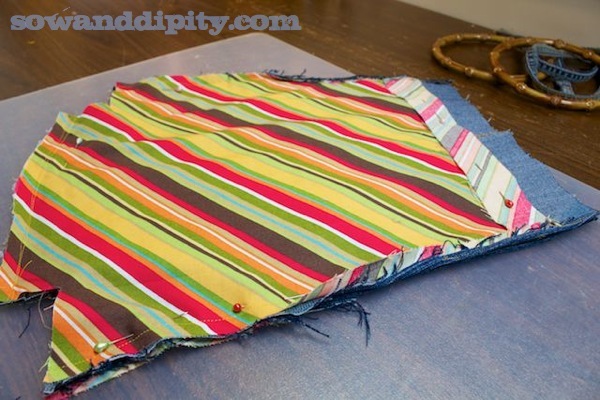 A left over pocket was put over a dollar store doily and sewn on to the front of the bag.
Then I sewed all the pieces together, attached my round wooden handles and viola!
A cute denim handbag.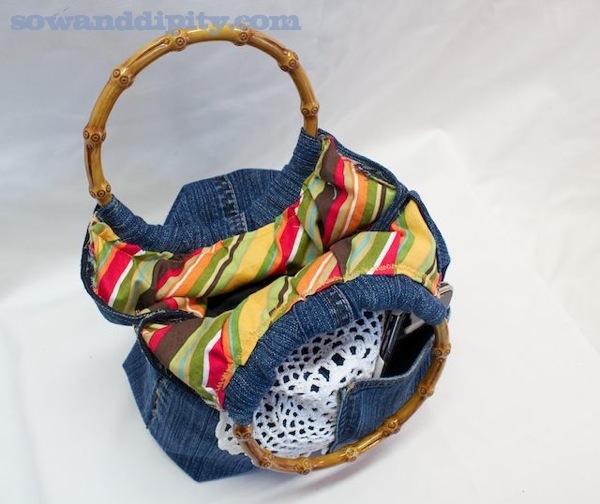 I left the back plain and just jazzed up the front.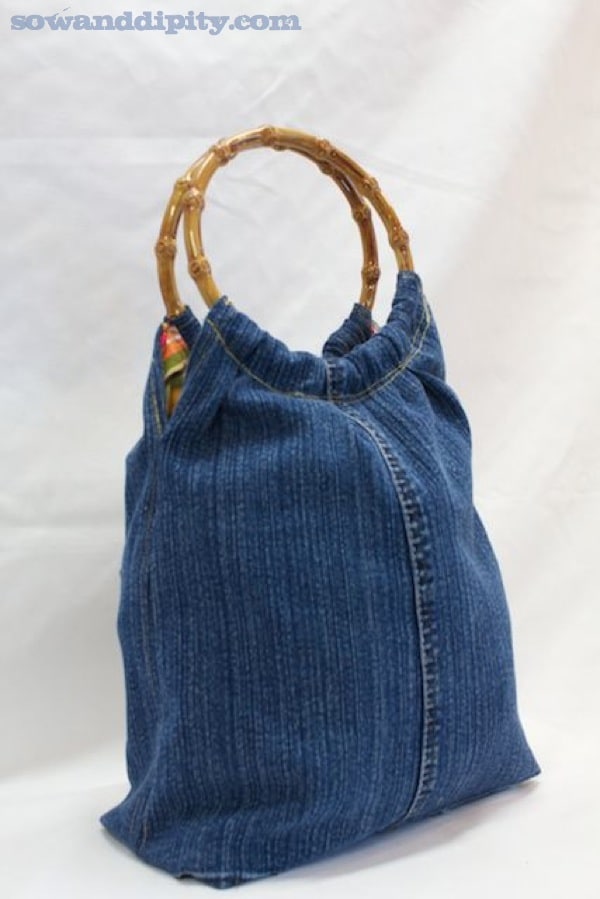 The denim pocket is a perfect fit for my cellphone for quick retrieval.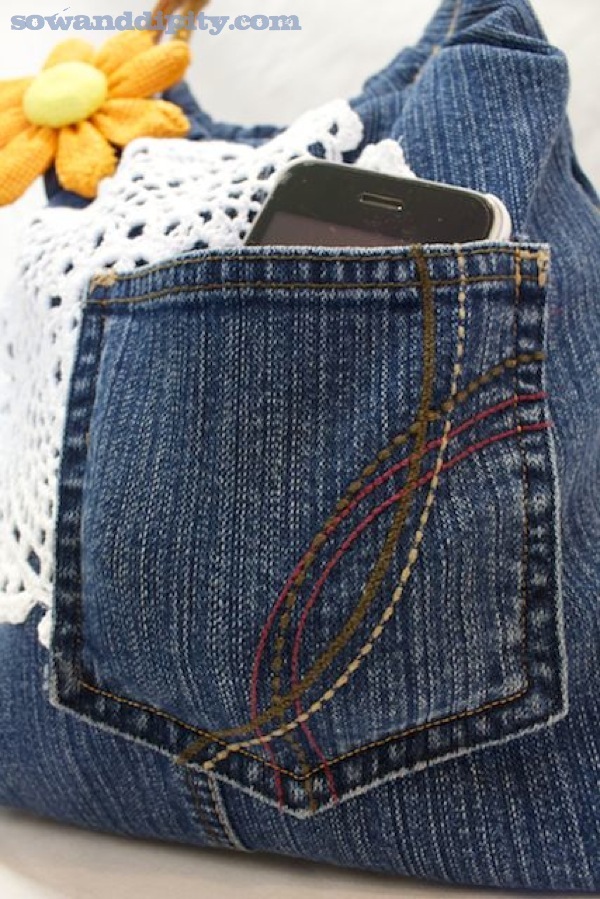 I found this cute orange burlap flower clip at Micheals awhile back and thought it would go great with the bright stripped material I used for the lining. I can clip it to the pocket…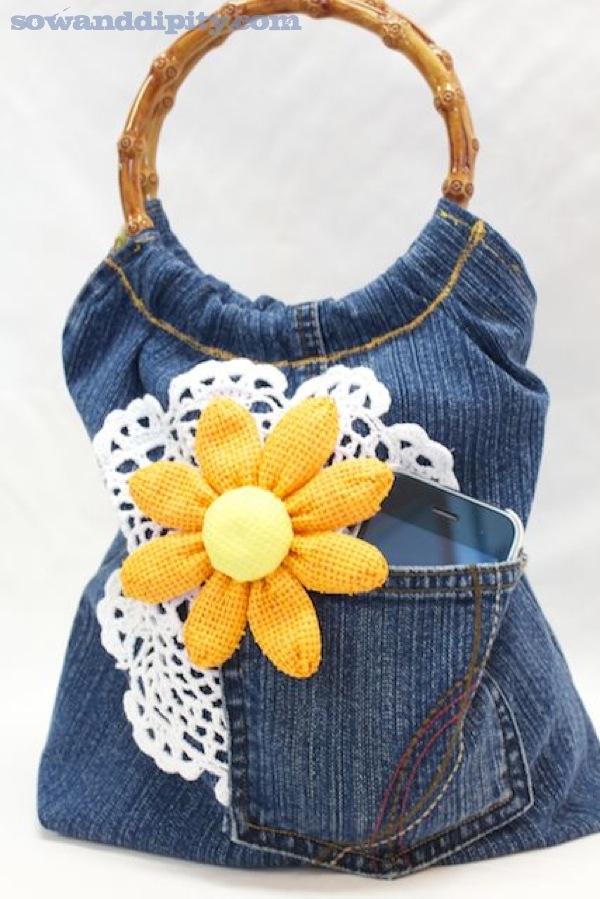 or clip it to the side.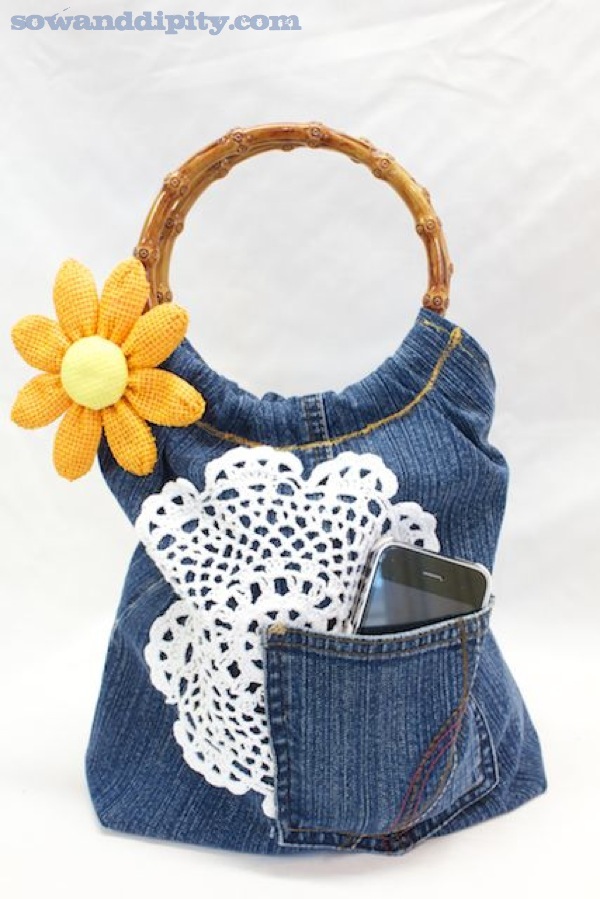 So, that's one of my winter comforts when I'm not able to garden. I do 'sewing' projects of another kind.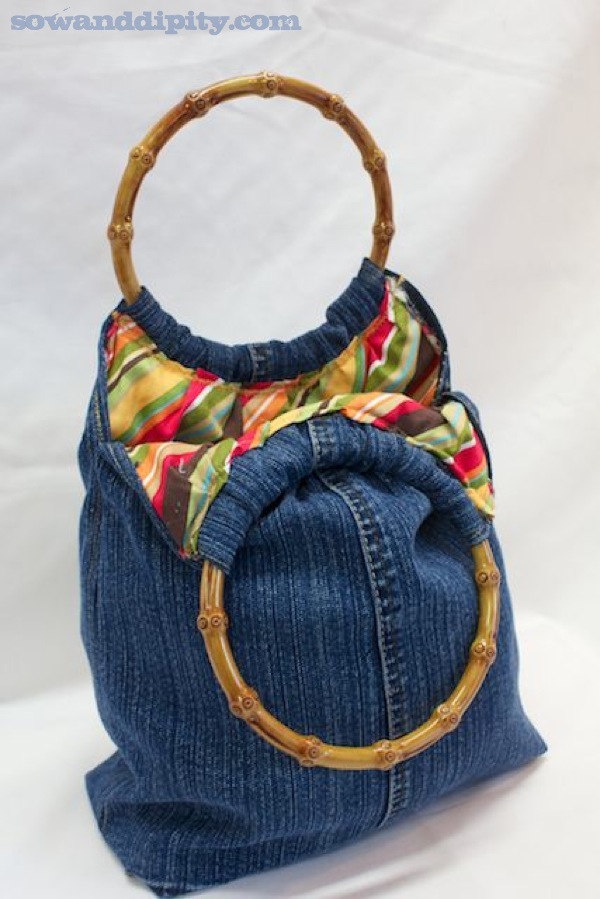 Winter Comforts By The Garden Charmers
Please visit my friends for more projects, recipes, and ideas, and leave a comment saying hello!
Follow Sow and Dipity on:

and

Peace Love Garden