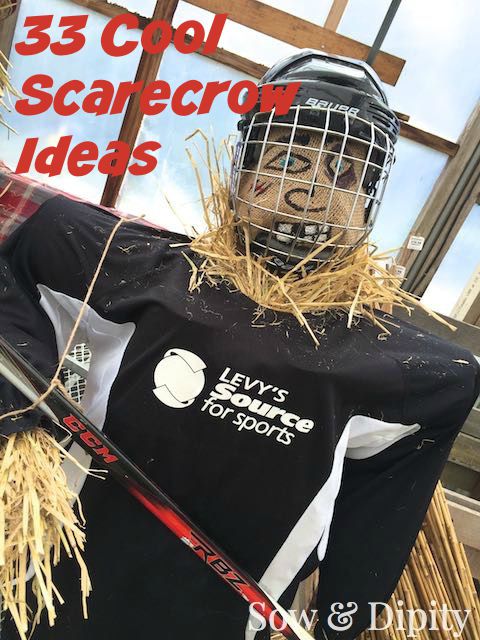 33 Cool Scarecrow Ideas
Who ever said that a Scarecrow HAS to be just a stuffed shirt and a straw hat? Why not be creative and make something over the top? Superhero's, animals and even monsters can be made into a scarecrow… and if you're a business or brand looking for a fun way to celebrate fall, then turn your logo or mascot into a straw and burlap character using some of these suggestions.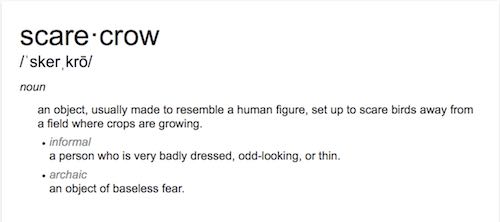 Art's Nursery began a month long Scarecrow Festival this past weekend. I was in charge of the scarecrows and made approx 35 of the 50+ characters on behalf of the sponsors who donated a fee for our charity.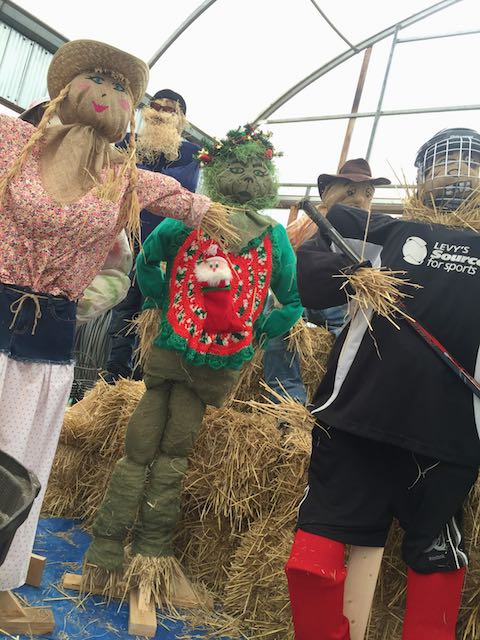 The idea was to create the most over the top scarecrows anyone has ever seen. It all started with the giant scarecrow mounted to the street corner sign.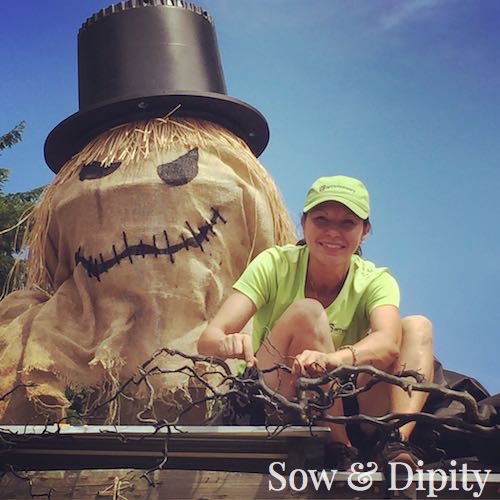 I constructed it using two large wire tree cages clam shelled together and a massive large black pot for the hat.
A typical scarecrow is a stuffed shirt, a straw hat and a burlap sack head. With a little imagination, random objects or recycled junk can be used to create a cool character. Try this tips for your scarecrow:

Use empty plant pots or plastic water bottles to fill the body and legs

Used grocery bags make great stuffing

A plastic plant pot can be stapled to the top as a head form for your burlap

Raffia can be bought in different colors to make hair

Landscape fabric is useful and cheap for fashioning hair and clothing

Wire baskets come in handy for waists on skirts

Staple stuffing materials to the scarecrow frame so they don't shift

Don't over stuff your scarecrow, keeps the weight down and prevents it from looking too lumpy

Paint, buttons and pipe cleaners are great for making faces

Use the hay stuffed into shirt sleeves and pant legs as the replacement for hands and feet, this is what gives the scarecrow his scarecrowness!

Burlap can be dyed with inexpensive fabric dye very easily

Use florist wire to attach hats and other accessories to the scarecrow

Pool noodles are great for arms and legs. Slide a metal coat hanger inside the tube so you can bend the arms.
This Dixie Scarecrow is what you would call your 'typical' scarecrow. Cute but pretty standard. I used natural raffia for braided hair.
I wanted to make sure that the businesses that sponsored a scarecrow had their brand personality show through… like this one for Monrovia.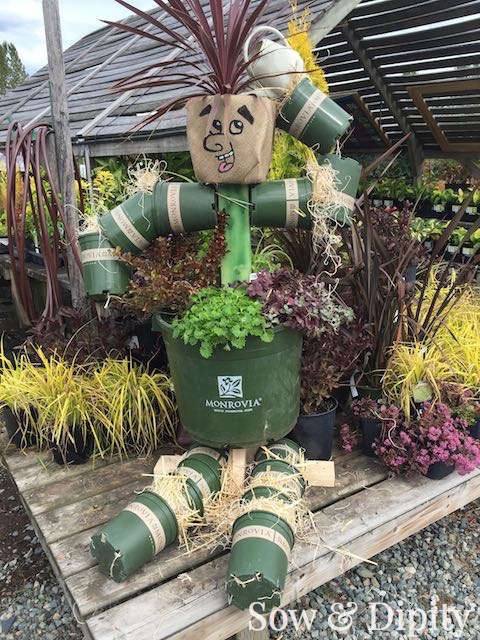 Some sponsors had fun making their own! This goat scarecrow is the creation of Milner Valley Cheese.
Avalon Dairy Sponsored three scarecrows. Kayla designed the American Gothic farmer and his wife, and John created the cow.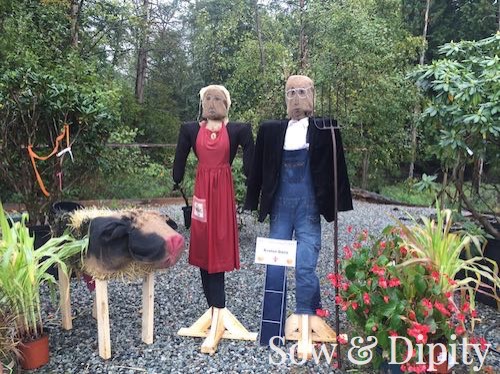 Gaia Green Fertilizer has Mother Earth in their branding. I spray painted her burlap dress green and painted a dollar store inflatable ball to resemble the planet earth.
Florissa the dutch girl, is the official mascot for Van Noort Bulb company… I used a coat hanger to keep those pig tails up and the burlap was made blue using fabric dye.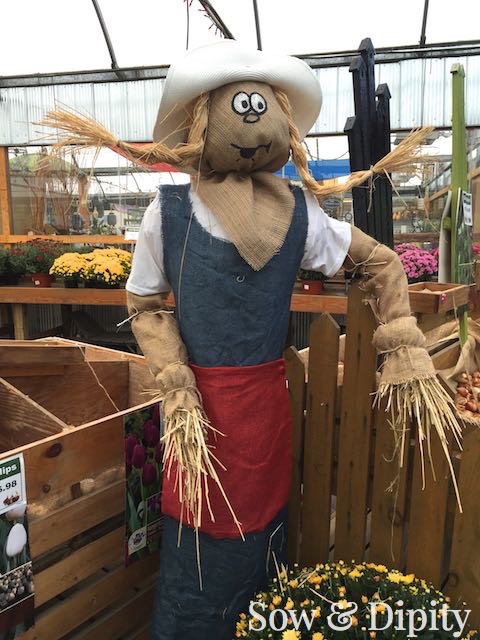 Hipster with a wood shaving beard (and pretty wet from the recent downpour!)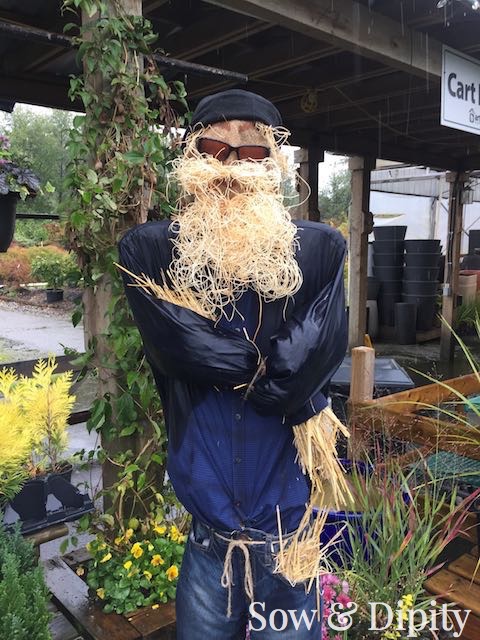 Have you seen those commercials for ProMix with the Growtopia lady in the garden? It's pouring rain but because she's enjoying her gardening SO much, it's like the perfect day!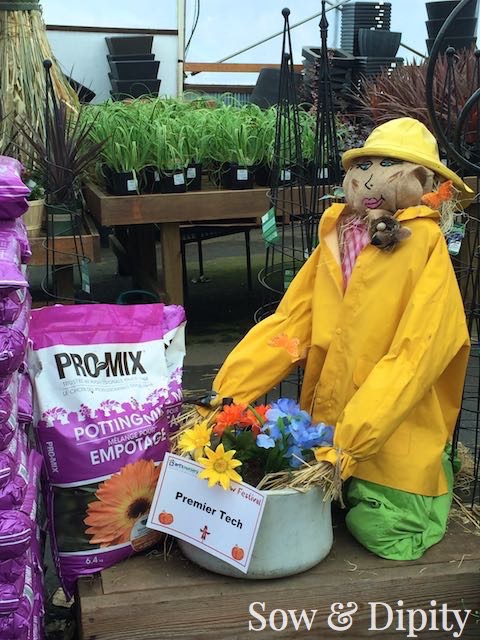 The Spaw did their own scarecrow, how cute is this doggy!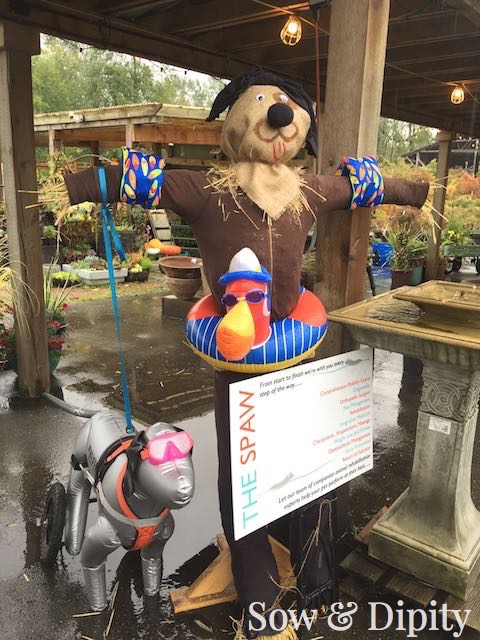 This was one of the last scarecrows I did the day before the event for F & G Truck and Crane Company. Figured we would have their character hanging onto a hook.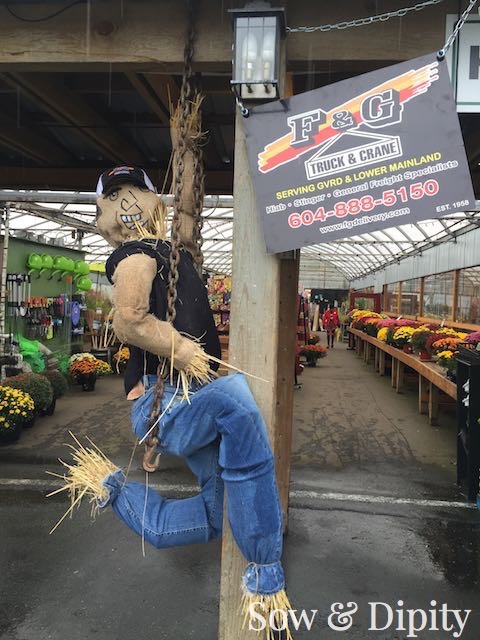 If you happen to be in the area, you can do the scavenger hunt and look for them all over the nursery. You will come across a lot of characters, even ones from many centuries ago.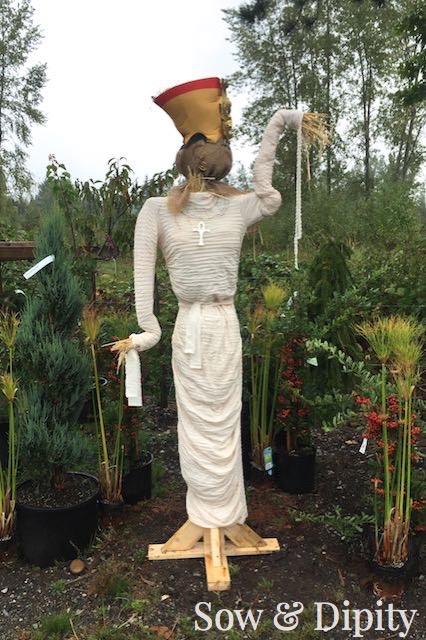 These two scarecrows were partnered up. The Horse Scarecrow was sponsored by Milner Pet and Feed and the Cowboy was sponsored by Stampede and Tack. I used a full bale of hay to make the horse and paper raffia for his mane.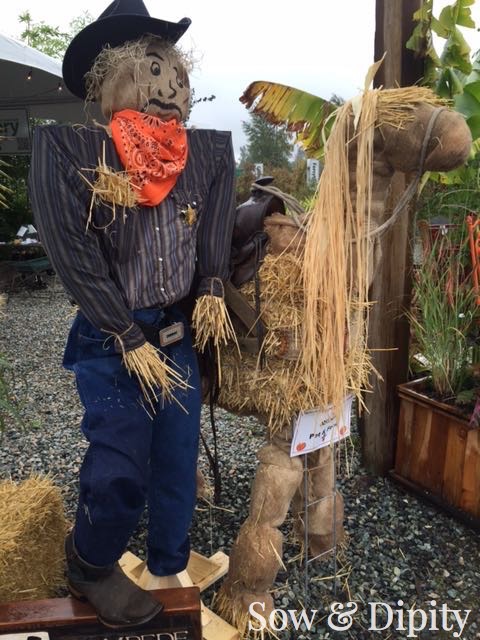 We had some Hollywood celebrities too… Edward Scissor Hands is pruning this topiary! I spray painted his raffia hair black and used empty pots to fill his legs.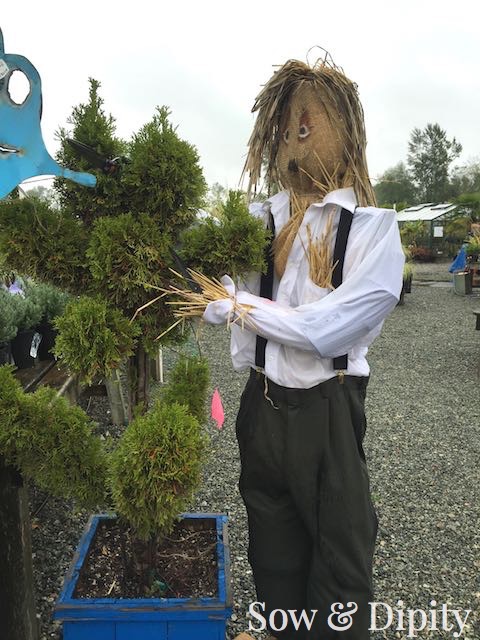 For Vanilla Clothing, I made a fashionista out of all landscape fabric and dyed burlap.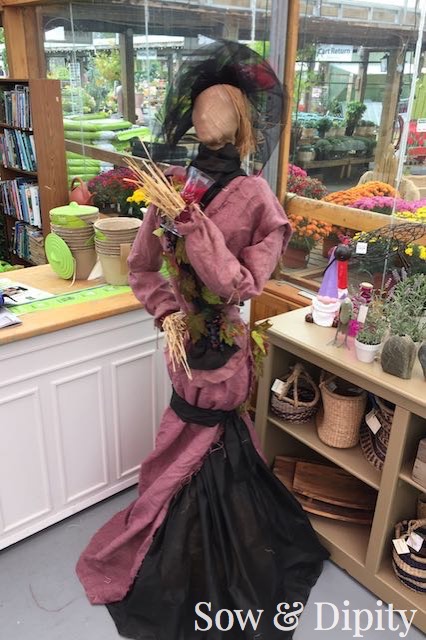 If you want your scarecrow to have a feminine look use a styrofoam head like I did.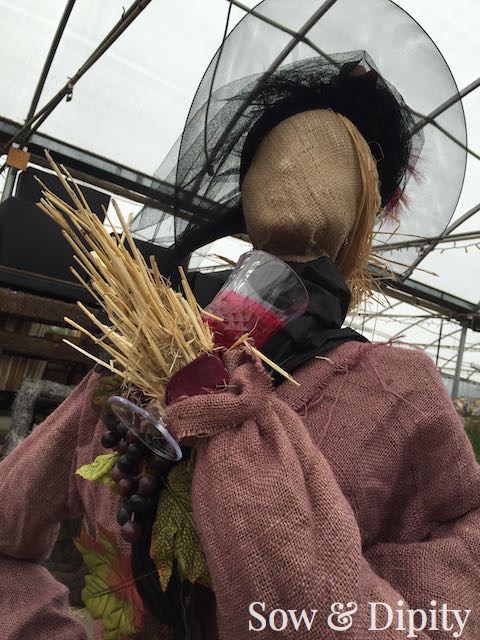 Seasoil has the Flower Rangers as their mascots, so a wired tree basket was cut and used for the frame for this flower head. I dyed the green body, but just spray painted the flower yellow and orange.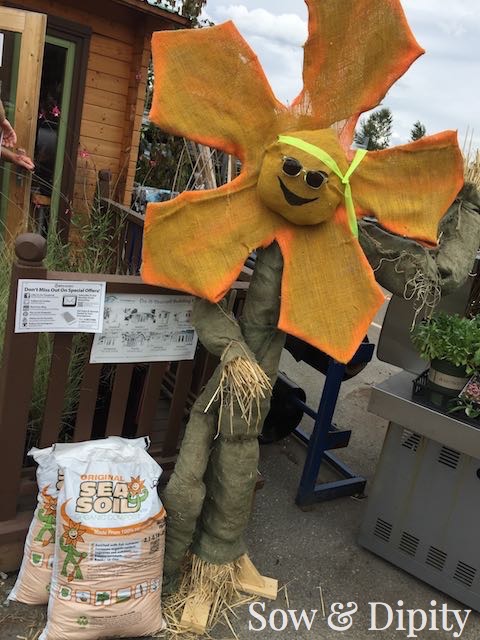 Creative Embroidery West decided to make a scary scarescrow… great job guys!
Sometimes trying to figure out a character can be hard for some companies. Terralink Horticulture is a fertilizer producer… so since it makes things grow, I opted to create Jack and the Beanstalk for this sponsor.
For Stimuli magazine, a local magazine that I am a contributing writer for, needed to have a shopping Diva. Even her Coco Chanel wearing puppy is made of straw!

The Hulk is sponsored by Western Turf Farms. It can be tough when you don't have pants or a long sleeved shirt to use for the body, so I stuffed green spray painted burlap and tied them together with twine.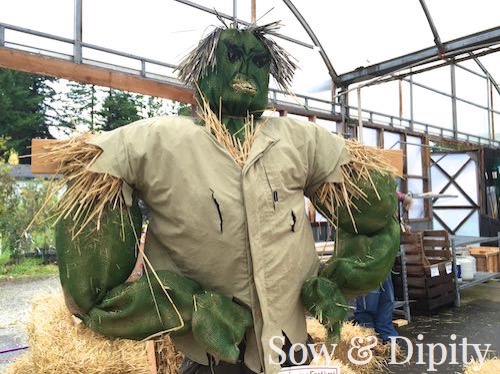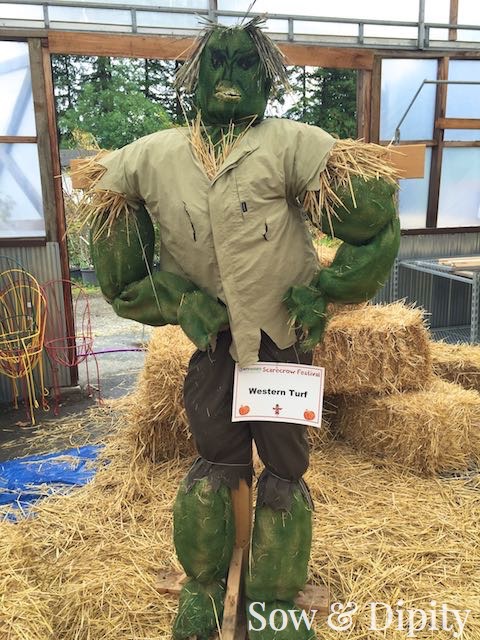 A stack of tires took care of not having a bottom for this scarecrow I made for Douglas Lake Equipment.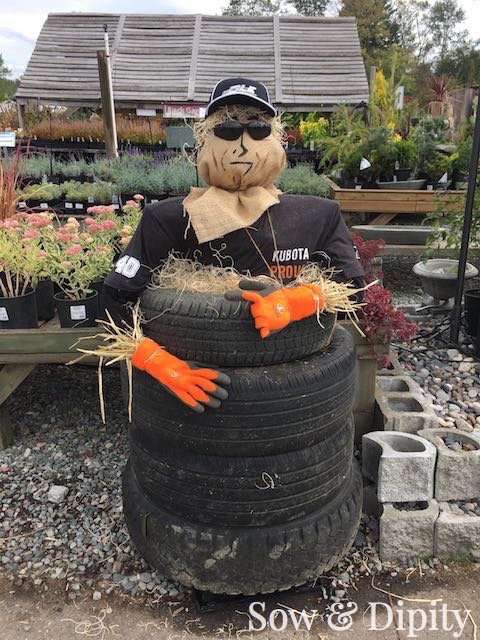 My coworker John created the Tin Man below for Exemplar Horticulture, he's sitting in the front bed with an axe!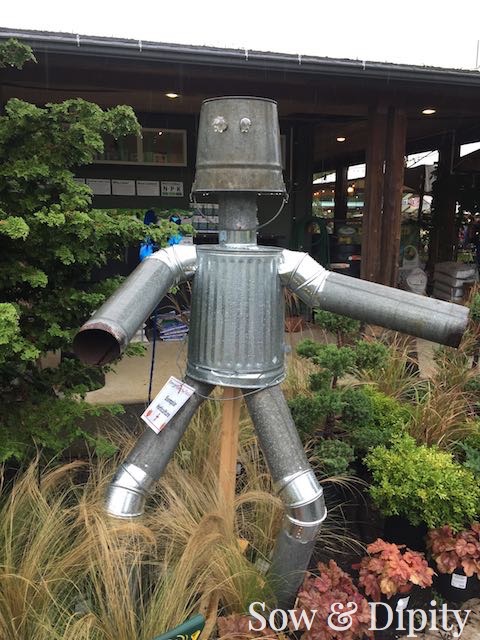 Walnut Grove Travel used a mop for hair on the scarecrow they made for the festival… great idea!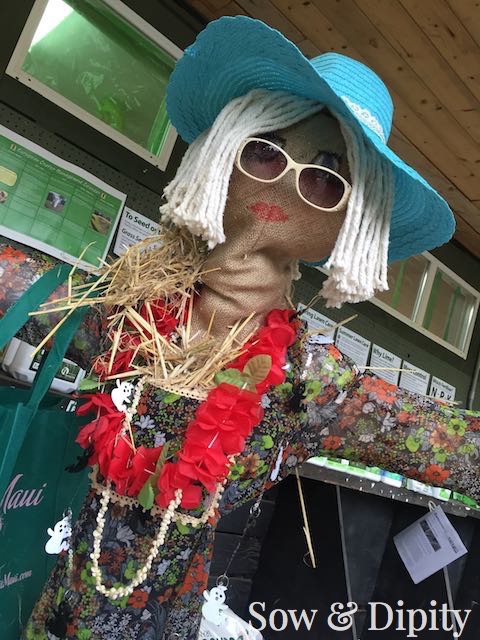 I promised to make a turkey scarecrow for JD Turkey Farms if they sponsored one… of course when it was time to make it, I had to get creative. A pot was used for the body and an indian corn cob was used for the beak.
Valleybrook Gardens sponsored and made their own scarecrow… how fab is this juggling jester!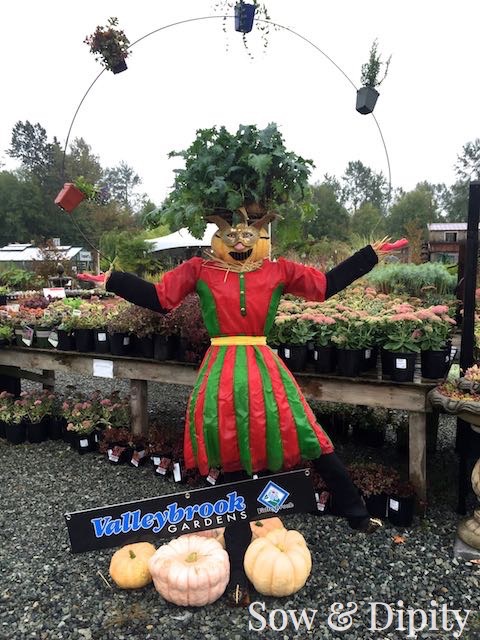 The Harvest Queen is my personal contribution as Sow and Dipity to the event. I will be doing a post dedicated to her next week!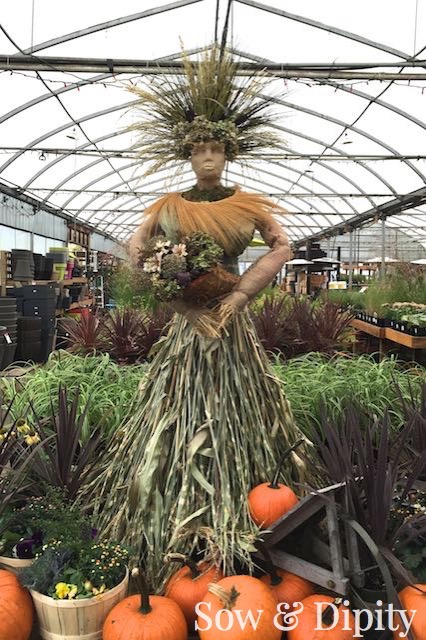 We had monsters too! When I found out I was making a scarecrow for Coast Capital Savings, I HAD to make their monster!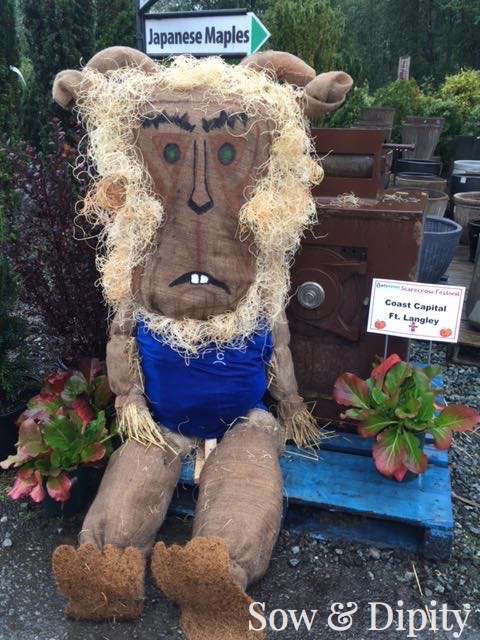 The charity we sponsored this year was the Versitiles, a senior citizens acting group entertaining seniors. They made eight scarecrows for the event including this maid.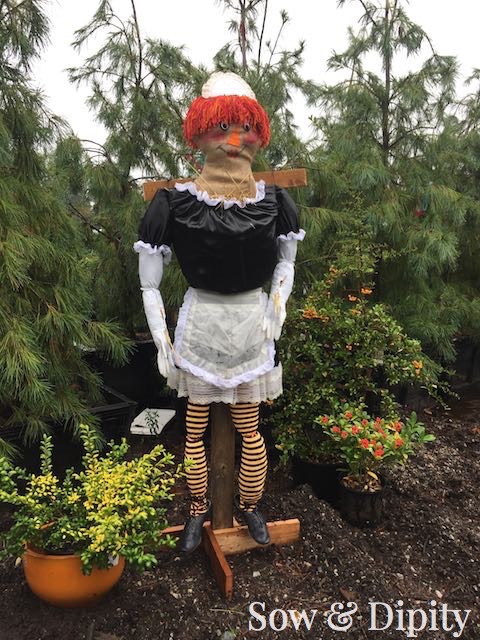 I found this great hat at the Value Village, so a red table cloth and some landscape fabric created this Tibetan monk scarecrow.
Kids love superhero's so I had to make this Superman for the kids build-a-crow area flying over head.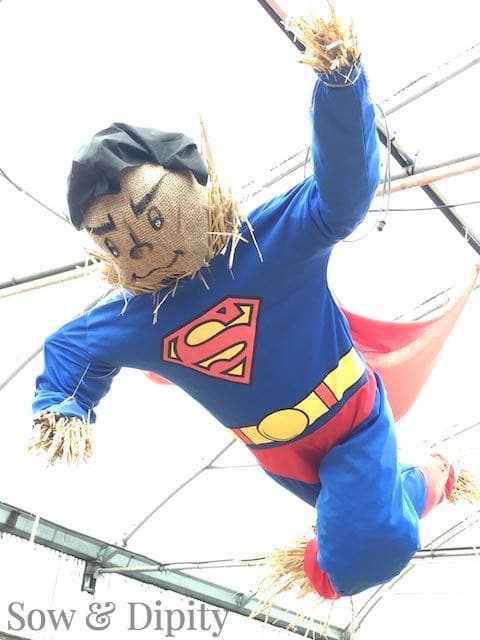 The Christmas Show happens every year at the Langley Event Centre which Art's will be a sponsor for. They returned the favor by sponsoring a scarecrow and asked me to design it. I knew exactly what character I had to make… I even created the ugly sweater he's wearing from a doily and a kids stocking!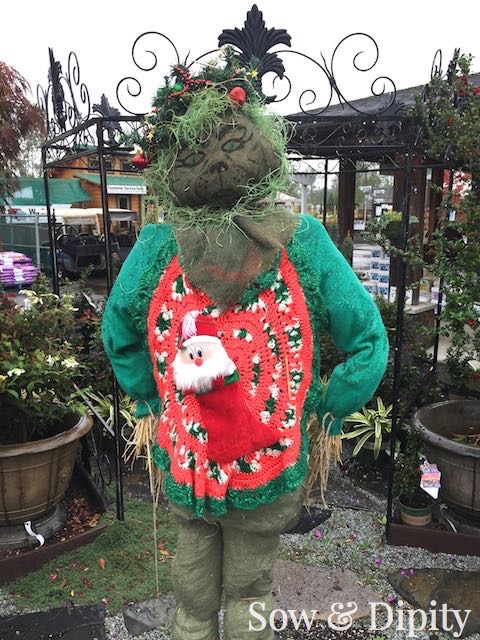 My husbands store, Levy's Source for Sports, sponsored this hockey scarecrow. I obviously had access to the right accessories for this one!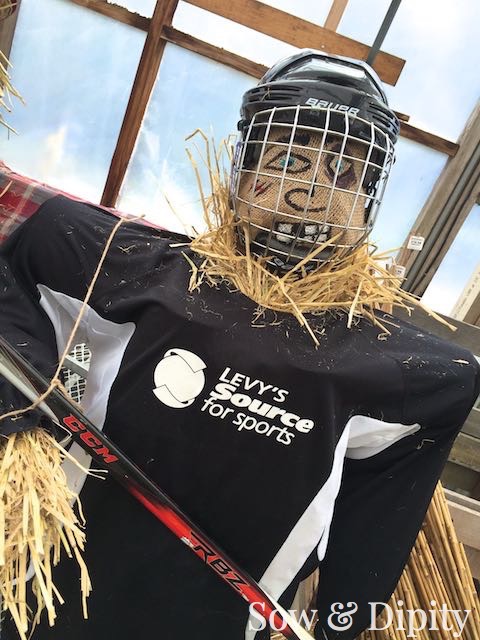 I hope these scarecrow ideas inspire you to think outside the 'pot'! They may not have brains but they have a ton of personality. I had fun doing them and coming up with creative ways to capture the sponsors brands.
Now it's almost time for Christmas 😉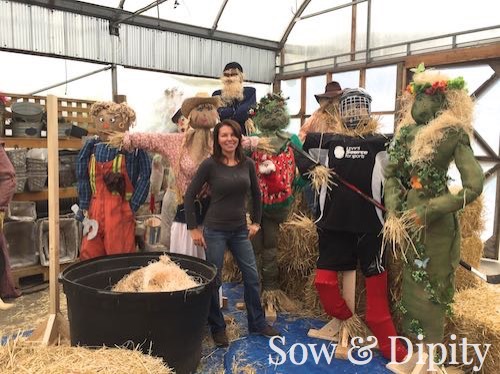 Want to see the creations I come up for Christmas? Subscribe to my monthly-ish newsletter below!