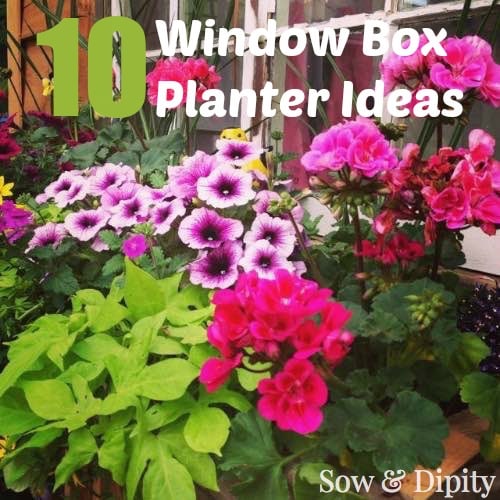 10 Window Box Planter Ideas
In college, I once had a professor comment on my garden designs as being very 'Monet'. It was probably the best and only compliment this teacher ever gave me, and I will never forget it.
He was speaking about how in all my designs I would attempt to bring color up off the ground. When we are in our outdoor Edens, we don't walk around with our heads hanging down. Our line of sight is when we are standing up, sitting down or even when we are looking out of a window from the inside.
I like color to climb a lattice, hang from an arch and be mounted on a wall. If you are the same or if all you have is a railing or an area under a window, then here are 10 Window Box Planter ideas that will inspire you.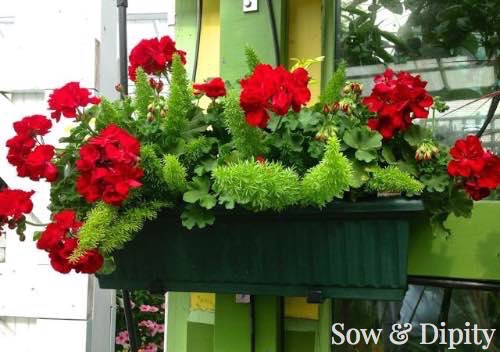 This gorgeous planter was spotted at Gethsemane Gardens in Chicago. It's a simple combination of Foxtail Ferns with Deep Red Geraniums and proof that less is more. Beautiful.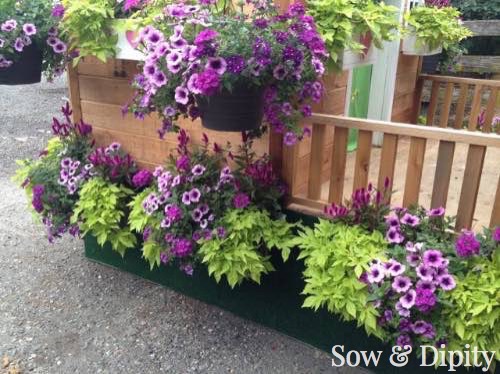 I planted up a parade float for a garden center a couple of years ago and the window boxes we mounted along the sides filled out beautifully. I kept the color scheme simple with green and purple using Petunias, Verbena, Celosia, and Ipomea.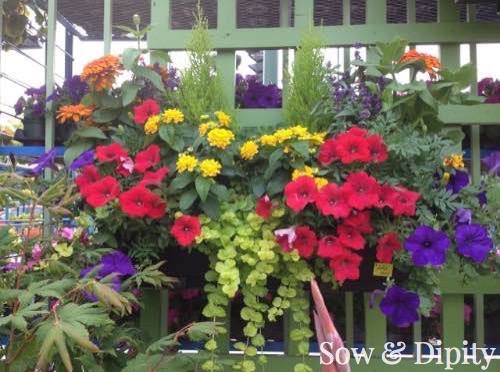 This container is a vibrant mix of fun bright colors. Yellow Lantana, Red and Purple Petunias, Yellow Tagetes, and Creeping Lysimachia.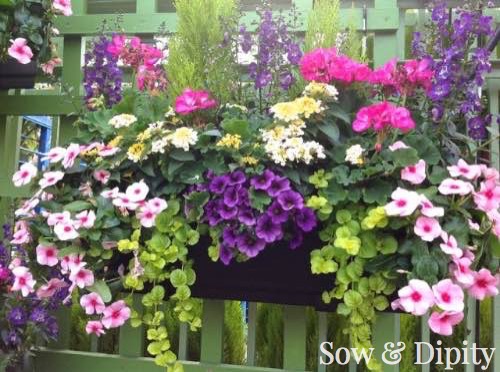 Another colorful window box from Gethsemane Gardens but with cooler colors this time: Creeping Lysimachia, Purple Million Bells, Yellow Lantana, Pink Geraniums, and Pink New Guinea Impatiens.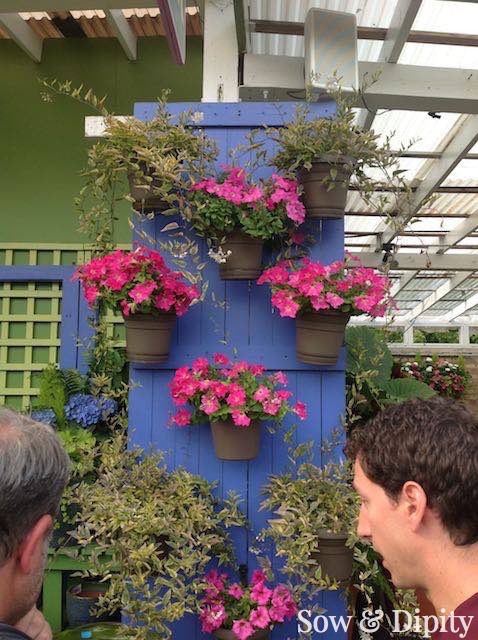 Okay, these are not window boxes, but it's a cool idea for an old door or on the side of a shed. Using one solid color against another is very dramatic.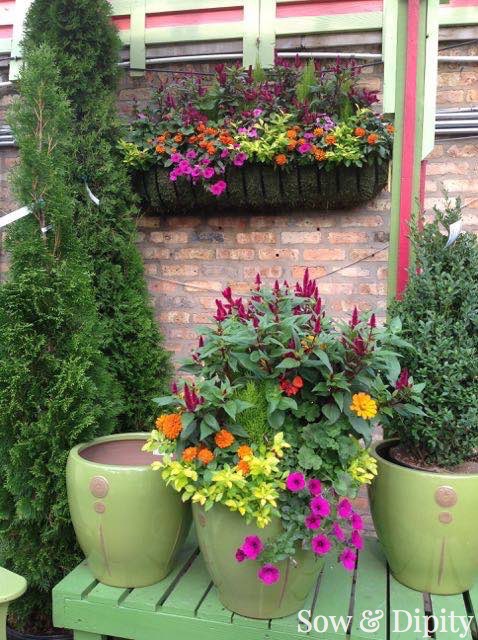 I love the colors in this window box above. I would call this tutti-fruitti with the colors of watermelon, orange, lemon lime and cherry.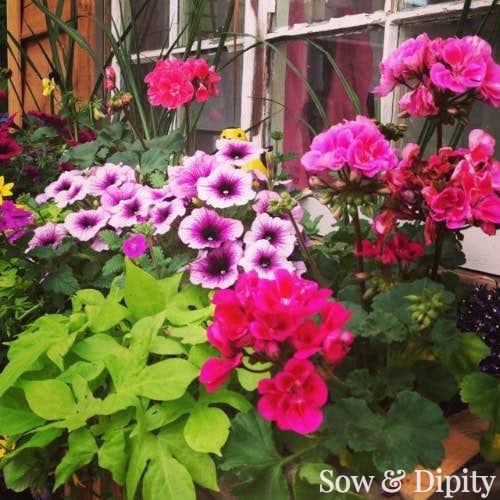 The above window box is one of mine. I like to demonstrate to people that common plants that are easy to take care of are sometimes the best bet in planters. If your new to gardening try using Ipomea, Geraniums, Petunias, and a Dracena spike.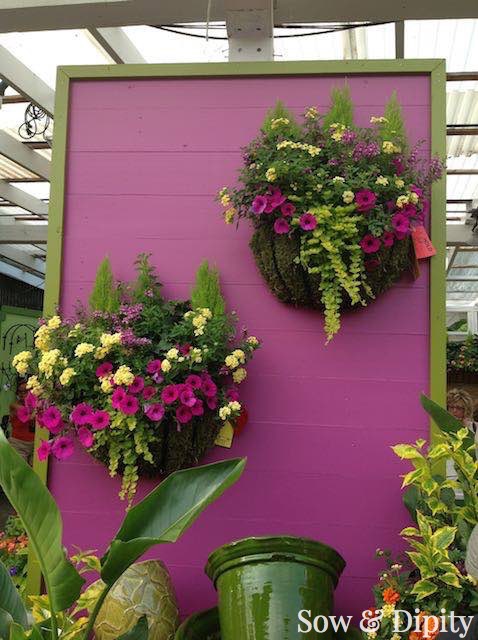 Yes, Gethsemane Gardens again! I took a hundred pictures in this store and wish I lived close enough to visit it every day! They used Lemon Cypress with just yellow and pink flowers. Gorgeous simple color scheme with a dramatic effect… oh and an outrageously pink wall 😉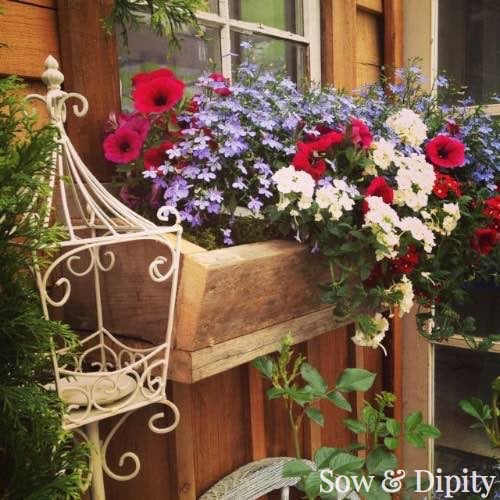 Another one of my planters with a combo of Red, White and Blue. Lobelia, Petunias and Verbena were used to create this look.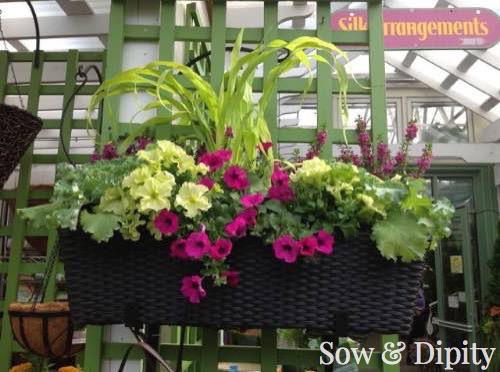 Last one… for now. But what makes this window box a little different than the others is there is lettuce growing in it! Why not combine annuals with vegetables right?
If you love the idea of an edible flower planter (I mean, you can actually eat the flowers!) then be sure to subscribe so you don't miss my post on that window box coming up soon.
Subscribe Now!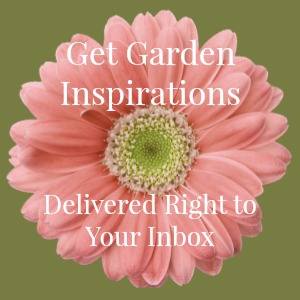 Remember!
When it comes to Plants… Think outside the Pot!