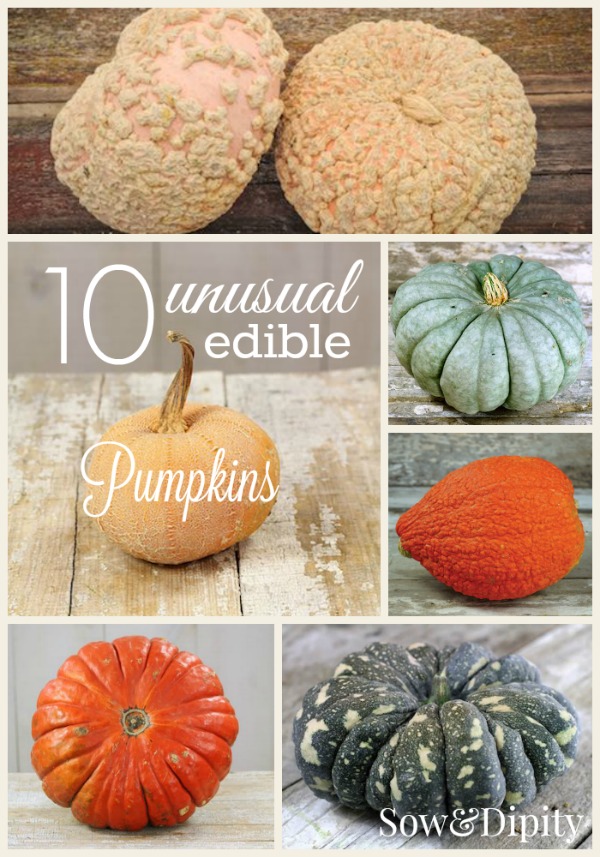 10 Unusual Edible Pumpkins
I don't know how many times I have said this, but I love gourds and heirloom pumpkins… warts and all! I decided to contact the folks out at Baker Creek Heirloom Seeds after checking out their amazing selection of pumpkin varieties and put together a post of some unusual edible pumpkins you may not know about.
After all, not all pumpkins are orange and the 10 I share in this post are as tasty as they are ornamental. Big shout out to the team at Baker Creek Heirloom seeds for allowing me to use their photos!
Winter, Spring, Summer, Pumpkin
For starters, this post is of my own opinion and my descriptions reflect those on the Baker Creek Heirloom Seeds website. To be clear, this is not a paid post by any means. Just one gardener who loves finding great seed sources and wanting to share my find with you all!
I love farmers… they are always so happy to help a neighbor out. Well, we may not be close neighbors, but Laura was quick to provide the images below so you can see how amazingly beautiful these pumpkins can be. To make sure you can find them, I have included links so you can get some for your self.
Winter Luxury Pie– (C. pepo) This beautiful 6lb golden yellow with white netting is a darling. There are many that would say this pumpkin is hands down the best for pies with it's sweet smooth flesh. Best way to cook it is to pierce the skin a few times and bake it whole at 350 degree's for about an hour or until the skin sags. Cut it open, remove the seeds and scrape the flesh into a bowl and blend it smooth.
Thai Rai Kaw Tok– (C. moschata) This squat shaped green and tan spotted fruit is as fun to decorate with as it is to eat. Said to be tough against pest and diseases and great for storing. Plenty of reviews of this pumpkin say it's yellow orange flesh is delicious.
Seminole Pumpkin– (C. moschata) A wild squash from the Everglades, it's unique shape and vigorous habit got rave reviews. It takes a little while to get going but once it starts it grows and produces like stink.
Red Warty Thing Squash– (C. maxima) Just look at all those warts! This bright orange show stopper will glow in your garden and averages about 20 lbs. Great for eating, not stringy and perfect for Jack-o-lanterns
 Question??
What is the difference between a pumpkin and a squash?
I know you were thinking it… I said I was going to share 10 pumpkins then I threw in a squash just to see if you were paying attention. Okay, first of all… all pumpkins ARE squashes. This massive genus (including gourds) has well over 700 species.
Basically there are two types of squash… summer and winter. The summer varieties have soft edible flesh (zucchini, pattypan) while the winter have hard skins (acorn squash, pumpkins). Now you know, shall we carry on?
Long Pie Pumpkin– (C. pepo) These are great if you have a short growing season since you can harvest them the minute the green fruits develop their orange 'spot'. They will continue to turn orange in storage and are great for pies.
Sweet Meat Squash– (C. maxima) I love the blue and green squashes, don't you? This variety has a bright orange flesh that some say taste like sweet potato. The rind gets very tough which leads to it being great for winter storing. PLUS… it's just pretty.
Rouge Vif D' Etampes Pumpkin– (C. maxima) An old French variety that is a prize winner when it comes to beauty. This stunning pumpkin is flat, deeply ribbed and a burning bright orange. Great for pies.
Jarrahdale Pumpkin– (C. maxima) What the heck… let's do another pretty sea foam green one, yes? These are those pumpkins you see in the Better Homes and Gardens pages of peoples fall front porches. If you can't find them locally, try growing these gorgeous AND edible pumpkins yourself.
Galeux D' Eysines Squash– One of my all time favorites! This salmon pink squash is simply stunning… I LOVE THOSE WARTS. It's an old French variety often used in soups and up until a few years ago, they weren't available anywhere. I had a little trouble finding them at the markets so this beauty will be on my seed wish list for next year!
Cushaw White Pumpkin– (C. mixta) Also know as Jonathan Pumpkin is easy to grow with huge yields. I read a review where someone uses it in pancakes and waffles…um… YUM! I love the white green skin and unusual shape.
I've barely scratched the surface on all the available varieties out there. Be sure to visit Baker Creek Heirloom Seeds to see them all!