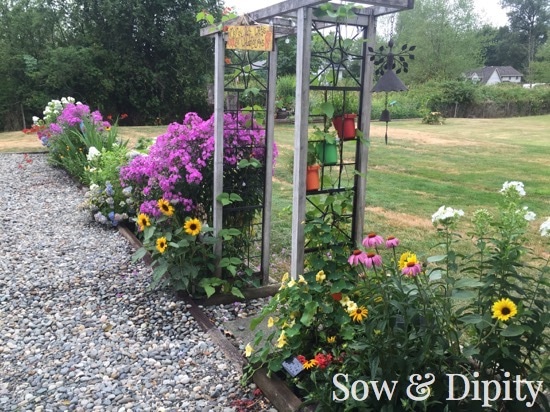 Moving Plants to a New Home
You spent years building a garden and now you're moving to a new home. Taking some of your precious green belongings is easy to do and you can ensure a transplanting success with a few of these tips.
 I am very happy to announce that Sow and Dipity has partnered with some amazing brands. As a personal rule, I will only promote products I believe in and that match my set of values. In exchange for the generous samples they send me and/or compensation, I am proud to demonstrate them to you.
USE THE BIGGEST POTS YOU CAN FIND
Bigger is better, more room for extra soil around the root ball will protect the roots in the transition.
DIG A LARGE ROOT BALL
Have you every tried to move a sleeping baby from your arms into a crib? The idea here is that you don't want to disturb the roots, or as little as possible. The bigger the root ball, the less the plant will even realize it's been moved at all.
DON'T DIG IT UP UNTIL YOU HAVE TO
If you can, leave this packing chore as the last one to do on your list. It can take weeks to prepare a home for a move and the longer the plants can stay in the ground, the better.
WATER, WATER, WATER
Keep your plant well hydrated during the process. Once you plant it up, you'll want to keep it light for the move so water the day before you dig and immediately once you place it into it's temporary holding spot before you can get it back in the ground.
USE A ROOT ENHANCER
When it's time to replant, dig a hole twice the size of the root ball and use a root enhancer like Myke's. I added some of this to the pot's I used for transplanting and in just two weeks I saw significant root growth already taking place.
Myke's products are sold at garden centers like Art's Nursery, look for it in their fertilizer sections.

I spread more of the Myke's into the planting hole before making the final move to ensure active growth for the plants in their new home since I am moving them at a time when all of their energy is going into shoot growth.
Check out the transformation in my recent move, watch how I dig a new bed in a day and create what will be a stunning garden in just a few short months!
DID YOU KNOW YOU CAN GET A 5 YEAR WARRANTY ON YOUR TREE'S AND SHRUBS?!
Yes, you can! Myke's is offering this warranty for all your newly planted tree's and shrubs… learn more on how you dig into this deal here!
'Think Outside The Pot!'
Save