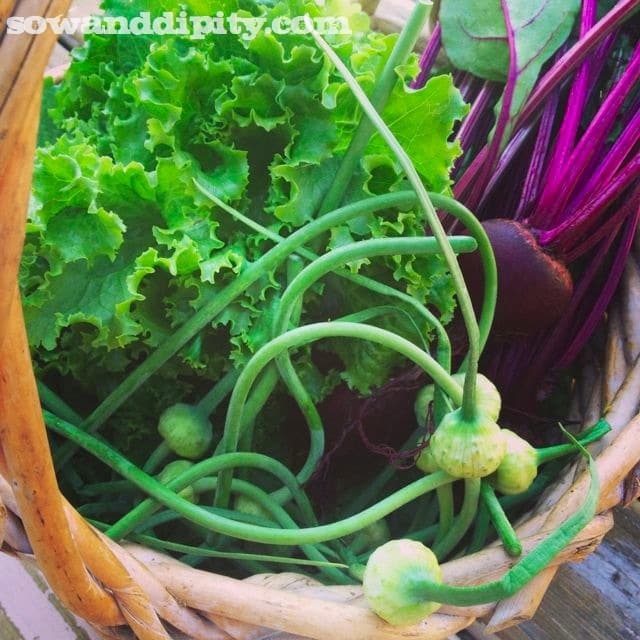 Garlic scapes are a little delicacy that you can grow in your back yard. All you need to do is plant hard neck garlic in fall to get them. I combined them with some other fresh vegi's from my garden to make this delicious
Garlic Scape and Roasted Beet Salad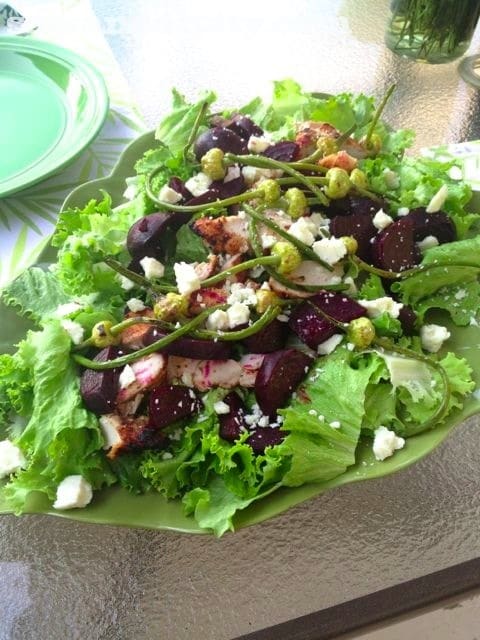 Hardier garlic to our Canadian climate is the hard necks. Soft neck garlic is what you buy in the grocery store because they are easier to mechanically plant where as hard neck garlic is hand planted.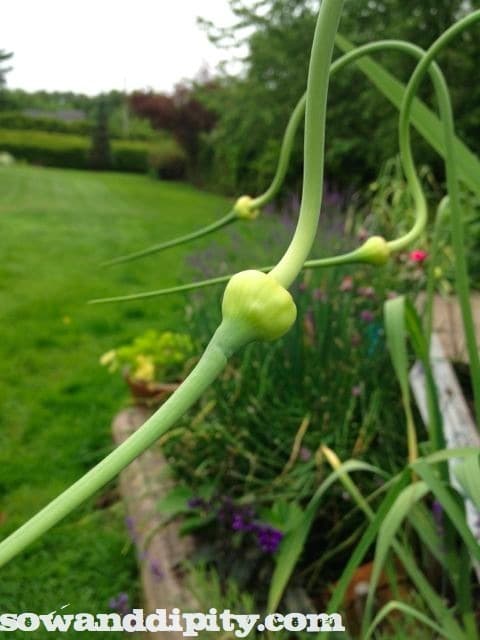 The garlic scape is actually the flower just before it emerges, often it grows all crickety and twisty like. These are snipped off to allow for more energy to go to the bulbs in the ground.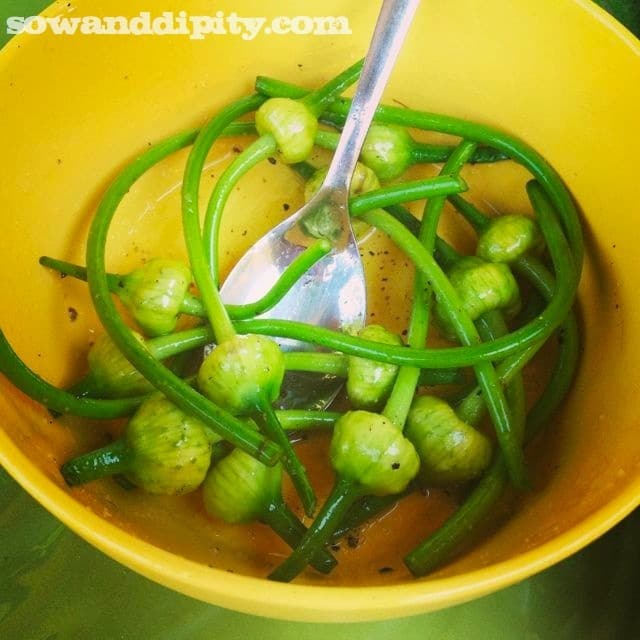 I simply trimmed them, then tossed in a little olive oil with a
crank of fresh pepper
and a pinch of sea salt.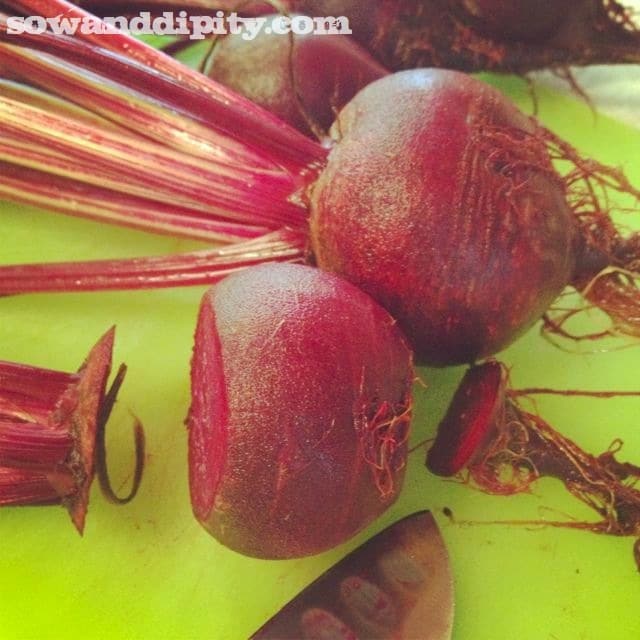 The beets are picked when they are small and tender ( no need to peel them when they are young ). I just chopped of the tails and saved the leaves for another meal.
Then they go into a foil packet dotted with butter and sprinkled with salt and pepper.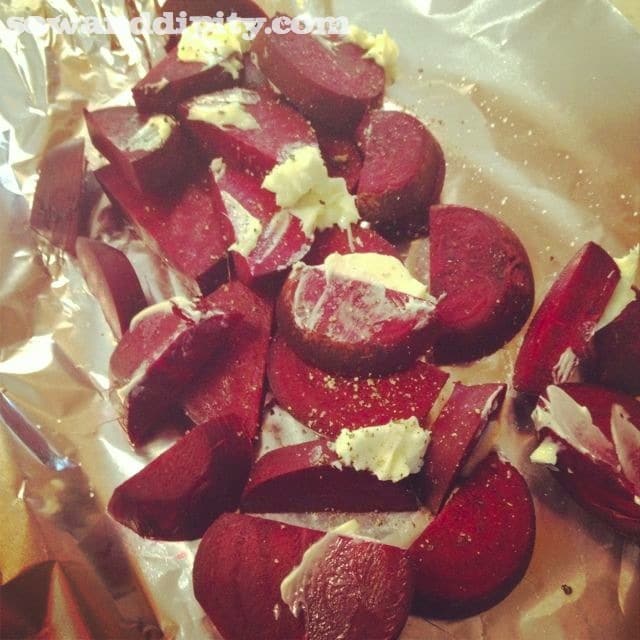 I did up some seasoned chicken breasts which took about the same amount of time as the beets, 20 min. Right near the end, the garlic scapes were grilled on a perforated tin grilling pan so that they didn't fall through.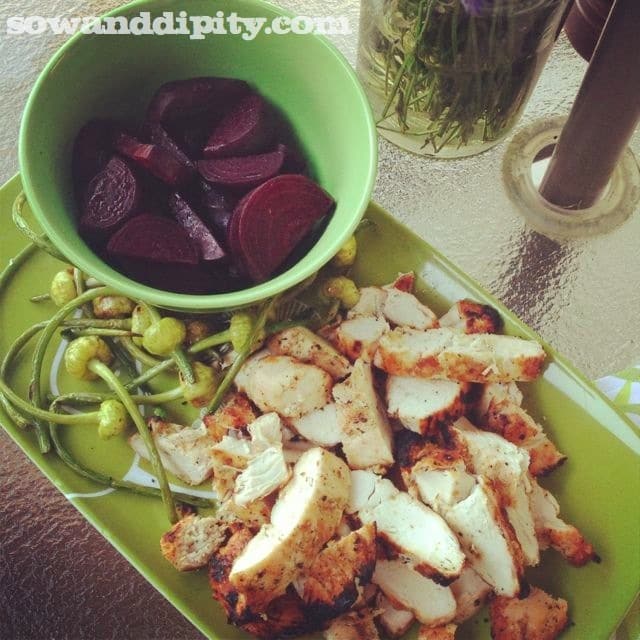 The whole meal was served on a platter of fresh curly green lettuce from the garden. Pile on the chicken, beets and then the garlic scapes.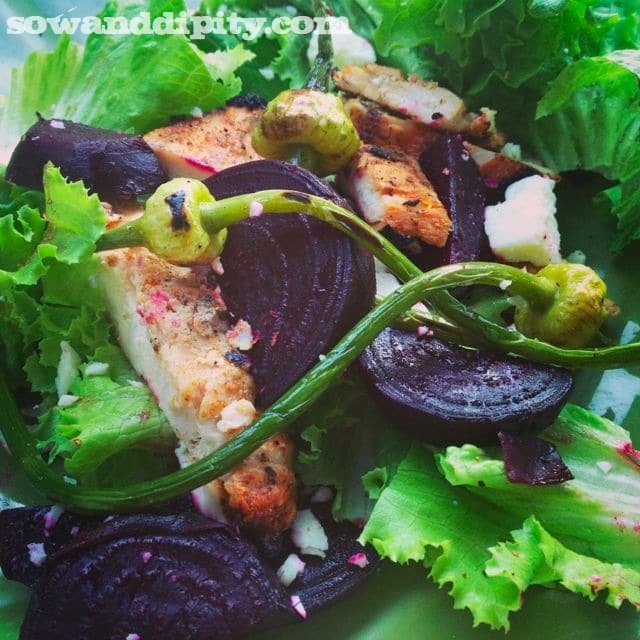 My husband and I enjoyed a small road trip to check out local farms and picked up lot's of goodies like the goat cheese served in this meal. Follow the Circle Farm Tours if your lucky enough to live in the lower mainland.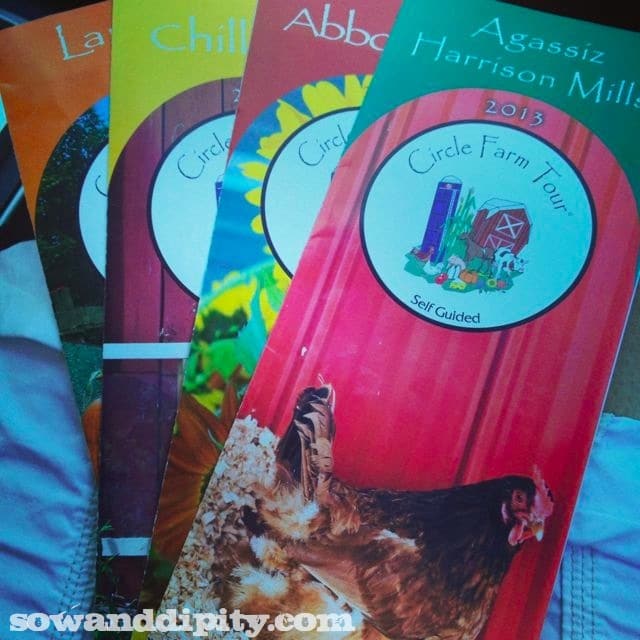 The dressing was very simple, combine Balsamic Vinegar, Olive Oil and a little sugar to taste. Just drizzle this over the salad and it's ready to be served.
It was an amazing delight! My husband and I savored the subtle garlicky flavor of the tender garlic scapes and from now on I will grow garlic just for this meal every year.
Garlic Scape and Roasted Beet Salad
4 Organic Free Range Chicken Breasts
12-14 Newly Harvested Garlic Scapes
6 Small garden beets
Head Fresh Curly Loose Leaf Lettuce
1/2 Cup of Crumbled Local Goat Cheese
2 Tablespoons Balsamic
2 Tablespoons Olive Oil
1 Teaspoon Sugar
Sea Salt
Freshly Ground Pepper
Peace Love Garden