Easy Summer Entertaining
Some of those 'tablescapes' out there are pretty dazzling. But if your like me, I barely have enough time to prepare food after running around making sure the house is
company clean
So, in a last ditch effort to create a nice patio setting for my ladies luncheon, I quickly grabbed a few things from around the house and still managed to wow the girls.
Here's a few idea's for your next patio party…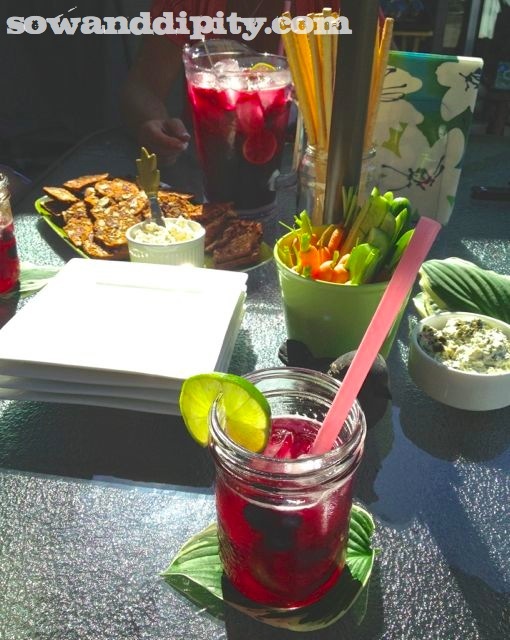 The girls LOVED this idea I borrowed from Pinterest of using leaves as coasters.
I went around and snipped the prefect size from my Hosta's about a half hour before my guests arrived and put them in a glass jar with cool water until it was time to use them.
Just pat dry before you put them out.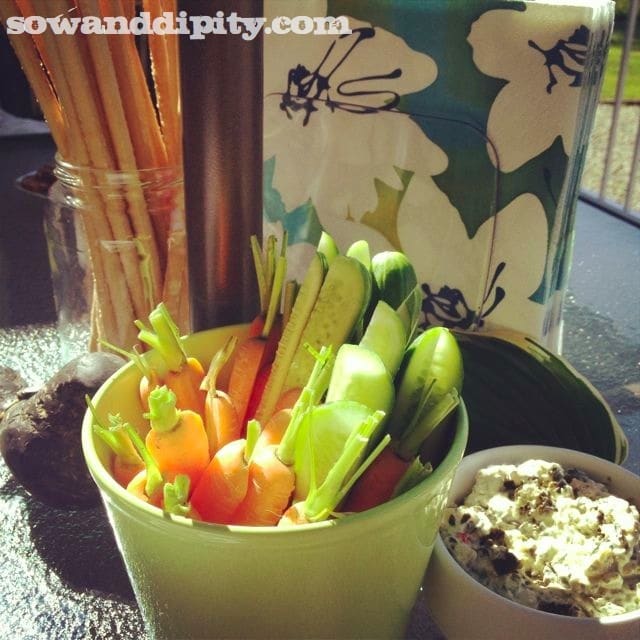 Pile long sea salted bread sticks into a large mason jar.
Cut garden fresh ( and I mean just pulled out of the soil 20 minutes before this picture was taken ) baby carrots and mini cucumbers lengthwise and serve with deli artichoke dip.
Don't go overboard decorating… the food and beverages should take main stage.
Add a simple decor item like this little wooden birdie, not too big to get in the way, but to cute to ignore.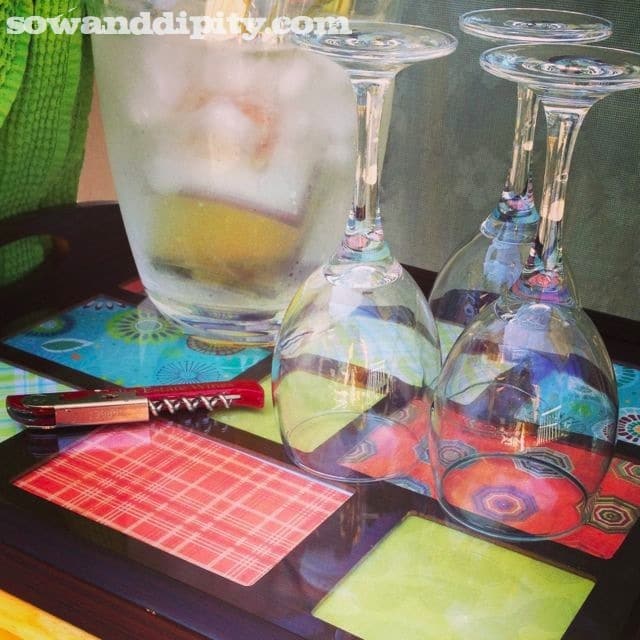 Create a mini bar off to the side to give you more room on the table. I used a picture tray and just cut up some fun summer colored scrapbook paper for the inserts.
I put this tray on a little wooden TV tray with a small towel to catch the drips.
Create a little vignette mixing old and new items to add a quick decorative element to your patio.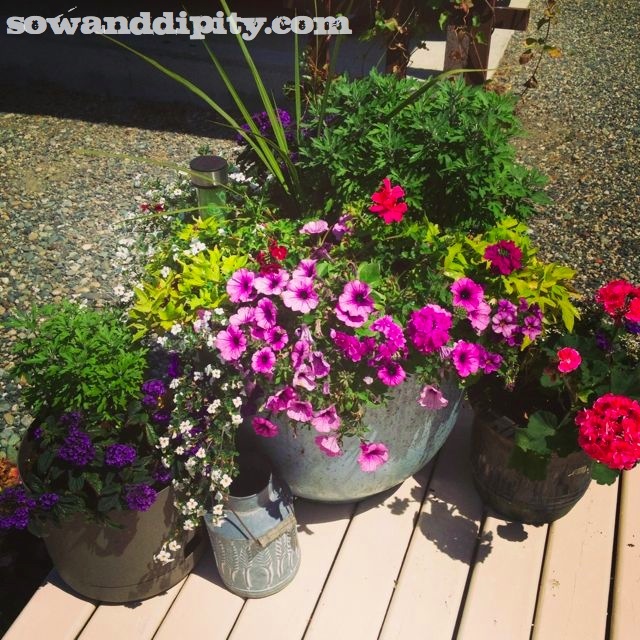 Group planters together for a bigger impact. Here's my cheat way of creating amazing planters when you don't have the time.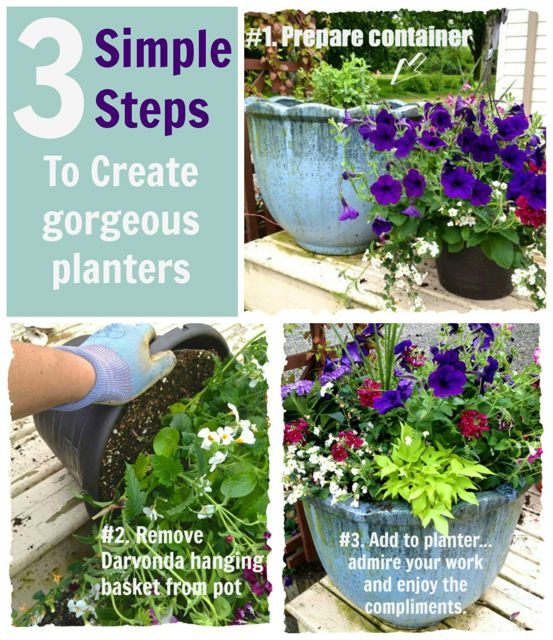 Then serve a delicious beverage that all the girls demand the recipe for.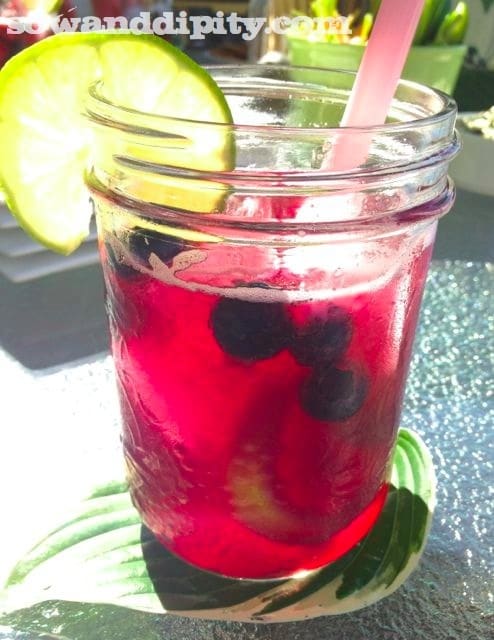 Here's my Frozen Berry Sangria for you all to enjoy!
1 Package of Such and Slush
1 Bottle of Red Wine
Half of a 750ml bottle Peach Schnapps
1L Koala Raspberry & Guava Sparkling Fruit Beverage
Sliced Lemons and Limes
Fresh Local Raspberries and Blueberries
Fresh Slices of local Peaches
Lot's of Ice
Follow the package directions for the Such and Slush
It's basically a powered sweetener mixed with one full bottle of wine and an equal full bottle of water.
But you could use a fruit juice or just double the sparkling fruit beverage if you can't find this product near you. Freeze in a zip lock bag at least 24 hours before.
When it's time to serve, pour frozen contents into a large punch bowl or serve half at a time in a pitcher. Add fruit, Schnapps, Koala drink and ice.
Serve in frosty mason jars with extra big straws.
I'd like to say this scene was completely staged… but my wacky girlfriends are just plain wacky ( without the alcohol! ) so what you see is what you get.
I'm sure the text messages will be pouring in to remove the above picture… but it stays ladies, get over it!
Summer entertaining is about being with friends, giggles and whackiness.
I'm a Martha to the core when it comes to having everything just right…
BUT no matter how I folded the napkins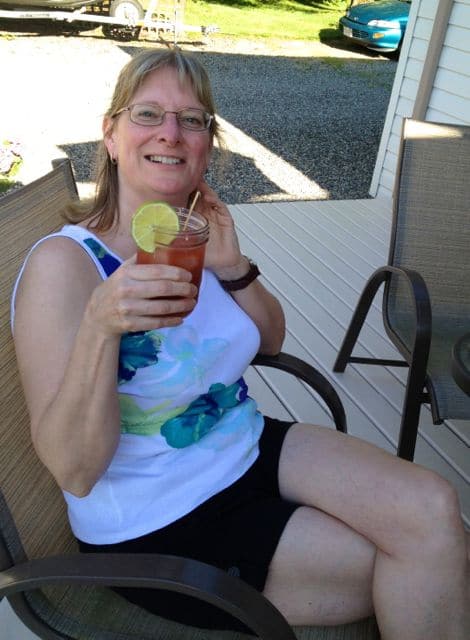 or what garnish's I used
Nothing replaces Good Thyme's with friends.
Peace Love Garden