DIY Dyed Bushel Baskets
Fall is almost upon us and I'm already doing up my harvest themed projects! I was asked to speak this fall at Minter Garden Center's Apple Fest event, so I needed to come up with some ideas that would fit into my demo.
Apple bushel baskets are the perfect addition to any fall vignette. You can plant them up, stuff them with gourds and of course, have them spilling over with apples. Read on to see how I used fabric dye to color them up so that they still kept their rustic charm.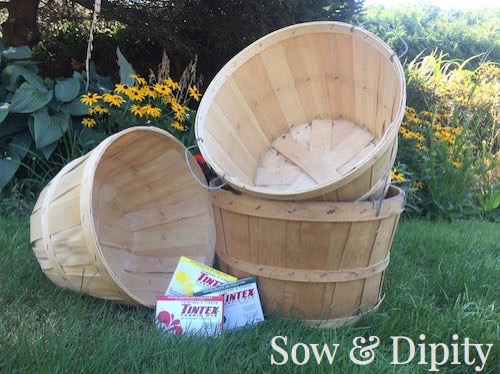 Apple bushel baskets are very inexpensive and can be bought at any garden center or craft store. The are usually a light wood color, but occasionally they may be a darker tan. Some come with wire handles while the smaller ones usually do not.
Fill a container or sink big enough to fit your baskets with very hot water. I boiled a big double boiler on the stove for this and poured it into my metal basin. Add your fabric dye and stir. For the ombre basket I dyed the whole thing in yellow first.
Then I added just enough red dye color to make the mixture orange and set the basket in the liquid about half way using bamboo stakes to hold it up out of the water. The longer it soaks, the deeper the color so check this often to get the color you want.
For the full orange DIY dyed bushel basket, I fully immersed the whole thing in the orange dye solution and let it sit for quite awhile, like 20-30 min, spinning it on it's side to make sure all areas got soaked.
I emptied out the orange dye batch until I had about 2 inches left on the bottom and added the rest of the red powder dye to soak the bottom of the ombre basket in.
Next up was the green baskets. I decided to put a pattern on one using a wood burning tool. It worked out great because the markings still show well after being dyed. I simply just fully immersed these two baskets in the dye solution, the bigger one spending the most time in the batch to get darker.
Now you can embellish them even more! I weaved in some red colored raffia on the ombre basket and made a mini burlap banner for the large green one.
I planted up a plastic pot from a spent hanging basket with an ornamental grass, a purple heuchera, some yellow pansies and some adorable ornamental peppers then inserted it into the large ombre bushel basket.
A fall mum was simply popped into the large green basket and the other two DIY Dyed Bushel Baskets are perfect for staging with harvested veggies and gourds.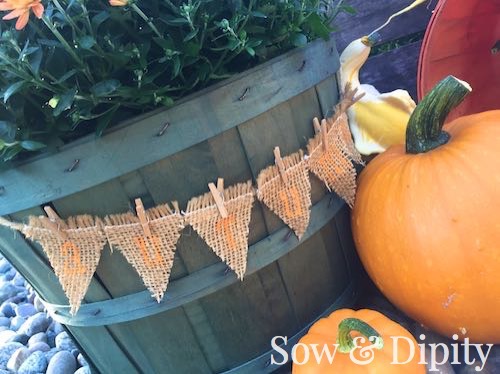 I LOVE how these turned out and that they are not overdone with paint… I enjoy the colors of fall and wanted to make sure these baskets were rustic.
Now I can use them in all sorts of vignettes! Fill them with fall mum's, spill out some colorful gourds, or use them simply as planters.


Have fun customizing your own apple bushel baskets for your fall decor!

 Many more cool fall projects to come! Be sure to sign up for my monthly-ish newsletter to get them all!