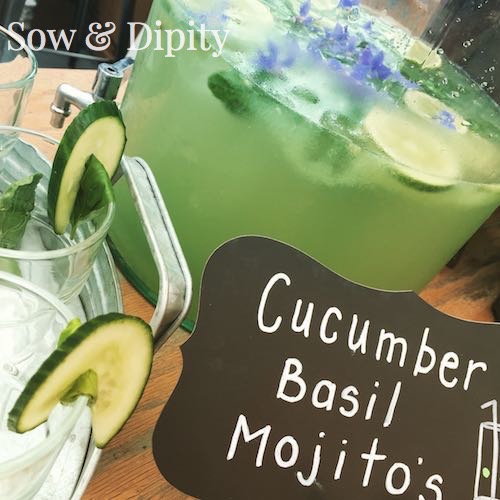 Two things every garden is full of right now… basil and cucumbers! Mojitos are a summer time favorite, but if you have a large group or party, trying to make individual cocktails can be a pain.
Prepare this batch version recipe ahead of time so you can enjoy the party and mingle with your guests. Cucumber Basil Mojitos, a delicious twist on a standard summer cocktail.
Cucumber Basil Mojito
A few weeks back I hosted the Vanilla Boutique's Retail Therapy Tour for a group of 25 women at Art's Nursery. I wanted to do edible flowers and also focus on what would be abundant in peoples gardens right now, so I decided to use a basil theme and went on a search for a cocktail that uses it in a recipe.
I found plenty of drinks that would use basil but they were complicated. I'm not there to tend a bar, I'm there to speak to the group… so it needed to be simple. I loved the recipes for basil mojito's but they too required muddling the drinks… nope, it needed to be done as a batch.
I found many more recipes that used cucumber and since I wanted to have a spin on edible flowers, my Borage with its cucumber like essence would be a great garnish for a beverage of this type… hmm.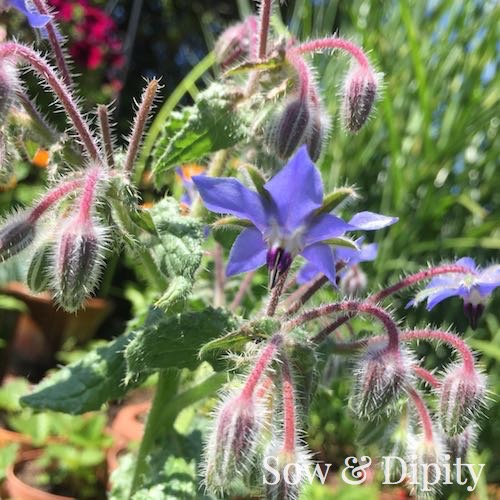 Then I found a couple of cucumber basil mojito recipes but again… they would have me tending bar making them individually. So after researching about 15 different recipes, I came up with this make ahead JUG of mojitos that I figured would work.
The key was that I needed to combine the sugar and basil ahead of time!
Of course the real test wouldn't be until the day I actually put it all together so I had a little anxiety about how it would turn out, but it was a hit and the ladies loved it. In fact, one young lady plans to serve these at her wedding next year… here's the recipe Shayla, better pin this to your Pinterest wedding boards!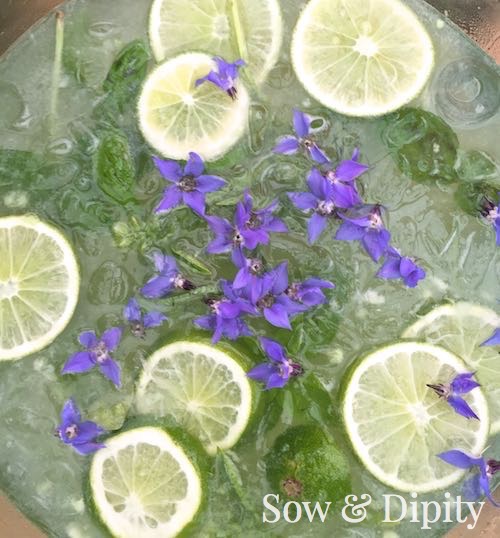 Cucumber Basil Mojito (large batch recipe)
1.14 Liter of White Rum

2 Liter Bottle Club Soda

1 Can of Frozen Lime Juice

2 Limes Sliced

1 Cucumber Sliced (garnish)

1 Cucumber made into a puree

2 Cups Basil

2 Cups Water

2 Cups White Sugar

Borage Flowers for garnish
Assemble all of the ingredients before your party or the night prior like I did… then just toss it all together before the guests arrive.

Make a basil flavored simple syrup by bringing 2 cups of water to a boil, dissolve 2 cups white sugar into it then add 2 cups basil and set aside to steep. Once cool remove spent basil and toss in a handful of fresh basil, store in the refrigerator over night. Remove that basil in the morning.

Peel and seed one long English cucumber. Chop it up and add just a little water to the device you use to create a puree, like a blender or food processor. My Bullet worked like a charm for this. Store in a jar in the refrigerator until ready to use.

Slice your limes and cucumbers for garnishes and store until ready to use.

Assembly time! Prepare Lime juice as instructed (1 can juice, 4 cans water) and toss into your beverage canteen. Add the entire bottle of booze (you could use vodka, but then it wouldn't be as mojito-ish) Add the soda and cucumber puree. Toss in the sliced limes.

Now for the basil cordial… add about 1/2 of your prepared simple syrup then sample your mojito. Want it sweeter, add more! I added it cautiously to make sure I didn't screw up the batch. In the end I used about 3/4 of my basil cordial. Go by taste on this one… being the Guinea pig in this experiment isn't so bad 😉

Top with lot's of ice and float borage flowers on top if you have them.

Garnish your glasses with a slice of cucumber.
I was all fancy and folded a basil leaf over each rim then slid a cucumber slice over it. The idea is to nibble on the cucumber and toss the fresh basil leaf into your drink. The immediate aroma of this garnish when you bring the drink up to your face adds to the experience.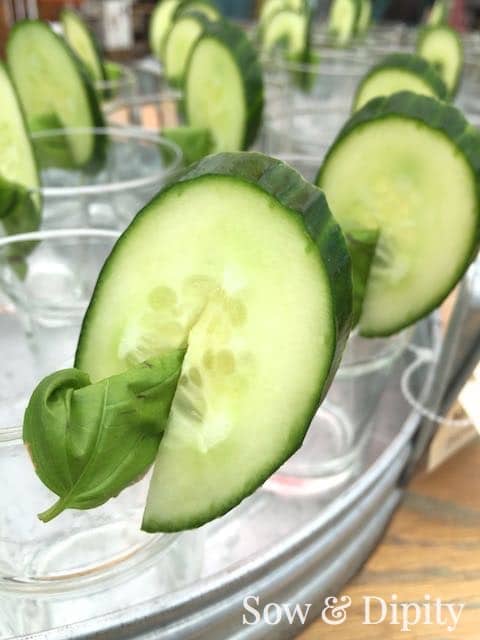 Fill those glasses up with ice too… the colder this drink is, the better.
Cheers!
Love edible flowers? Me too… I served these up for the ladies as well and they went crazy over them…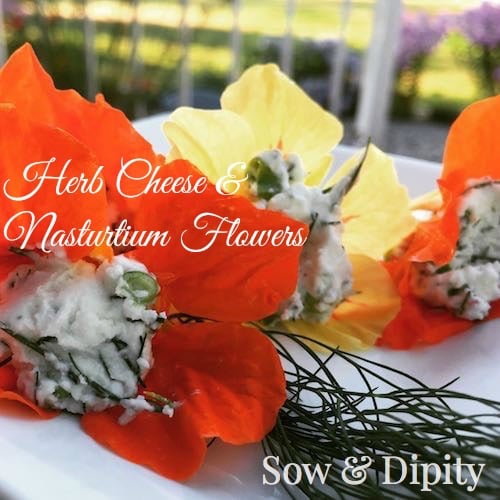 I've got a ton more garden-to-table recipes and fall DIY's coming, be sure to subscribe!
(Psst, it's a monthly-ish newsletter, I won't overwhelm your in box, pinkie swear 😉 )