5 Mothers Day Gifts for the Gardener
Gardening Mom's are a different breed. Not only do they have two green thumbs but they don't mind getting their hands dirty or working in the rain. Instead of the usual Sunday brunch, try giving her a gift she can use while she enjoys her favorite hobby.
Check out these 5 Mothers Day gifts I'm sure your garden loving momma will love!
I am very happy to announce that Sow and Dipity has partnered with some amazing companies this year. As a rule, I will only promote products I believe in and that match my set of values. In exchange for the generous samples they send me, I am proud to share them with you. Some of the following gift ideas are from my favorite sponsors and I'm sure you'll agree, they are fabulous too.
#1 The Gift of Garden Seeds
If she loves growing her own plants from seed, then get her a gift certificate to Renee's Garden Seeds. I love the water color images on these seed packets and the heirloom varieties that Renee's has to select from.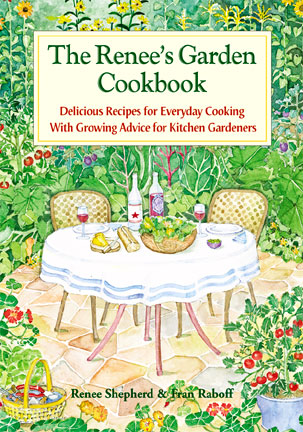 Add one of their many recipe books to your gift package and your Mom will enjoy creating delicious meals from garden to table… she might even invite you over for one.
If you live locally, you can find a great selection of Renee's Seeds at Art's Nursery and be sure to come in and say hi to me, I'm there every weekend consulting with people on their plant purchases 😉

#2 A Planter as Unique as Her
Try making a unique planter your Mom will love! A colander stuffed with fresh garden greens is perfect for the Mom who loves to cook. Make a tea planter with chamomile, mint and lemon balm for the Mom who enjoys relaxing with a good book and a hot steamy cup of steeped brew. Want more idea's for Mothers Day Planters? This post is sure to inspire you:
Mothers Day Planters for that Special Mom
#3 Garden Apparel for the Gardenista
Who said you can't look classy while your digging in the dirt? I absolutely adore the beautiful line of garden clothes from Garden Girl USA. Don't let those vintage prints fool you into thinking that these are too pretty for the garden; these clothes are designed tough while comfortable so you can get dirty all while looking like a gardenista at the same time.
Visit their website and be sure to check out their hats, tools and gorgeous aprons. I'm certain you'll find something that your Mom will love!
Check out my Garden Girl boots!
#4 A Little Garden Whimsey
Does your Mom have a whimsical side? Fairy gardens are for big girls too! I love it when people discover an unexpected treasure in my garden and if your Mom has a playful side, she will get a kick out of these beautifully crafted Enchanted Guardians by Department 56.
Here's a bonus… you could WIN $500 in their sweepstakes that is running until the middle of May. Check out this post I did to see some more cute critters and how to enter your Mom in the draw:
#5 A Garden Gift to Delight the Senses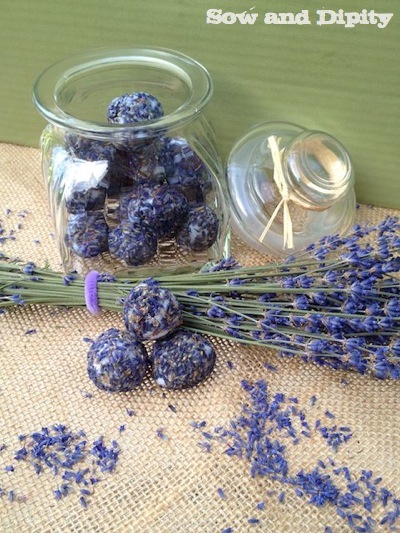 Make something from YOUR garden for Mom that she can enjoy in a warm tub with a favorite book. These Lavender and Coconut Oil Bon Bon's are a cinch to make and are perfect for giving. Be sure to make a some for yourself!
I hope these ideas inspired you to 'think outside the pot' this Mothers Day and give your gardening Mom a gift she'll enjoy for many months to come!
Don't miss a post! I'm always sharing creative ideas that are sure to inspire you to get growing. Subscribe today!