5 Apple Craft Ideas
I've been eating, crafting, cooking and talking about apples lately because it's harvest time for this infamous fruit and I had the pleasure of presenting these ideas at Minter Gardens this past weekend for their Apple Fest.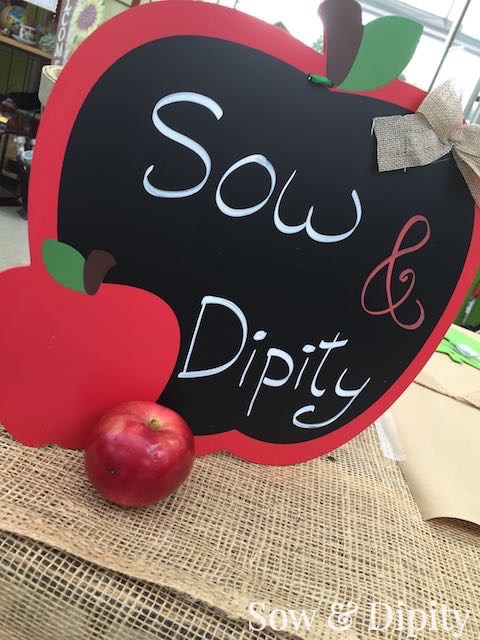 I promised the people that attended my talk that I would post my apple projects 'in about a week or so'… so here they are!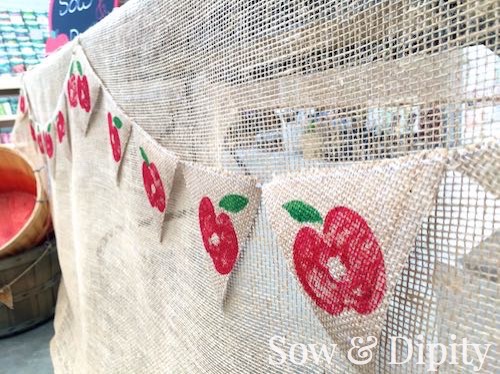 #1 Apple Bunting
The key to making a bunting out of burlap is to use a fusible fabric on the back to prevent it from fraying. Simply cut a strip the width of your triangles (I doubled it) out of your burlap and the same with your iron on fusible backing.
Press hard with a dry iron on the hottest setting to make sure the backing comes in contact with the burlap fibers, draw on your triangles and cut them out. Sew a zigzag stitch across your twine adding triangles as you go until to reach the desired length of bunting.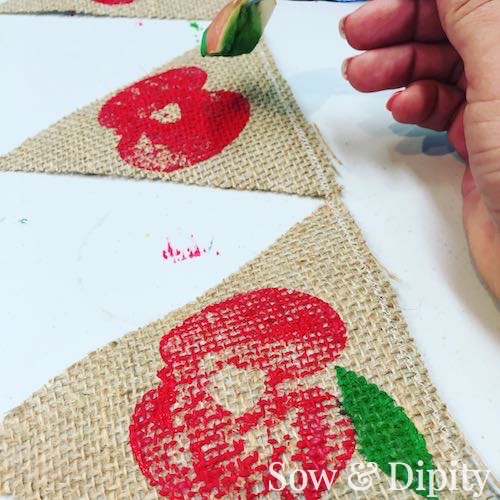 Cut your apple in half right down the middle so you can get the seed center into your press. Using lots of paint, press hard onto your triangles using a fork to hold the apple piece as you work.
Cut out another piece of apple in the shape of a leaf and repeat the process. The round shape of the apple can represent many fruits, so I cut just off center to get less of the seed pocket to create pumpkins using the same method for pressing above.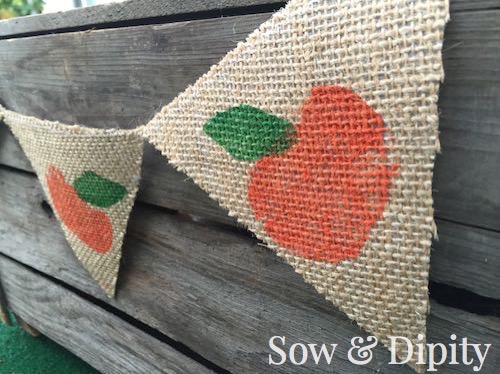 Perfect decor that can be made with children for a Halloween party or used for a fall wedding or harvest dinner gathering.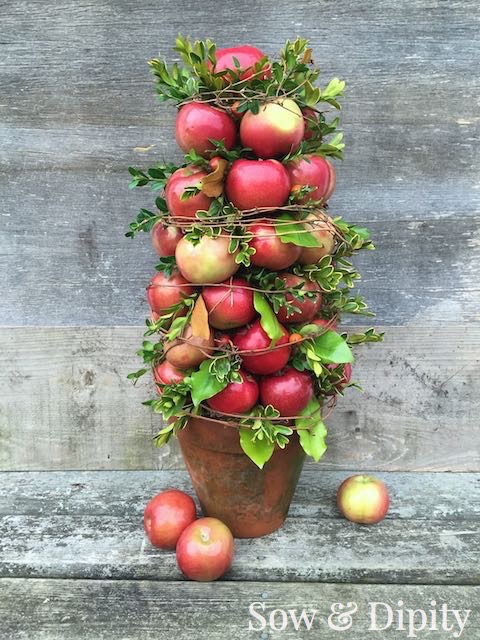 #2 Apple Topiary
This project is modeled after Colonial Williamsburg Decor and the della Robbia style they are famous for. Start with a favorite pot like the terra cotta one I used for this project.
Stuff a styrofoam block into the pot and use a few rocks or pebbles around the block for extra stability for your arrangement. Then shove a bamboo stake through the middle of the blocks before pushing a styrofoam cone on to create your form.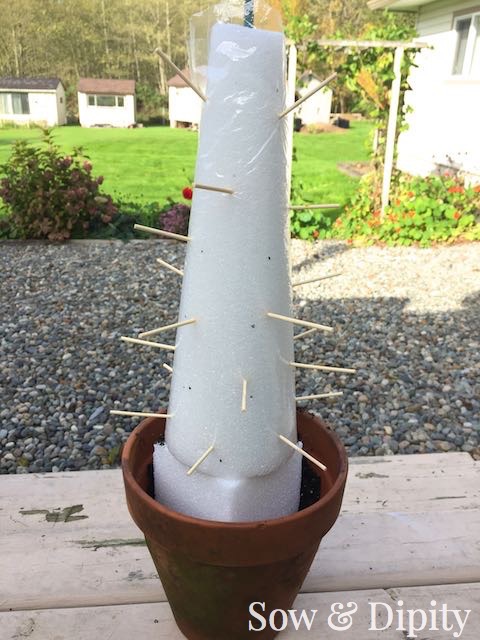 Wrap the cone with moss. I used a staple gun to tack it into place then some twine to wrap the moss from top to bottom to secure it.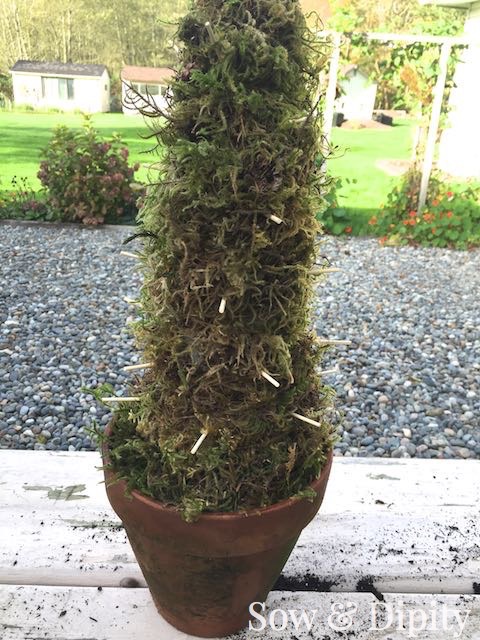 Now begin working in circles from the bottom up spiking your apples to the form. I used bamboo skewers and just cut them about 3″ long. The apples I used were Macintosh since they are small and round and can be bought by the bag inexpensively.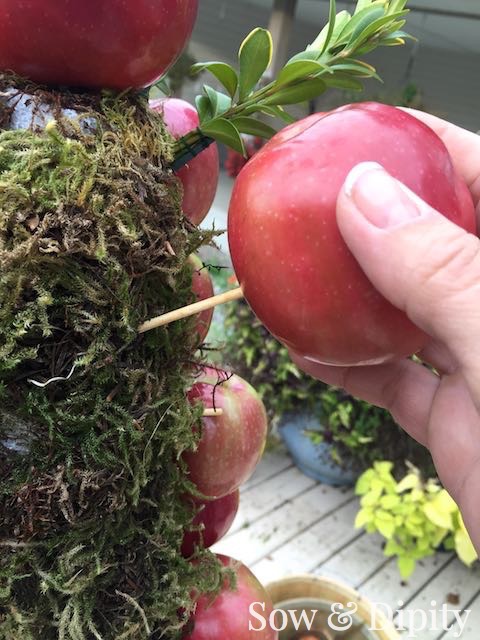 Once you have your apples on the form, add greens to fill in the gaps. I created little bundles of boxwood, rosehips and Magnolia leaves with floral pics for my arrangement. If your making this for Christmas, try using snips of cedars and some small evergreen cones.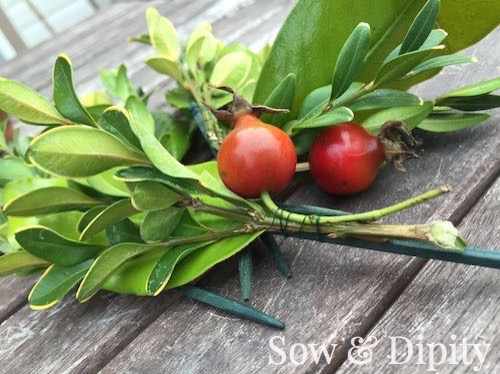 After I had my greens in, I wrapped it with some grapevine branching that was from a dollar store wreath I cut apart.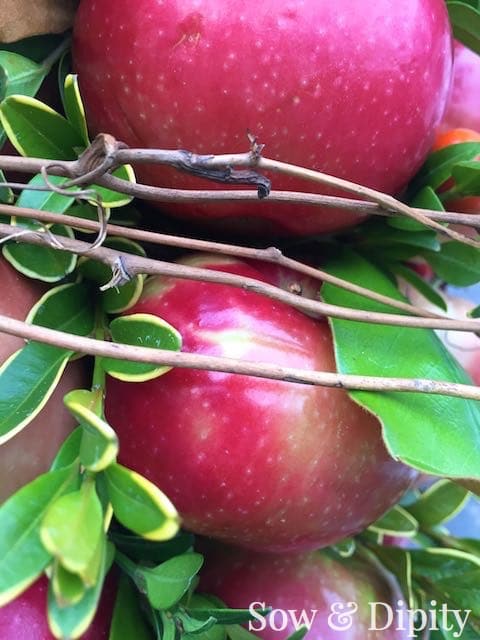 This table top apple topiary can be made at different heights. Try making a red apple one and a taller green apple one if you want them on your mantel during the holidays.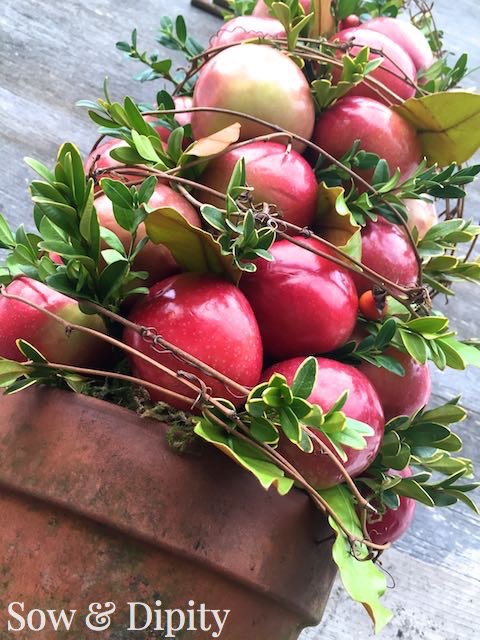 They will keep for a couple of weeks at room temperature and indefinitely on the porch if you live in a cool winter area that does not freeze.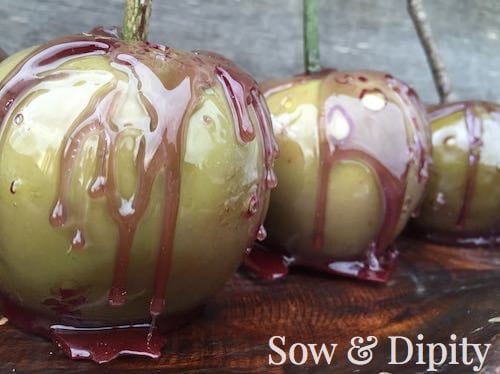 #3 Poison Apple Recipe for Halloween
How spooky are these? Confession, this was a Pinterest fail.. in the beginning. I wanted to make the Black Poison Apple I saw on Pinterest but the black gel the recipe called for did NOT color up my candy coating and in a desperate attempt to not wasting a batch, I grabbed my food coloring dyes and came up with this…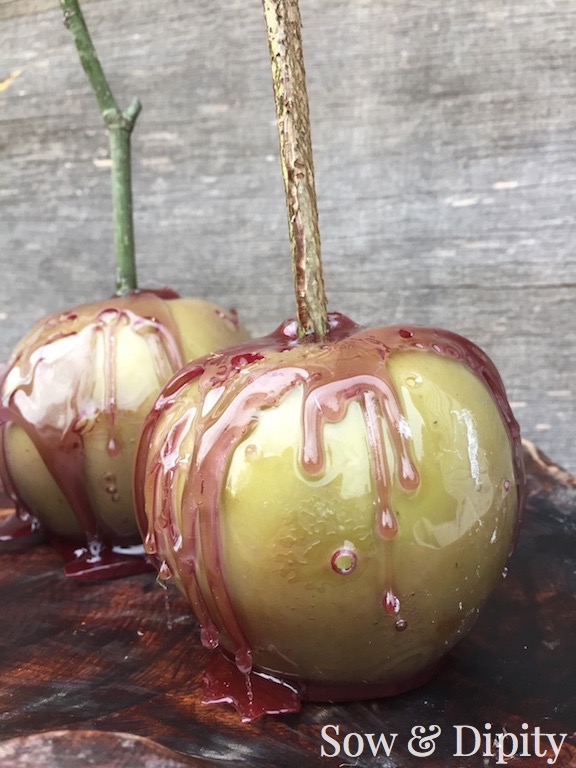 I think they turned out awesome yes? Here's how I made them:
2 Cups white sugar

3/4 Cup of water

1/2 Cup of white corn syrup (Lily brand)

4 Drops Blue Food coloring and 1 Drop Red

6 unwaxed green apples
You'll need a candy thermometer for this. Shove some twigs into the top of the apples for handles. Combine the corn syrup, water and sugar and heat until melted then add your food coloring, insert the thermometer and rapidly boil it until it reaches the hard crack temperature of 150 degrees. This takes awhile so be patient, it will get there.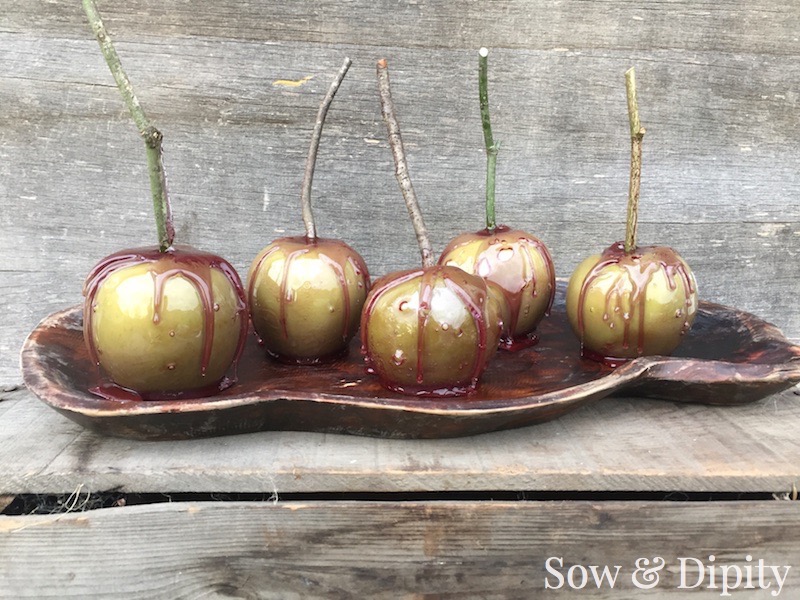 Then carefully dip your apples into the toffee and place onto a waxed sheet of paper. Once all the apples are coated and set to dry, carefully pour the extra candy topping onto the tops of the apples so that it drips down the sides. Then place into the refrigerator to harden up.
It may have been a Pinterest fail but they turned out great, maybe even better because the combination of the green apples and ghoulish purple candy topping makes them super spooky and perfect for a Halloween party favor.
#4 Dyed Apple Bushel Baskets
Okay, so it's not exactly an apple, but you do put apples in them. These adorable baskets can be dyed in any color to suit your fall themed decor. For the full instructions visit the post that gives all the details on how to do it here: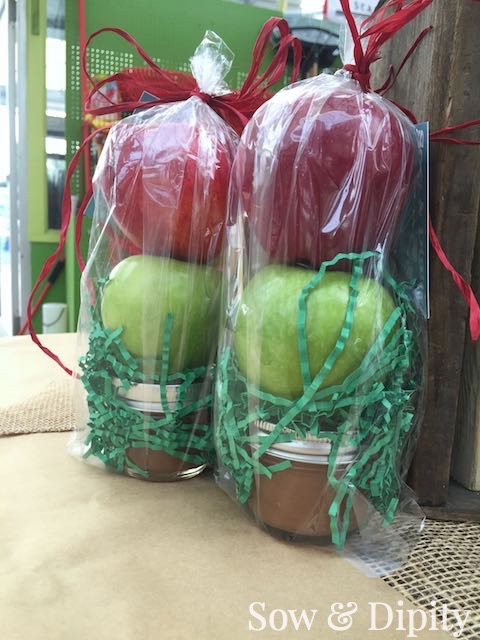 #5 Salted Caramel Apple Favors
Another idea off of Pinterest that I borrowed for my talk. I made the recipe and of course tested it, and I have to say it is divine! Visit Sally's Baking Addiction to get the Homemade Salted Caramel recipe… yum!
Hope you enjoyed these ideas! Many more to come for Christmas, be sure to subscribe to my monthly-ish newsletter to stay posted on upcoming crafts, projects and recipes!