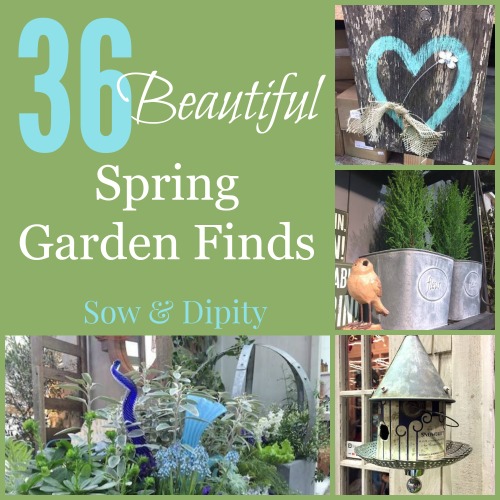 36 Beautiful Spring Garden Finds
Time to share the garden goodies I spotted at the Northwest Flower and Garden Show this year! I featured the display gardens in Garden Design Ideas from the NWFGS earlier this month, so be sure to click on the link to see them, they were gorgeous!
It's hard to choose from the hundreds of photo's I took as I wandered around the booths, but I narrowed it down to these 36 Beautiful Spring Garden Finds.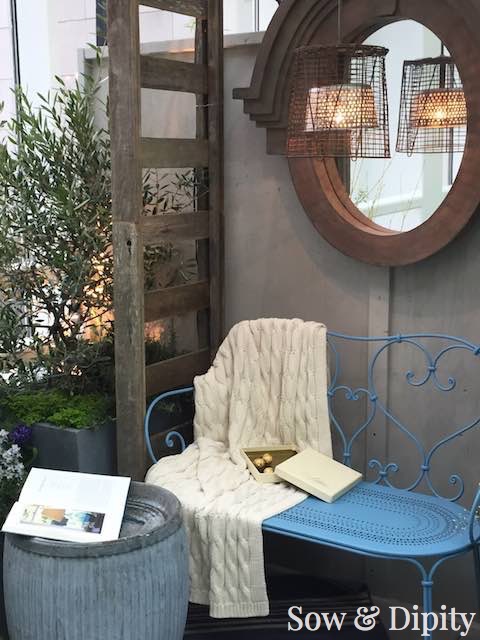 This gorgeous contemplation bench was created by Ravenna Gardens. I love the use of greys and blues mixed with different metals.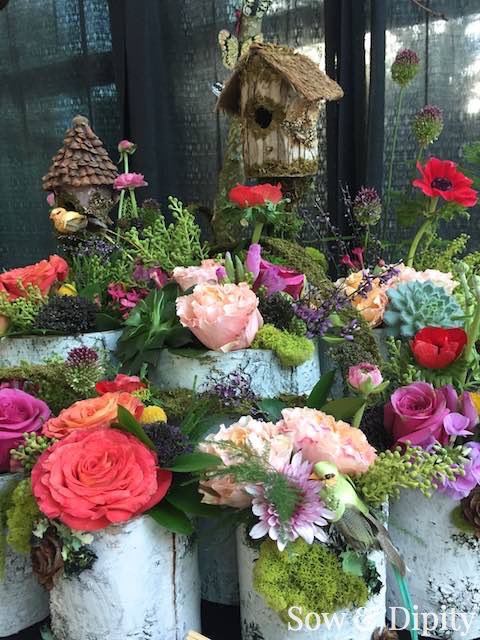 This designer floral arrangement by Columbia City Bouquet is beautiful with the birch and wooden bird houses.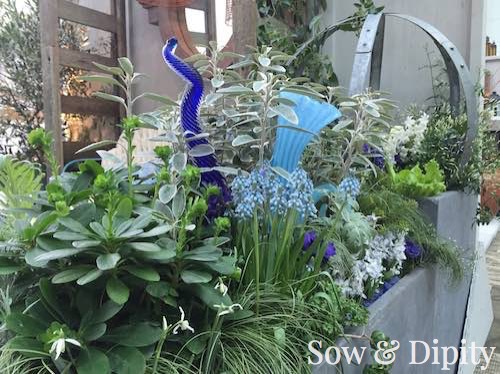 Another shot of the City Garden by Ravenna Gardens, love that blue artisan glass!
Of course it was Valentines weekend at the Northwest Flower and Garden Show, so there were plenty of hearts everywhere! This adorable cork heart was spotted in the Adam Gorski display garden.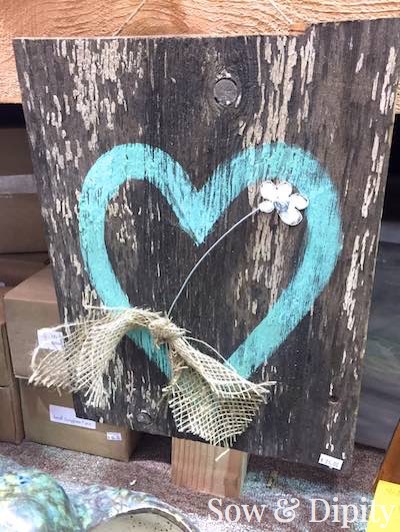 How about this old barn wood with a simple painted heart?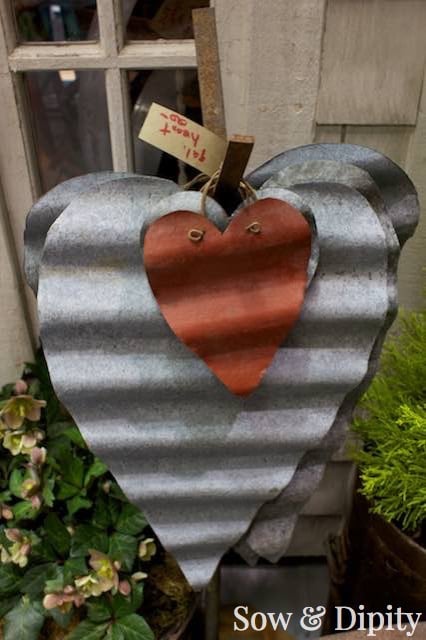 These metal hearts are fantastic, great garden art from Bob Bowling Rustics.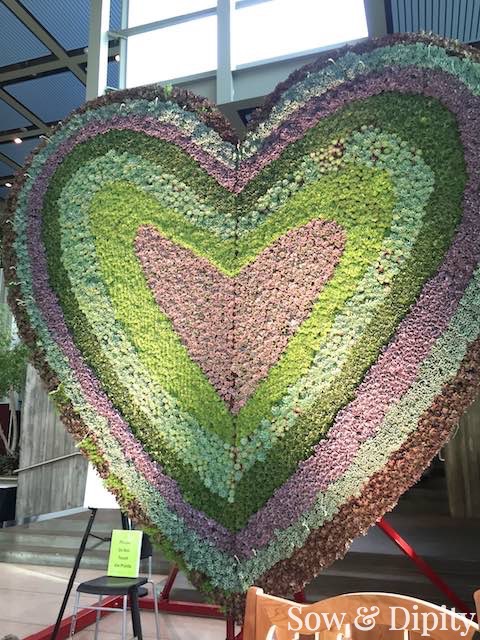 This totally amazing succulent heart was commissioned by the Northwest Flower and Garden show to designers Robin Stockwell and Gary Snyder.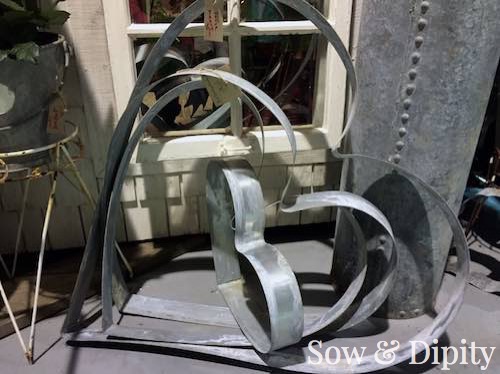 Wine barrel rings bent into hearts from Bob Bowlings Rustics booth.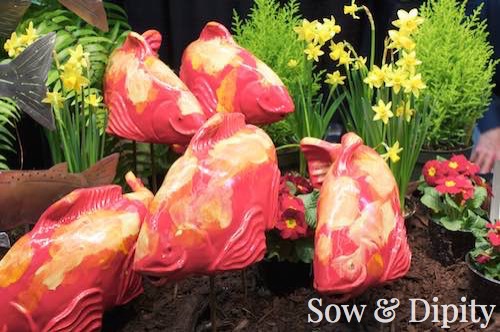 Fish in the Garden by… Fish in the Garden! Love how these beautifully painted art pieces swim through the daffodils.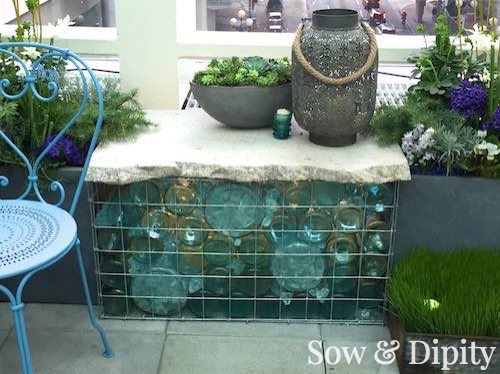 I love Ravenna Gardens use of a gabion wire bench and recycled glass! Simply spectacular.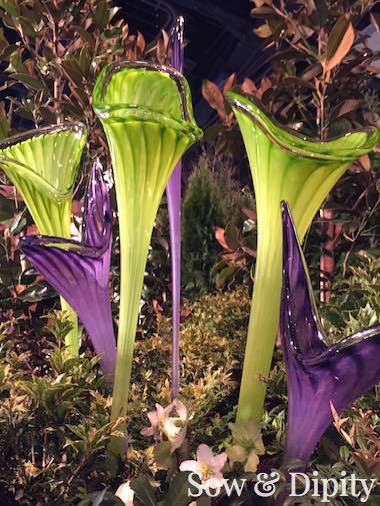 Seattle is know for it's artisan glass and the show gardens displayed many pieces beautifully.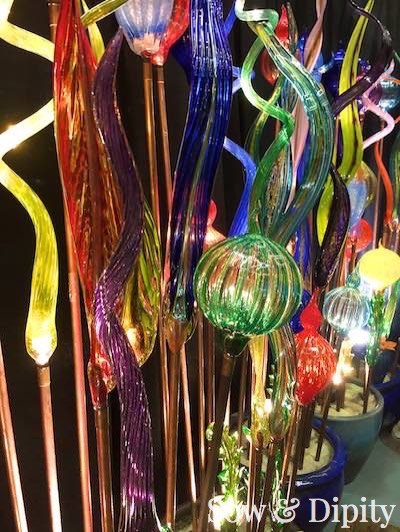 The Bob Rice Glass booth is always stunning.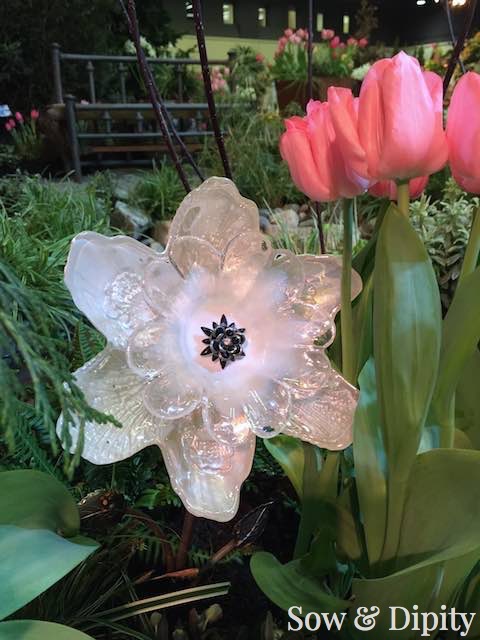 Another handcrafted glass flower spotted in the Falling Waters Designs display garden.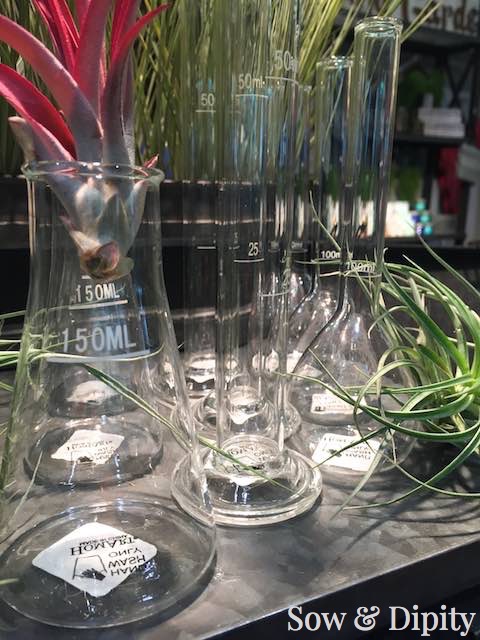 How cute are these beaker flower vases in the Ravenna Gardens booth?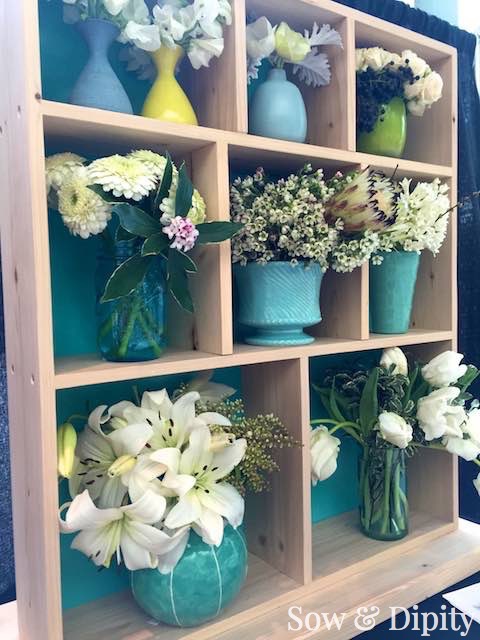 Flower shadow box designed by Debra Prinzing.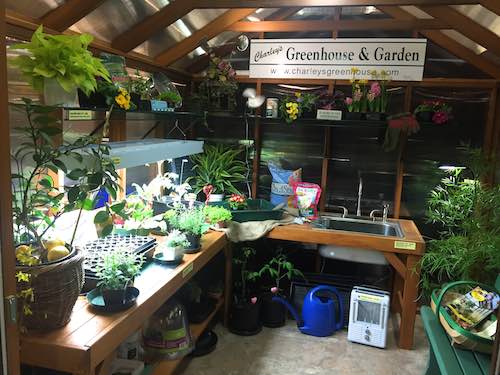 This greenhouse is like a dream happy place for my future self.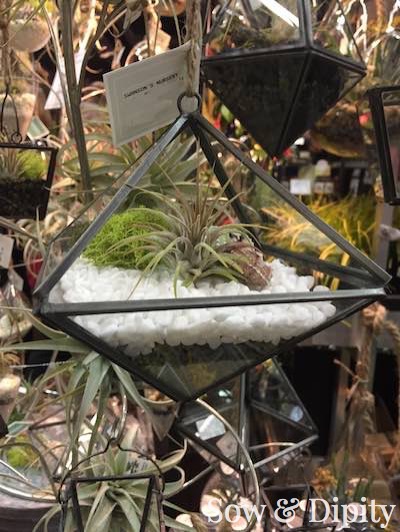 These hanging glass planters were spotted at the very popular Swansons Nursery Booth.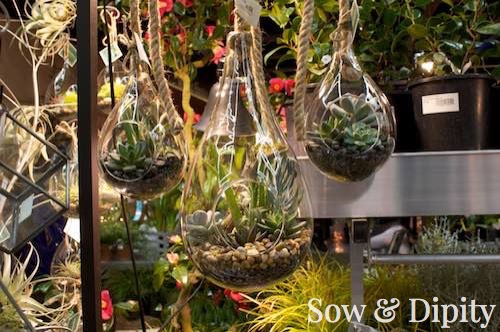 I love the knotted thick cord inside these tear dropped glass hangers!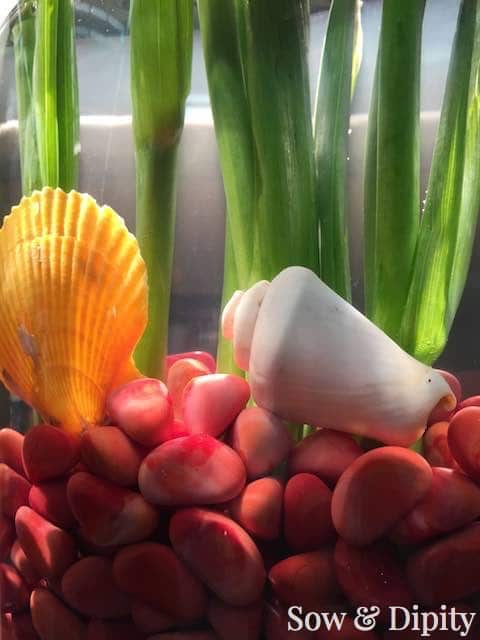 Add colorful pebbles and some seashells to a vase for your floral arrangements. Looks spectacular when back lit!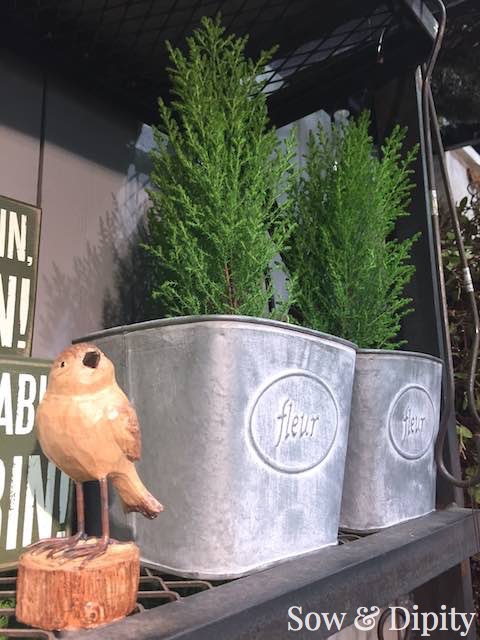 Ravenna Gardens Booth… again! I guess I just love their style.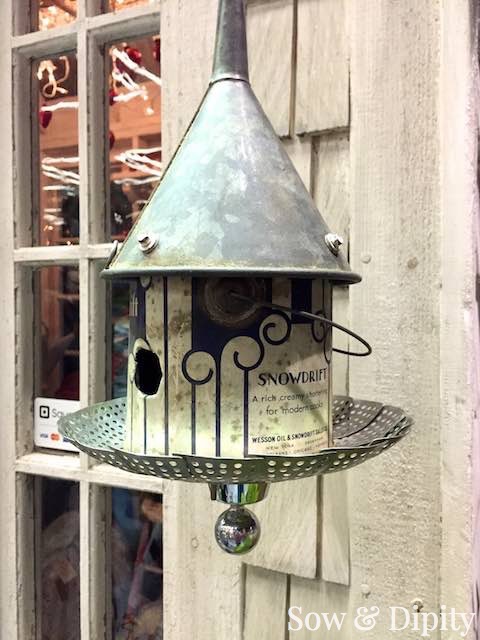 Bob Bowlings Rustics…. great recycled birdhouse yes?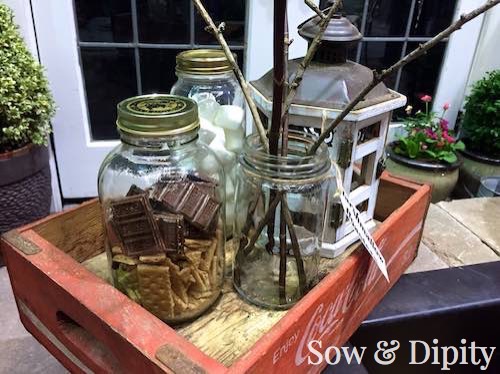 Saw this in one of the booths, I just love the use of mason jars for a s'more party!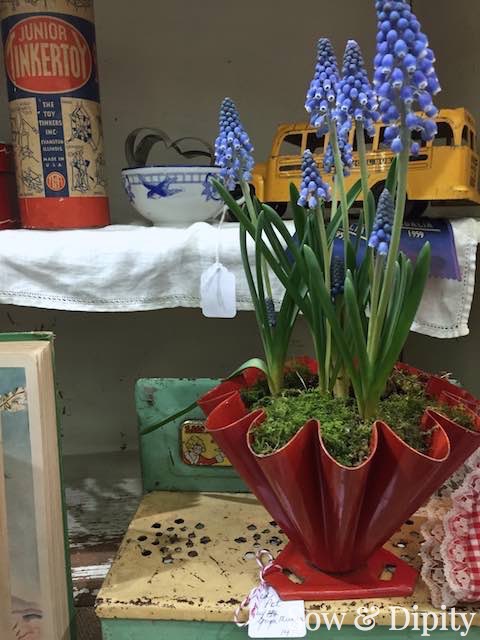 Junkin' gardening in the M & M Antiques booth.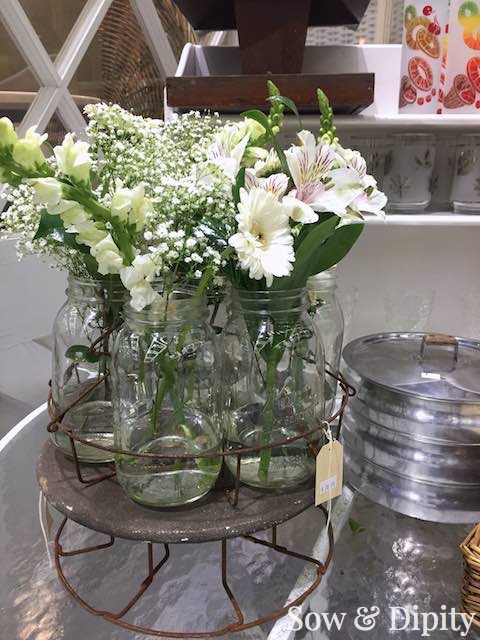 The John Bob booth was great, more rusty metal and mason jar vases.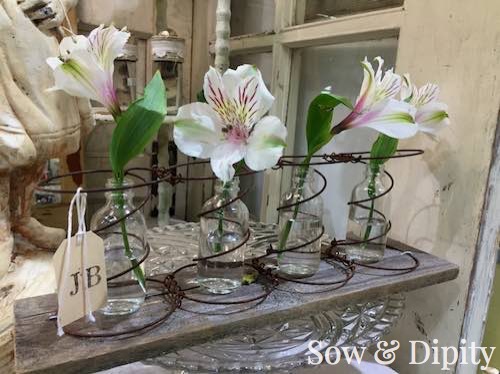 How about a rusty bed spring bud vase holder?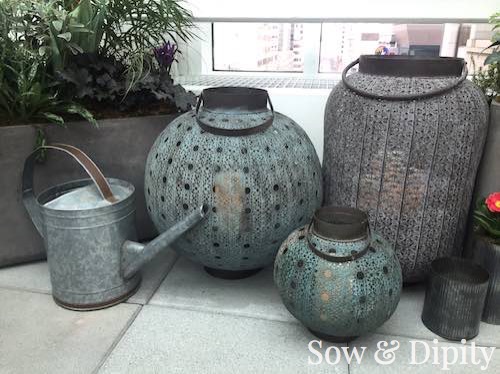 This collection of galvanized steel and zinc is amazing in the Sky Nursery City Garden Display.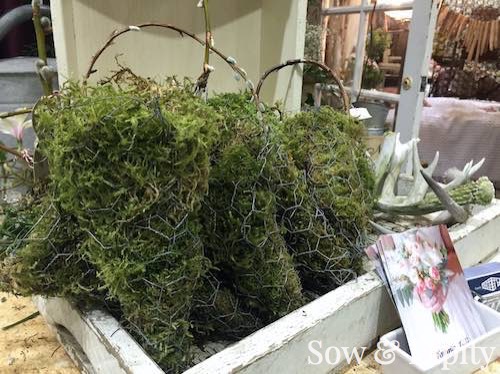 John Bob had these fantastic chicken wire and moss cones ready to be planted up.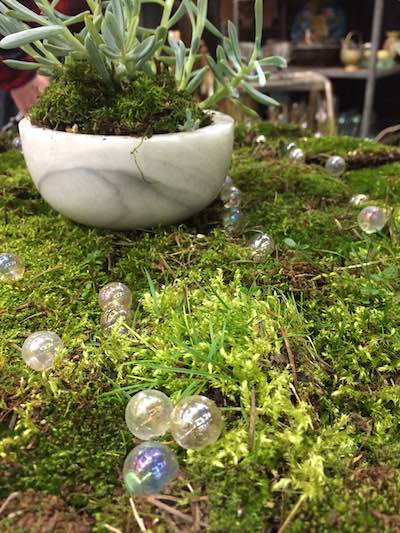 The First Pick Booth shows us how just moss and some marbles can be paired together in a simple tablescape.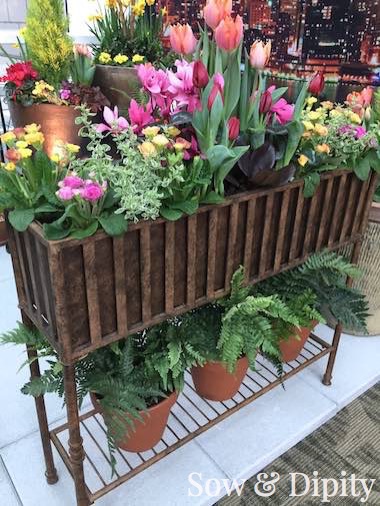 I love this spring garden planter spotted in the Wights Home and Garden display.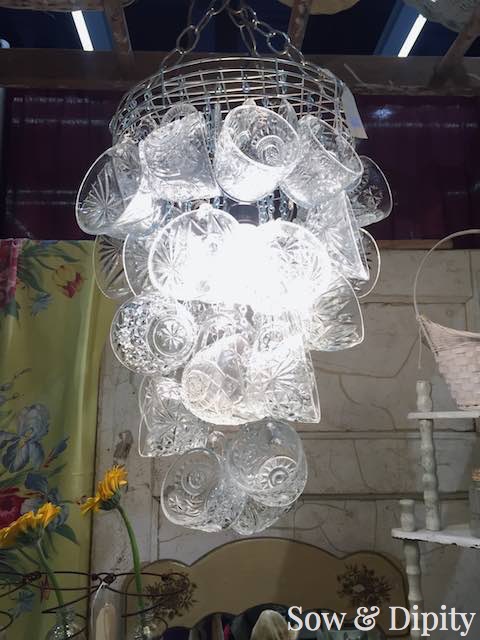 John Bob uses common objects in unusual ways… a punch bowl mug chandelier.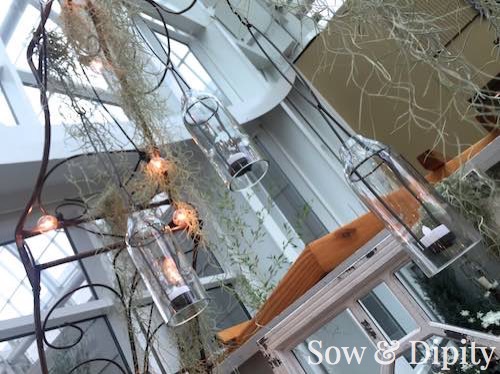 Sky Gardens was right on trend with these cut bottle candle holders.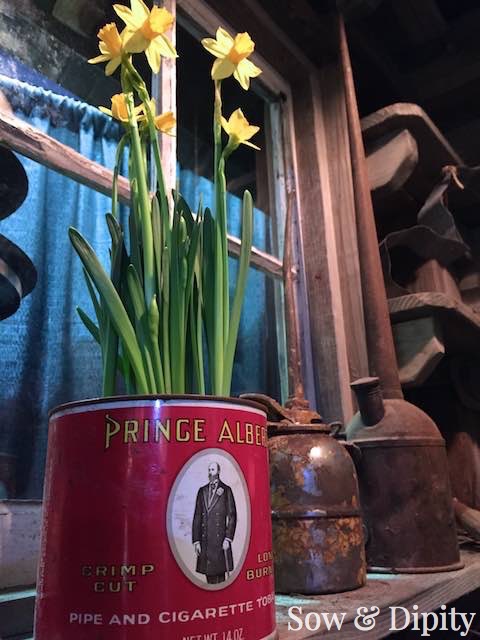 A peek inside the shed over at the Bob Bowlings Rustics booth.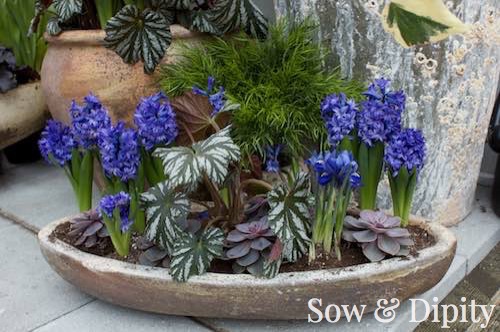 AW Pottery had some gorgeous pieces in their City Garden Display.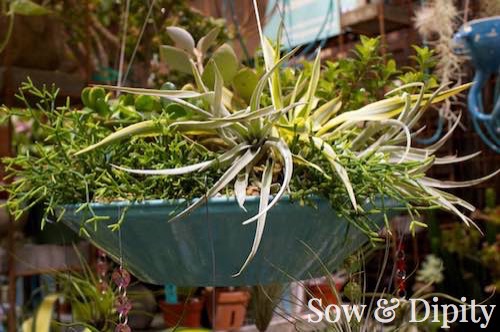 The Dig booth is always fun and eclectic like these hanging dish gardens.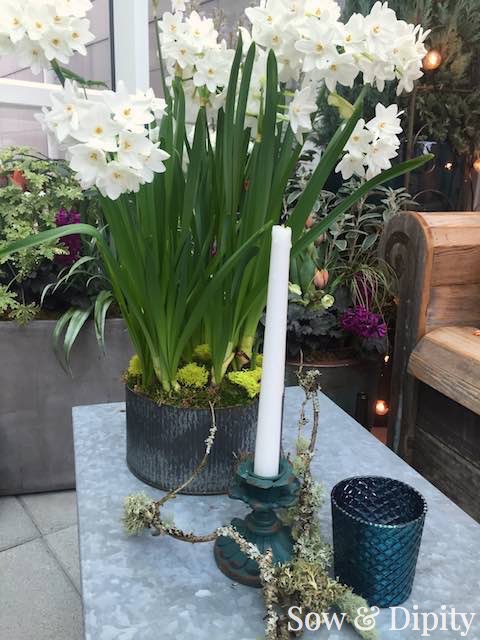 This arrangement at the Sky Gardens display shows us how simple is beautiful.
Always inspiring, the Northwest Flower and Garden Show exhibitors never fail to deliver. I hope you found these spring garden finds as pleasing as I did while we wait for warmer days.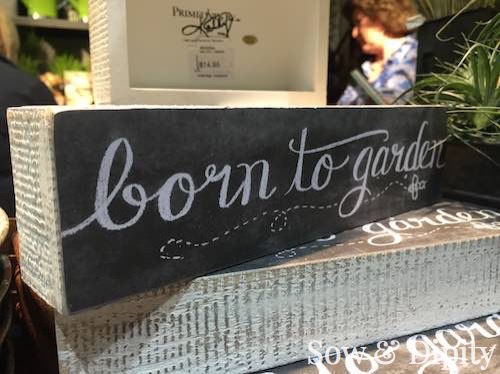 Happy Spring!