Seasonally Simple Burlap Decor
I love to try all styles of Christmas decor.

I use a lot of decor mesh when I'm doing my over the top theme tree's, check out some of those here. But I'm really into pine cones, burlap, twine and raffia this year too.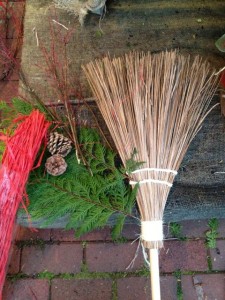 A garden broom made out of natural straw makes a great alternative to a wreath. I added some fresh greens, pine cones and red raffia and hung it up on the wall.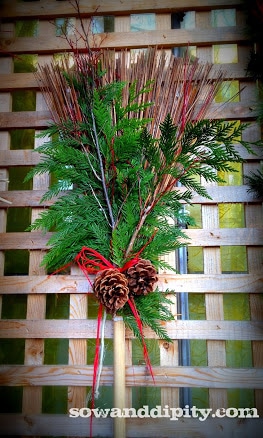 I made a wreath too by adding burlap then I took red raffia and wrapped it around my fingers several times, stuck the bundles into the wreath and fanned them out to make them look like paper balls. There's red lights in this wreath as well which will look spectacular at night.
Of course being a gardener, I have plenty of garden supplies on hand, so I made up a couple of the tomato cage Christmas trees ( go to the post for these here ) with a rustic twist and used burlap and more raffia.
To finish it off I surrounded the vignette with a simple garland with pine cones, raffia and red osier dog wood twigs. I like the look and all the natural, found and up-cycled elements I used to create it.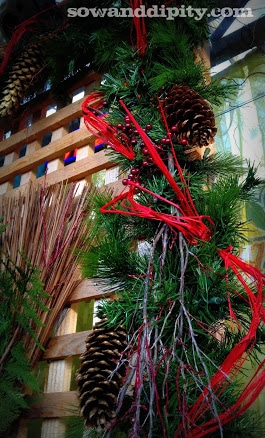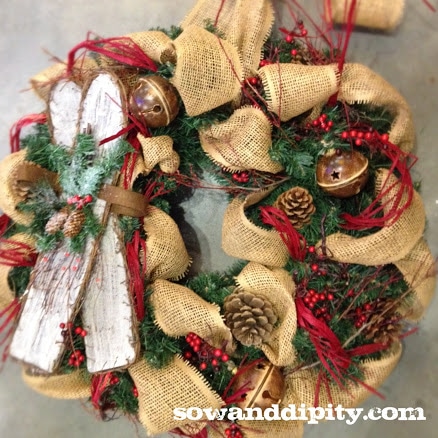 Hope some of these idea's inspire you to keep your holidays seasonally simple.
Follow Sow and Dipity on:

and

Peace Love Garden