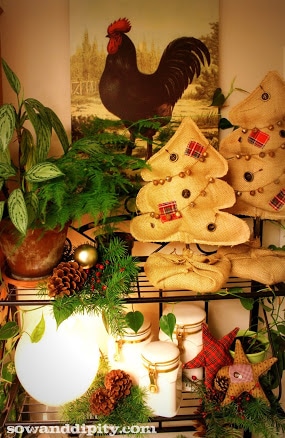 I saw some little rustic burlap tree's when I was out and about shopping at HomeSense….sometimes they have the coolest stuff, don't they?  I got to thinking I could make something like that and by the time I pulled into my driveway, I had the whole project mapped out in my mind.
I started with a couple of cardboard templates for two different sized trees. Then I added a 1/2″ seam allowance around them when I traced out the shapes onto burlap and fusible backing, 2 of each template. Using a hot dry iron, I fused the burlap and backing together ending up with my four pieces to make one medium and one large tree.
Before I sewed the pieces together, I added a couple of plaid patches running the thread back and forth to create a messy seam. I have a confession…
I don't buy bags of bunting, I buy cheap $5 pillows and use that instead, it's way cheaper.
I used a stick (chop sticks work great), or in this case the soon to be stem/trunk to push the filler into the tree form and give it some body. Don't over stuff this though, we aren't making pillows here….although…. well, now that's just a whole new project isn't it!
You can trim the burlap at this point now to clean up the edges. The fusible backing will prevent future fray. Now for the base. I just recycled the ends of some 2×4's from my hubby's projects at our store. He helped me drill a couple of big holes in them so my 'trunks' would fit….( not that I can't drill holes myself, just that every conceivable tool we own has somehow migrated out of this house over to our business! ) Then I covered it with burlap adding a little fluff around the sides to soften it up.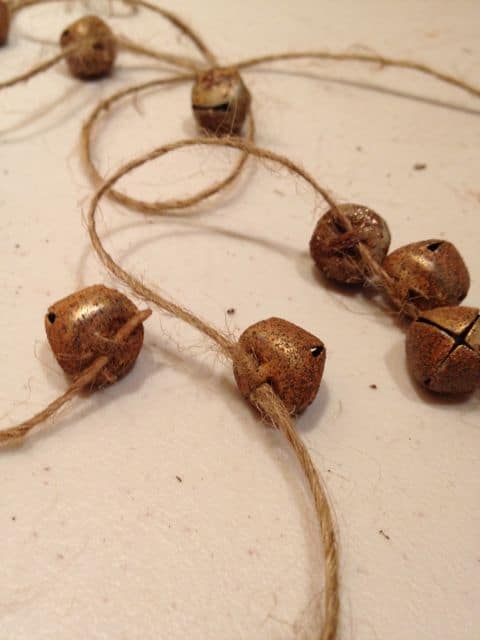 I used to be into prim projects for a while ( I try every craft out at least once to see if i like it ). One of the staples of prim-ing is rusty bells, safety pins, wire etc. The more rust the better. You can buy rusted bells or make your own. I just bought cheap dollar store bells and safety pins and used a method similar to Old World Primitives recipe to grime them up.
Beware…not all methods are as good for the environment as this one, use caution and awareness when you do rusting projects. I'm a firm believer of doing no harm in any creative pursuits, let's all be sure to take care of our Earth Mother 🙂
The finishing touches included pulling the burlap up around the base and tying it to the stem, I used a few spots of hot glue as I did this to keep it in place. The rusty bell garland was draped across the tree and I used rusty pins to stick the buttons on as ornaments.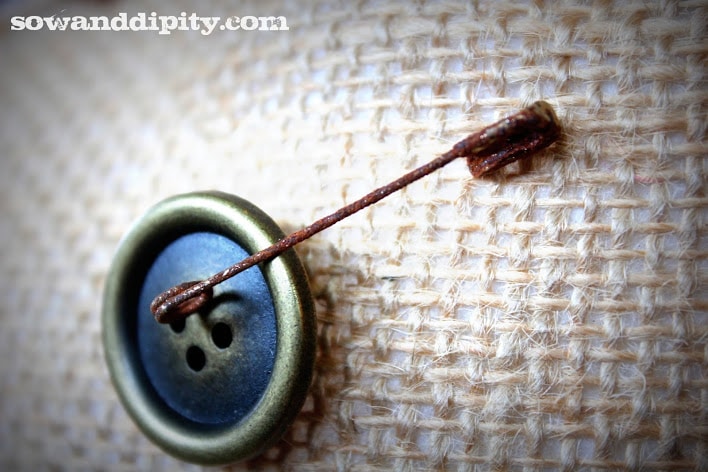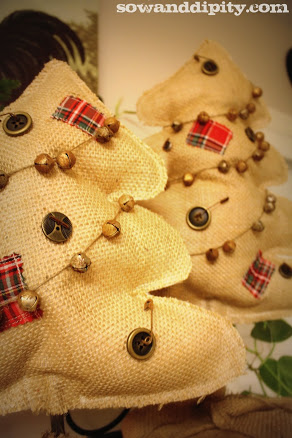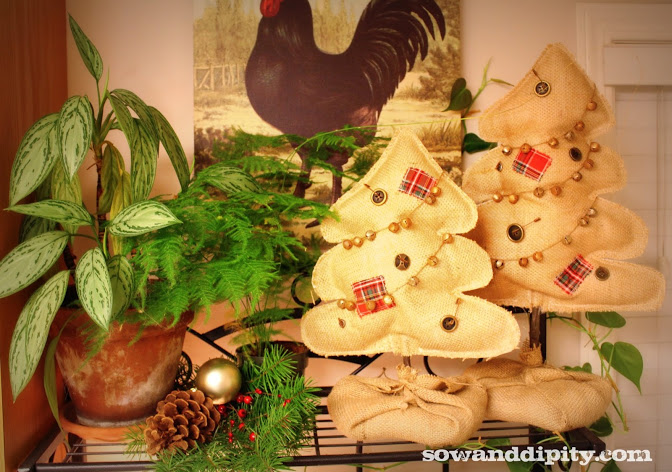 These trees turned out adorable…I just loves them to bits! Sometimes my on the whim projects turn out pretty darned good….this is one of them. I decided to put these on my bakers rack in the kitchen with a few other items to create a rustic vignette.
To see my other kitchen holiday decorating and how I made my bathroom warm and inviting for my guests….be sure to watch for the other two posts I plan to roll out this week.
Follow Sow and Dipity on:

or