Time to do some outdoor Christmas decorating….but with fresh greens this time. My Tomato Cage Christmas trees were a hit! The folks over at Home Talk shared it on Facebook and it went to over 12,000 views in just one day! They do look great and were a lot of fun to make…but I like my fresh greens too and this is what this post is all about, yippee!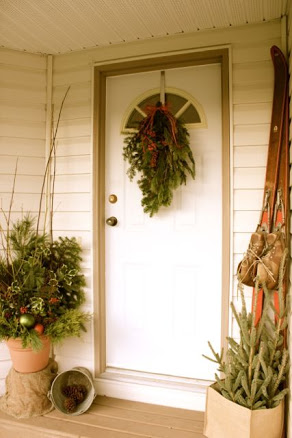 This is my very understated front door, very different from last years where I did up a huge door corner swag. Lets start with the planters….
Below is my array of goodies to make my planters. I bought some bundles from a local nursery and went around gathering what I could from my yard. I had cedar, Blue Cypress and across the street growing into the ditch is a variegated holly.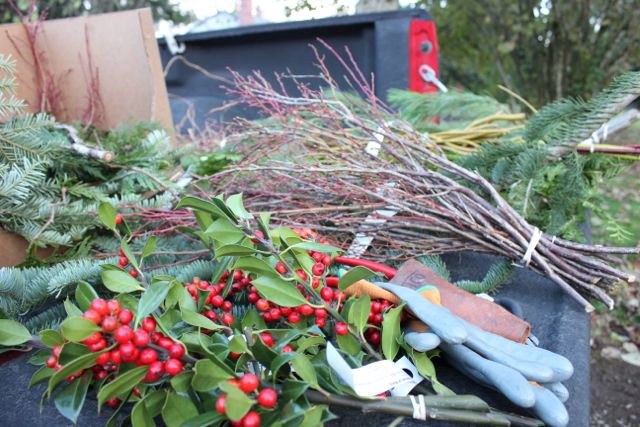 I had a bunch of pots left over from my summer growing season ( cucumbers and zucchini's were grown in these ). I left the soil in them and just pulled the dead debris off the top.
I dropped one of them into a burlap planting bag for my upright evergreen planter and the other one was for my mixed green planter. I simply just starting sticking the greens into the soil till I got the shape, fullness and texture I wanted. For a festive touch I added some pine cones and some balls.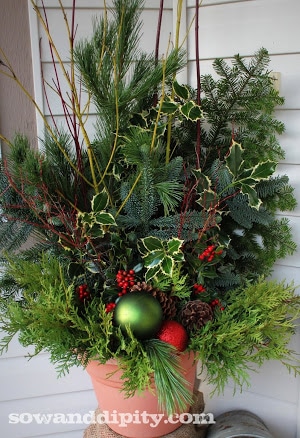 For the sack, I just went with one kind of evergreen and shoved them into the soil. The antique skis were inherited with our purchase of our sporting goods store, Levy's Source for Sports, a few years ago. I finally get a chance to show case them in one of my seasonal displays.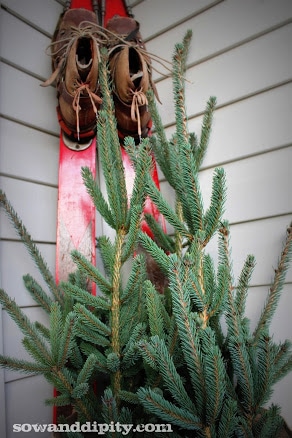 I didn't want a wreath this year…just a simple swag with some raffia will do. And to finish off this simple display, a metal bucket with some pine cones was placed by the mixed planter.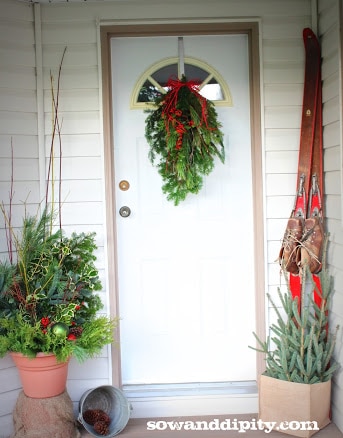 So now on to my hanging baskets on my garage. I pulled down my spent summer baskets, cleaned them up and starting shoving the greens into the soil. I glued a couple of balls to skewers, popped them in and added Sinamay bows for a punch of bright red color.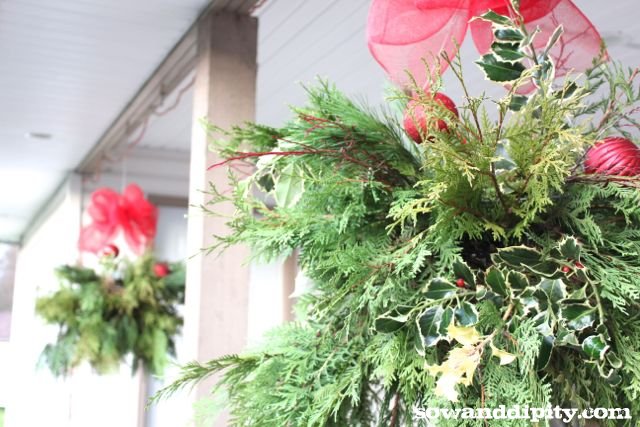 I got my last gardening fix for the year with these simple projects….and now my outdoors looks great for receiving all my guests this holiday season. Think it's time to go make a Baileys Hot Chocolate and work on my shopping list….Cheers!

and

Peace Love Garden