How pretty is this!! Here's my latest jar craft…Frosted Illum-MASON-aries. Made from mason jars of course. It's super simple and creates such a soft glow, you'll want to put these everywhere.
I was inspired by these great little lamps I saw that used frosted wine bottles…and I got to thinking that I could make these up pretty easily.
All you need is some favorite jars and bottles and a spray can of ice crystals. Apply an even layer to the bottles and let dry. It doesn't take long to crystallize but the jars will need some time to dry completely….be patient ( wink ).
Then gather up some fillers like pine cones, small baubles and pieces of faux pine branches ( I recycled pieces that come off wreaths and garlands when I decorate them). You'll need mini lights and some battery operated tea-lights too. I only had a 50 mini light set, but a 25 set would do.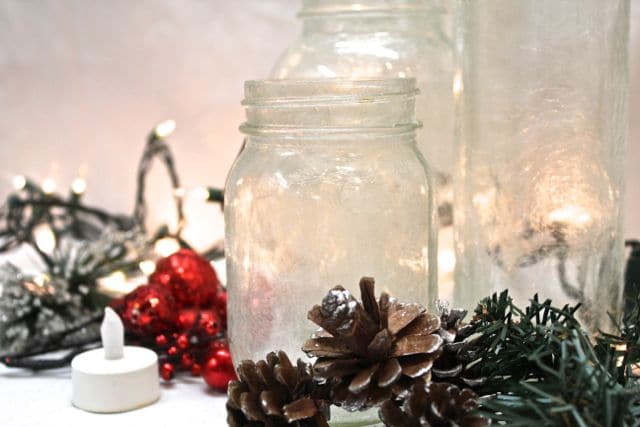 The bigger mason jars are perfect for the mini lights. Just stuff them in with the other fillers and use a long tool ( like a chopstick ) to arrange inside the jar. My lights hang over the side, but since this is being set up as a vignette…I want the glow from the extra lights to pile around the jars.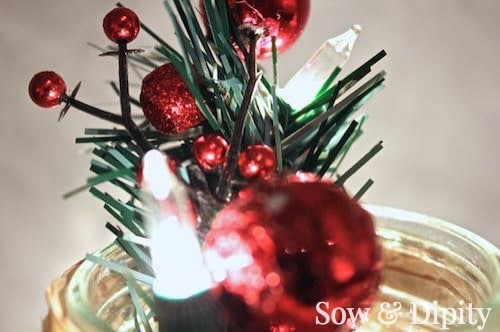 For small mason jars you'll use the battery operated tea-lights. This will need to be emptied to turn off each time, but it's so simple to put back together it'll only take seconds.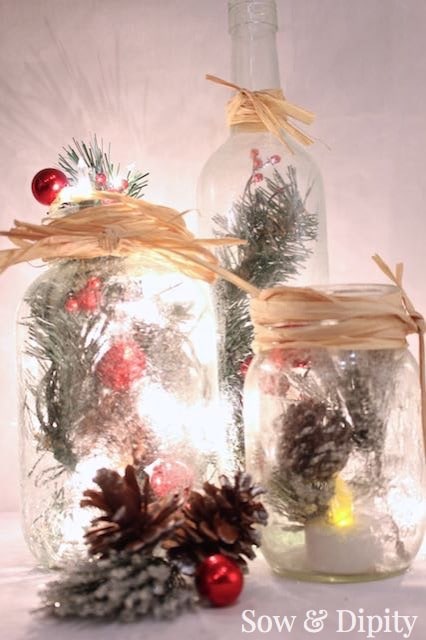 For the wine bottle, I just threw a long branch and some pieces of a bauble pick that would fit through the opening. I tried to get fancy and paint a brown twig on the outside, but you get the idea…let your imagination go. This one is not lit up from the inside, but I grouped it with the other jars and floated the extra mini lights around it. The frosting picks up the light and it looks fabulous in the trio.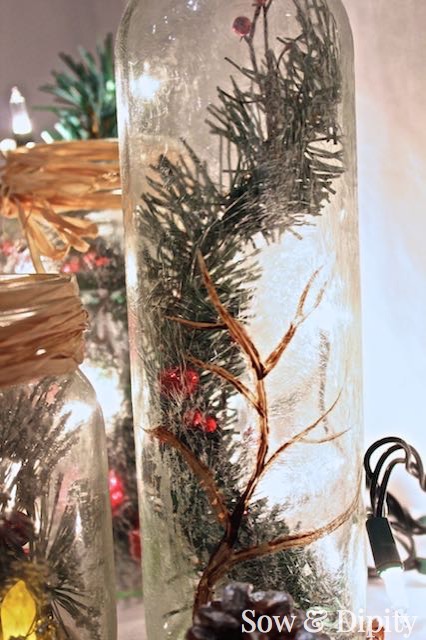 I love my Frosted Illum-MASON-aries! This trio is going to look great tucked in a corner and really help set the ambiance in the room.
Making your Season Bright!
Follow Sow and Dipity on:

or

Peace Love Garden