Toilet Paper Tube Craft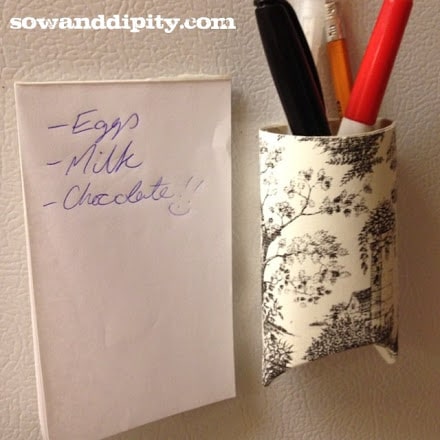 I love finding uses for useless things, don't you? Like up-cycling toilet paper tubes….who ever thought they could be so darned useful? Well, since I had out all my supplies for the tubes I was using in the New Years Snappers …I decided it was time to decorate the plain tube I had on my fridge for the last couple of months.
It's so simple, all you do is roll a piece of pretty paper around the roll, tape it in place, fold in the bottom, tape that closed, and then using a strong little magnet, slightly flatten the back of the roll and attach it to the fridge, presto! 
How's that for an easy Toilet Paper Tube Craft?
Confession: My grocery list above is a fake…I know, I know…the fact that the chocolate wasn't the first thing on the list was the tip-off wasn't it? No, now that I'm like… so high-tech, I add grocery items to the app on my iPhone while doing chores and listening to audio books.
That's it for this quick and easy post about how simple things can make life a little easier.
Follow Sow and Dipity on:

and

Peace Love Garden