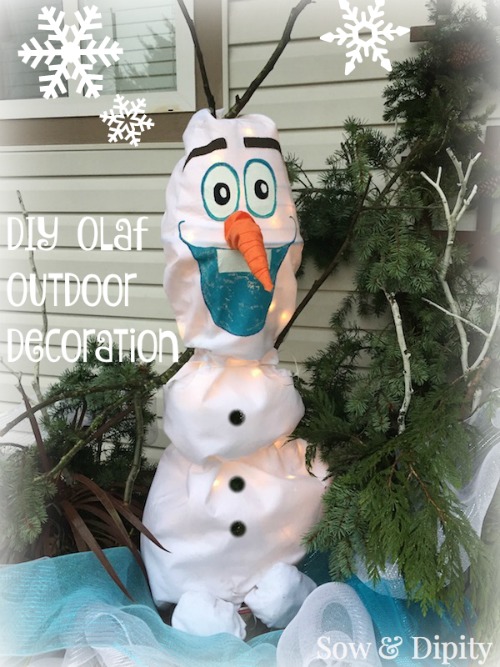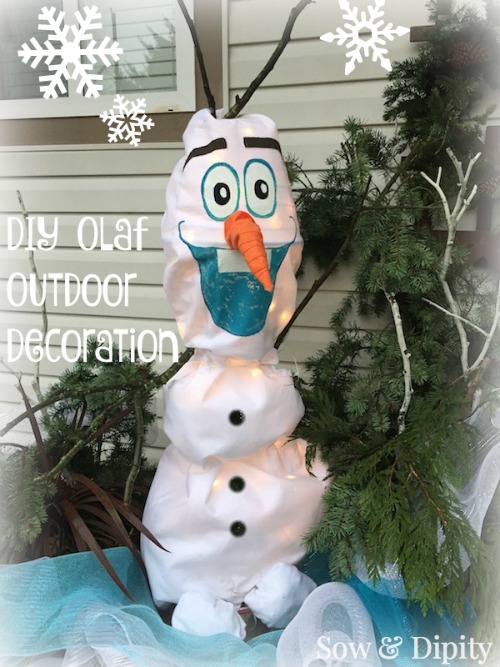 DIY Olaf Outdoor Christmas Decoration
Christmas is no doubt a very busy time for me… yes, this gardener has two green thumbs and glitter in her veins! I've been decorating and designing Christmas displays for years and one thing I have gotten very good at is how to
MAKE SOMETHING OUT OF NOTHING!
We switched to blue lights on the house this year, so when it was time to figure out what my Christmas scene for the front of the house was going to be this season… I decided that we should invite the characters from Frozen to hang out with us this during the holiday's.

I have a mannequin and thought of doing Elsa as a mannequin tree. Problem is my mannequin is headless…. I decided that for curb appeal, that may not translate well (Mommy, where's Elsa's head?…. hmm).
So I chose the second most popular character from the movie, Olaf. Whom by the way…. is doing quite well for himself since he's pretty much EVERYWHERE!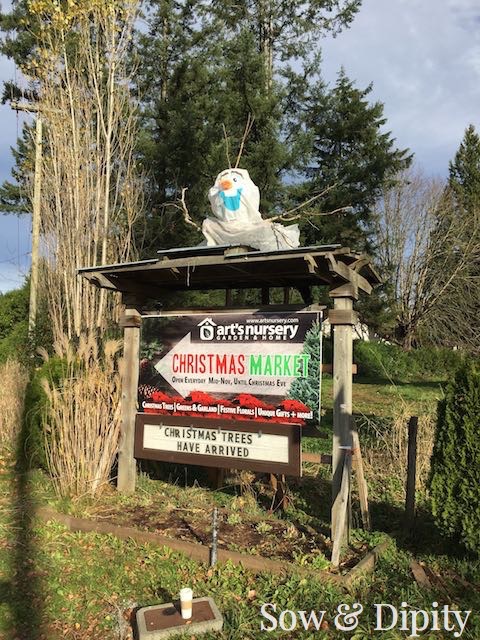 I've actually already made a massive Olaf for Art's Nursery to sit on the corner sign pointing the way to fresh Christmas trees. The store looks amazing right now. There's an open fire pit, hot chocolate and millions of lights!… it truly is a great place to come and get into the holiday spirit.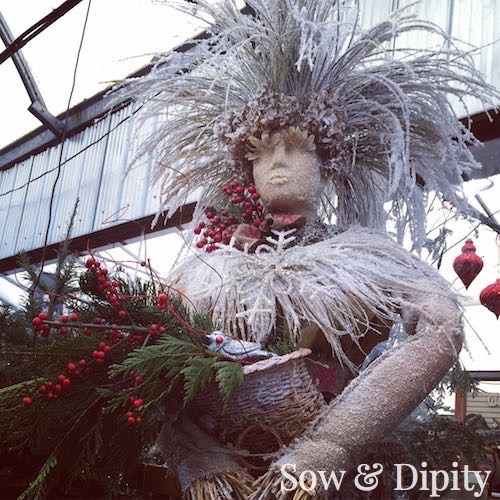 Look for the Snow Princess when you come to visit, a transformation of the Fall Harvest Queen I made with some flocked snow for winter! (Thanks for taking good care of her Michelle 😉 )



OK… back to Olaf. I decided to do this project at 8pm at night. That's how creativity hits me and once I get an idea…..
So I pulled on my rubber boots, grabbed a flashlight and headed down to the back of the property to my garden shed in my PJ's and scarf to see what I could find.
The frame for the body is an inverted tomato cage and the head is two wire hanging baskets clam shelled together and shoved on top. Then I wired in some mini lights… there you go, that's all there is to the frame.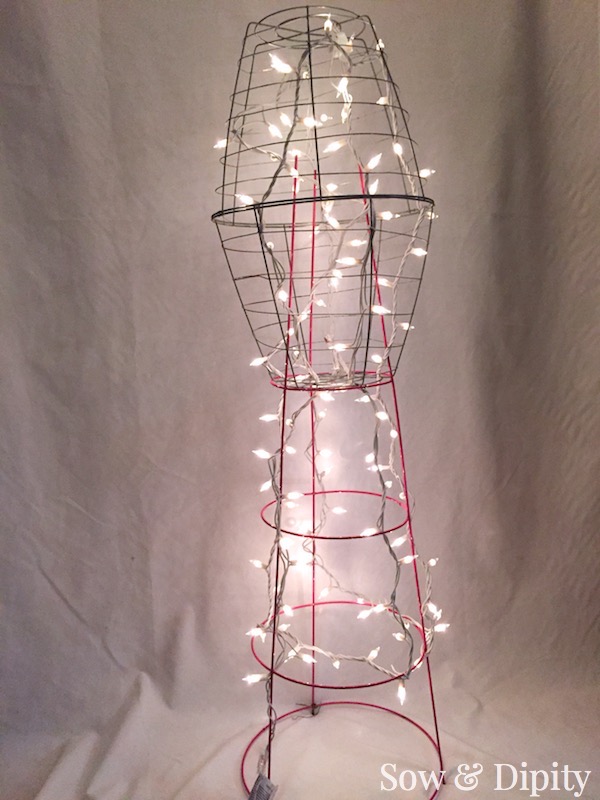 For the face you can use any white fabric like a sheet or you can do what I did for the Art's Nursery Olaf and use white landscape crop cover cloth available in rolls.
Paint on your face using acrylic paint. Now I've done a lot of scarecrows this year and I didn't use the outdoor paint, just the regular craft acrylics. But if you plan on trying to keep Olaf for a couple of seasons, then get something that will take the UV's.
Also, make sure your paint is really dry before you put Olaf out in the rain… I found out the hard way, rushed the job and it ran from the humidity over night! But once the paint is set, it can handle the rain. Or snow… I say rain because I live in the Pacific Northwest which has 2 seasons…

1 wet, 1 hot.
Olaf has a long face so the shape of the two wire baskets was perfect and I just started the top of his smile where the middle ridge of the two baskets meet so that his eyes tilted back and his mouth looked drawn down.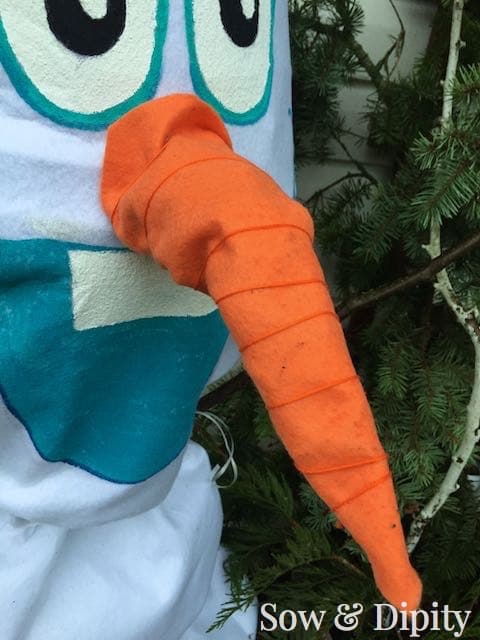 The carrot nose is made from a piece of orange felt and some left over chicken wire. I just made a cone, wrapped the felt and used some orange embroidery floss to tie it in place. Then I just wired it to the frame poking the florist wire through the fabric and reaching up inside the head to fasten it.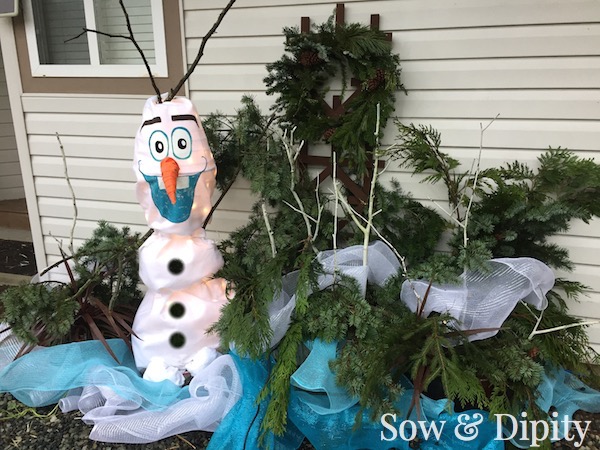 The body is just two 'balls' so I just loosely wrapped the tomato cage below the head with the white fabric and tied it off with string. Then I puffed out the ball by added some white decor mesh since I know it will hold it's shape. But you can use what ever you got to keep the balls filled out.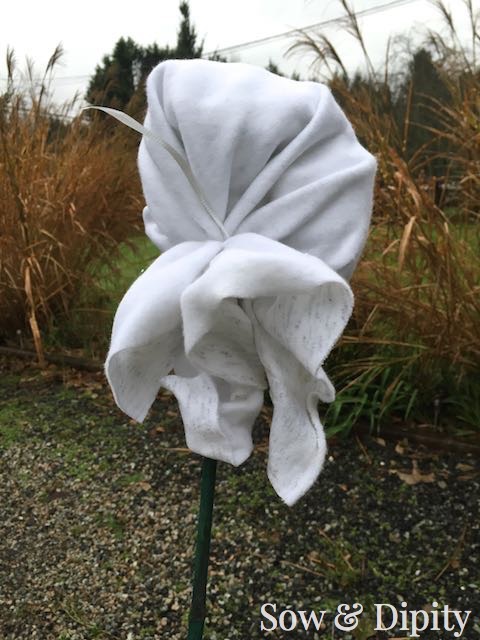 The feet are just two bamboo stakes with extra fabric tied on like a ball. These just got stuffed under Olaf so it looks like he's sitting. I hot glued on his black felt buttons and his arms, legs and head piece are all from the blow downs from the neighbors tree next door.
This project cost me about $8 since I only needed to buy the mini lights and had everything else in my garden shed.
Recycle garden shed items and turn them into fun winter decor that doesn't break your budget!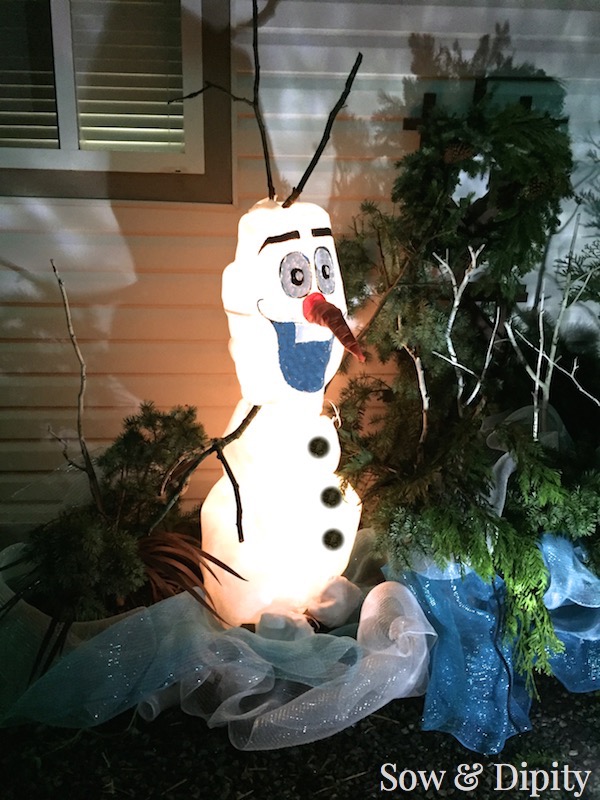 Have a fun and safe holiday season!!
Want more awesomeness on a monthlyish basis? Sign up for my newsletter!