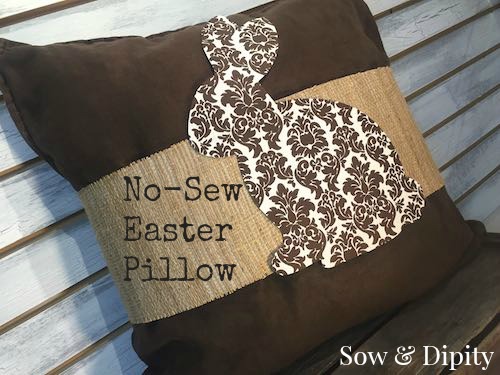 Simple Easter Pillow
You don't have to go out and buy all new throw cushions to decorate your home for the Easter Weekend. You can just slip this easy to make decorative pillow sleeve over your existing pillows and get on to making a fabulous feast for your family and friends.
I love burlap for decor items. These pillow slips are fun and easy to make and will go great with the other items in this burlap bunny decor series! (I'll share those at the end of the post).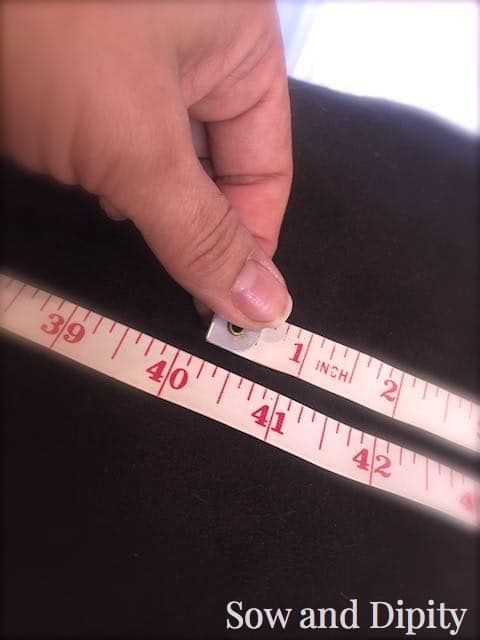 Ok, simply measure around your existing pillows to find out what size you need to make your burlap pillow sleeve. I went with a 6″ x 40″ band (+ 1″ allowance) for my pillows. Measure out an adhesive iron on backing in the same size.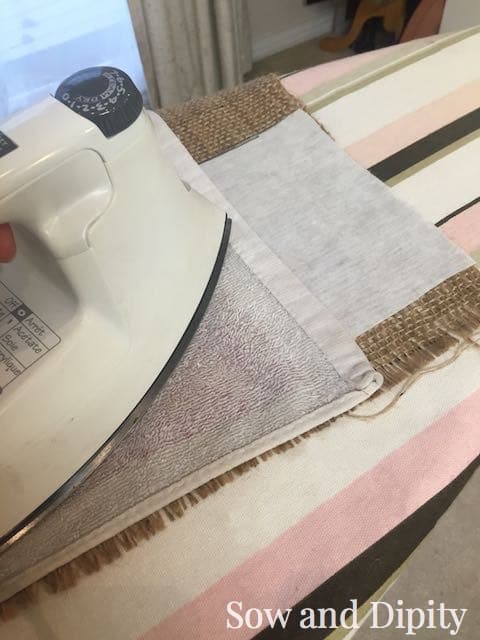 Now just press the adhesive (make sure the glue side is toward your burlap!) using a damp towel between a dry iron and the layers of materials. Press hard to get it to adhere to the burlap. This will also prevent fraying! Trim off the excess.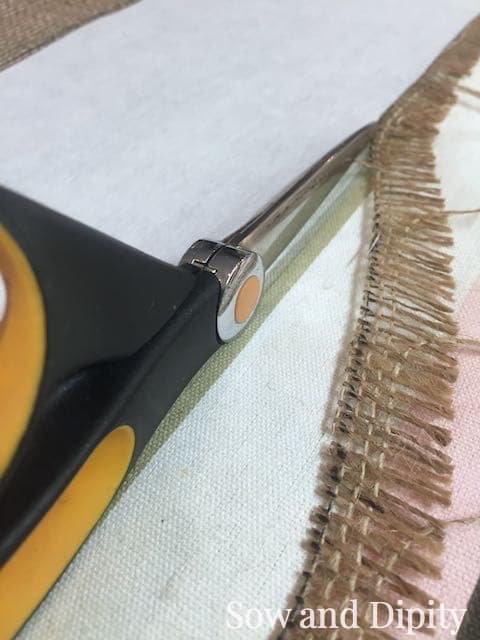 If you are making several sleeves, just do one big burlap sheet and cut out the bands to the width you need. Then pull the ends together and either sew them across or use a hot glue gun to join them together.
Now lets make your bunny cutout. You can get a template off the web and print it out or do what I did and use a cut out from the dollar store… this bunny has been used in several projects over the years!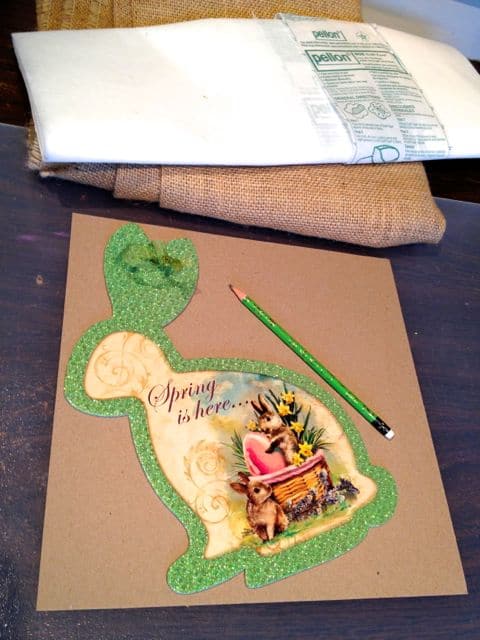 Use a white felt or have fun with a colorful fabric like I did using the iron on adhesive backing if you need to make the fabric more stable.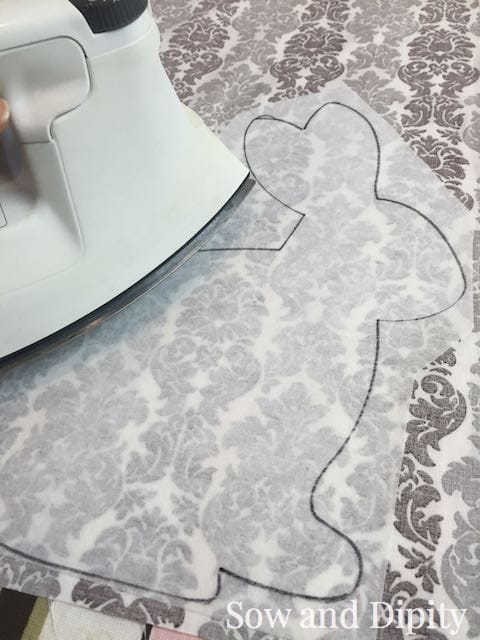 Once done you can embellish your bunny figure with a ribbon or a button eye. Simply glue or sew this onto the burlap sleeve over the seam.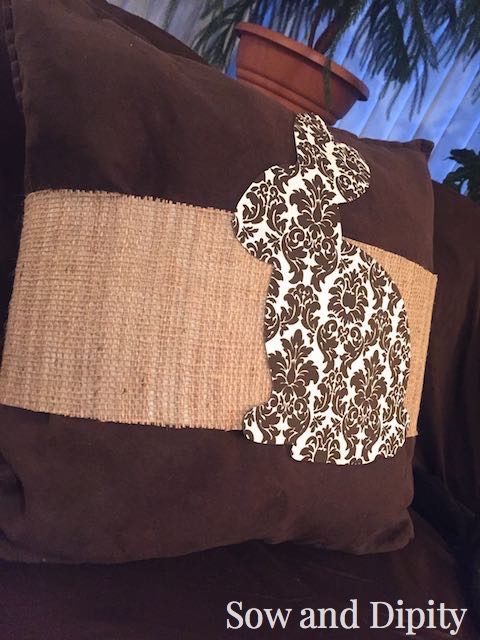 All you have to do now is slip this over your existing pillows and you are ready for Easter.
Psst… These also can be used as tie backs for your dining room chairs!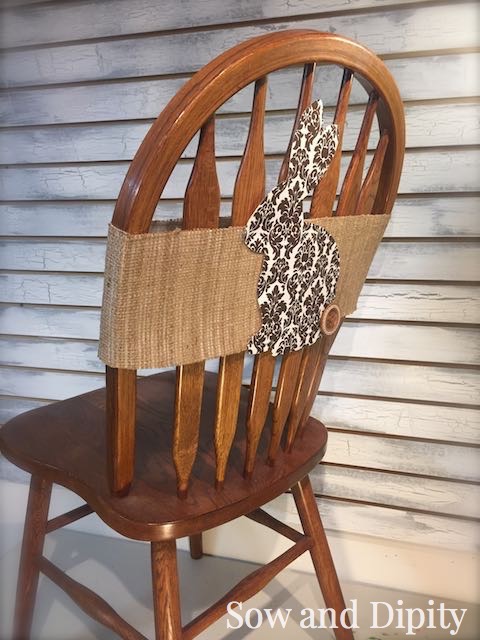 The heavy weight adhesive iron on backing is good for these. Just measure your chairs and follow the same instructions as above.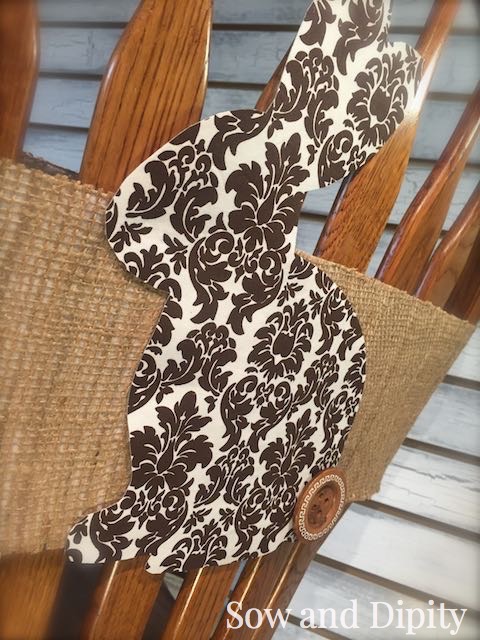 Love this idea… check out these fun and easy projects you can do in less than an hour and with recycled items you probably already have in the house…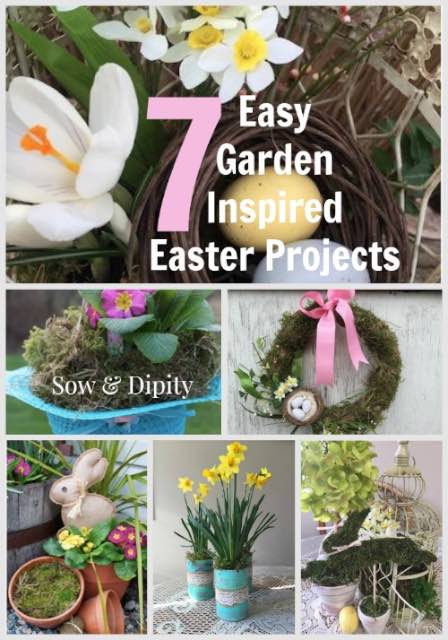 AND if you love all of the above, then subscribe to my monthlyish newsletter to get ton's of fun DIY garden inspired ideas.