Jewelry Tree Stand
How simple is this? A jewelry tree stand made with materials from a real tree! I went for a walk around my yard and found the perfect couple of twigs branched out just right for this project and got to work putting it together.
I chose a small terra-cotta pot I had on hand and put a small piece of tape over the bottom so that the plaster did not leak out. Follow the instructions provided on the Plaster of Paris container for your proportions. I had extra that I used for another project at the same time (that one will be revealed in the future).
I used a little scotch tape across the top to support the twigs while waiting for the plaster to set up. It really didn't take very long but to be sure I left it alone over night. When it was ready, I added a little sphagnum moss to cover up the plaster and a little paper raffia for a bow.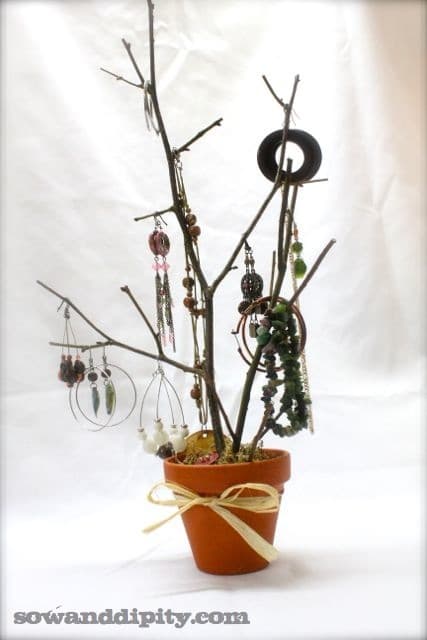 I don't have that much 'bling' compared to other girls out there, so this little tree suited my needs just fine. But if you're looking to organize a drawer full, consider using a bigger pot with larger branches. If you want to really coordinate your accessories you could even paint the branches any color that suits your decor.
This will go great on my Up-Cycled Cookie Sheet tray I have sitting on my counter. The last item to go with this is my Mason Apothecary Jar  to make my set complete. 
For more craft and garden idea's
Follow Sow and Dipity on:

and

Peace Love Garden