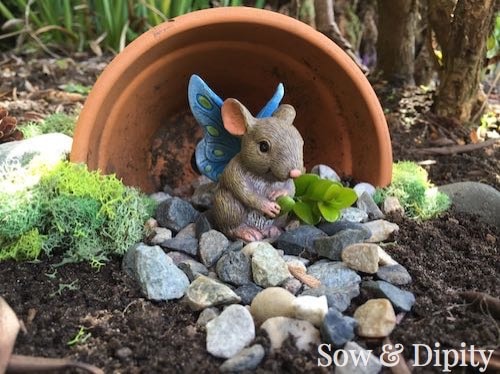 Fairy Gardens IN The Garden
I'm no stranger to creating, teaching and selling Fairy Gardens; I've been doing them for years. I've used recycled tool boxes and broken pots, pretty containers and glass vases to design these mini worlds…. but now I have finally created one in my outdoor garden and I have to say, it's magical!
I was recently contacted by Department 56 about their brand new Enchanted Garden series of whimsical characters to see if I would like to find a home for them in my garden.

Once I saw the cast of Guardians I would be inviting to my garden, I was happy to oblige! In return for receiving my set of characters, I agreed to share my Fairy Garden and tell you all about these enchanted figurines. What's even more awesome is you will have a chance to WIN some of these magical creatures for yourself by entering their sweepstakes.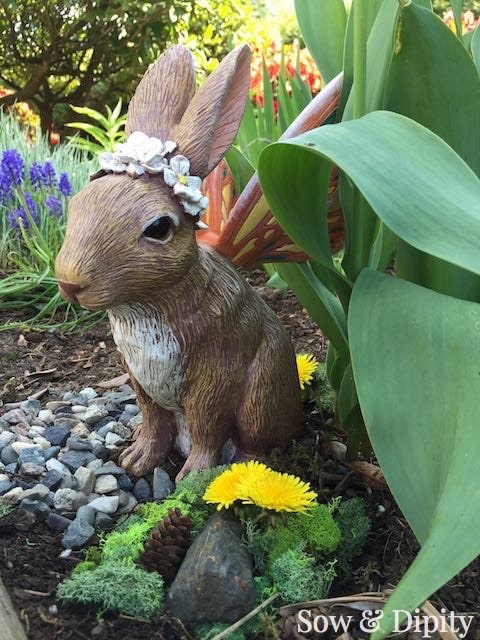 Alice The Queen Rabbit sits near the front of the garden over seeing her enchanted friends. She doesn't mind dandelions at all… in fact, she says they are quite delicious.
Fiona, just a wee friendly fairy stands waiting to greet you at the Guardian Gate. I used regular gravel with a few glass beads in the walkway, then created a simple mini arbor from some branches. See the video below for details on Fiona's part of the Fairy Garden.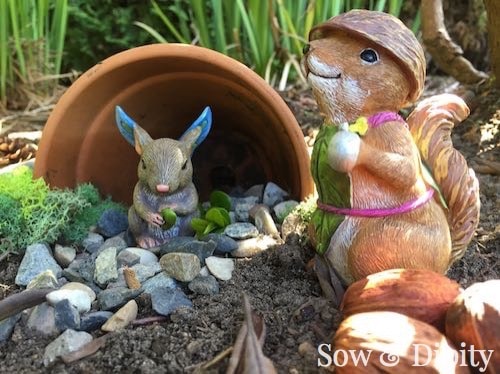 Chester the Chipmunk Guardian stopped by to have lunch with Squeak the Magical Mouse who found a perfect home in an abandoned pot. Chester brought some of his secret stash of nuts to share but Squeak said 'No thank you, I found some tasty fresh spring leaves this morning and they are scrumptious!'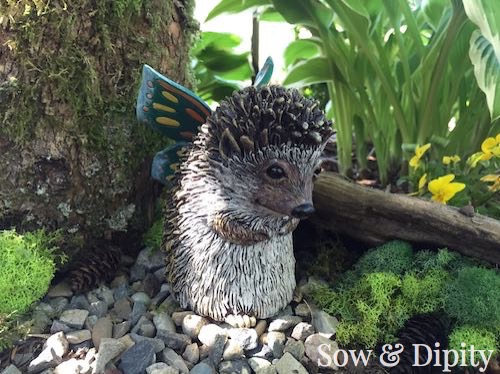 Spike the Nocturnal Hedgehog popped up to the surface to see what all the fuss was about and then quickly disappeared below, it was way too early for this sleepy head to get up.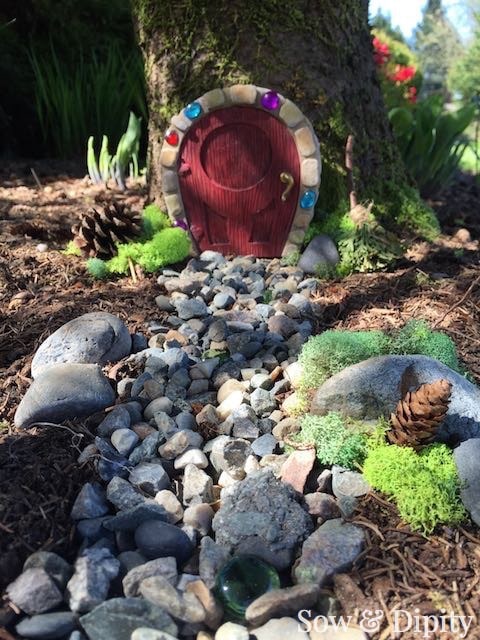 The Enchanted Guardians look amazing in my garden and I can't wait for visitors to discover my little whimsical friends.
Check out this quick video to see how I set every thing up including a mini twig arbor and tiny twig broom. Then be sure to enter the sweepstakes for a chance to win some of these critters for yourself!
Before you visit the link above….
Copy this link to enter into the Pinterest link field on the entry form: https://www.pinterest.com/pin/284782376413593525/
THEN….
Put your email in the second field…. That's it!
Remember… When it comes to plants, think outside the pot!