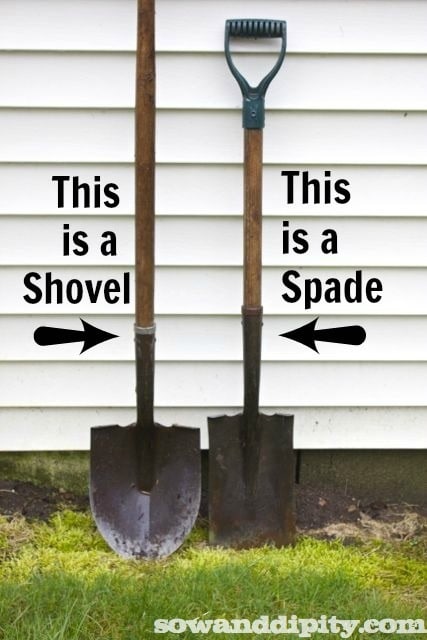 The Difference Between a Shovel and a Spade
They both dig right? They both lift things, make holes, are good for leaning on…. but what is the difference between a shovel and a spade….really?
This may come as a bit of a surprise to you but the one you've been calling a spade, the one that has that pointed tip, the one that looks like a favorite playing card shape….yeah, that one.
Well….that one ISN'T the spade, it's the shovel.
Yep…Google it! I am telling you the truth.
The first time I heard this was back at Capilano College where I took Horticulture. The entire class looked dumb founded when the prof told us. There we were, standing in the rain getting ready to edge the beds on our practicum at Park and Tilford Gardens, all staring down at our shovels….err, I mean spades.
Both have long handles but spades typically have a D at the top for gripping. They both are intended to move earth and materials, but the shovel is better for 'scooping and lifting' and the flat edge of the spade is better for 'cutting and scraping'.
Don't get drawn in by all the fancy shmancy tools at your garden center.
I really only have 7 basic go-to tool's that do numerous jobs. When you have a big yard (or a small shed! ) you work more efficiently with fewer tools. If I don't have to lug around silly tools that are only good for doing one job…I won't. I will do a post on basic tools a gardener ever really needs shortly….stay tuned.
A Job for a Spade
Edging a garden bed is really simple and very easy to maintain with the flat edge of a spade. You just cut the edge clean and give the spade a kick with your toe pushing the soil up on an angle.
 Cut and Kick….Cut and Kick
This beveled edge defines the bed from the turf and the drop prevents turf from easily sneaking over. You will literally only have to define the edge a couple times a year.
Give it a nice hair cut by turning your weed trimmer at a 90 degree angle and run it along the edge ( After a few tries you'll see it's pretty easy to do). Again, you don't need any fancy edge trimmer, no needless bending over….. just a regular old weed whacker will do.
Zip zip and your done….this is how the pro's do it.
A Job for a Shovel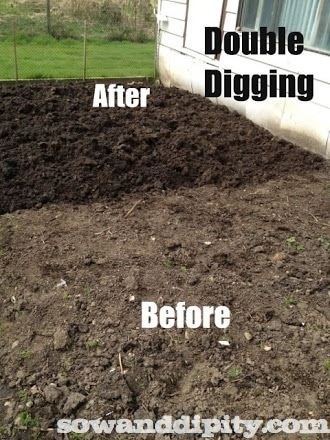 Shovels are made for digging….and that's just what they do….
Okay, I did a whole post on Double Digging, please visit the link so you can learn the how on this traditional method of garden bed prep and why it's considered the best practice over mechanical gas powered rototillers.
Yes, that's how I'm going to end this post…with Gabby and Gus the Canadian Geese couple that come back every year. They showed up yesterday and I'm happy to have them back.
So, is our dog….who has been taught that they are 'puppies'; it's the only way he'll let them borrow our yard.
So, be sure to show off your newly found knowledge ( aka random useless fact ) to your neighbors the next time they come over to borrow a garden tool. Of course, this may mean that they could return the wrong item and you end up with extra shovels and no spades.
Peace Love Garden